This has been watershed year for the visibility of K-pop in the U.S., opening the door even wider for more Korean bands to capture the hearts of audiences abroad. One of the groups that is turning heads is NCT 127, SM Entertainment's Seoul-based unit under the NCT umbrella. The band made their play for stateside appeal known with their recently-released debut album, Regular-Irregular, the lead single of which, "Regular", is entirely in English.
An acronym for Neo Culture Technology, NCT is SM's ambitious project that aims to create localized K-pop groups that are made up of international members. Rumors have floated around about a few Southeast Asia-based units, and a China-focused group is set to debut later this year. The 10 members that make up NCT 127 — Taeyong, Taeil, Johnny, Yuta, Doyoung, Jaehyun, Winwin, Jungwoo (the most recent addition), Mark and Haechan — have different backgrounds and strengths, but it's this diversity, along with their electric stage presence, that makes them one of the most exciting acts in K-pop right now. "Because we all come from such diverse backgrounds, in addition to Jungwoo being added to the group, we're able to draw fresh inspiration," member Taeyong told EARMILK.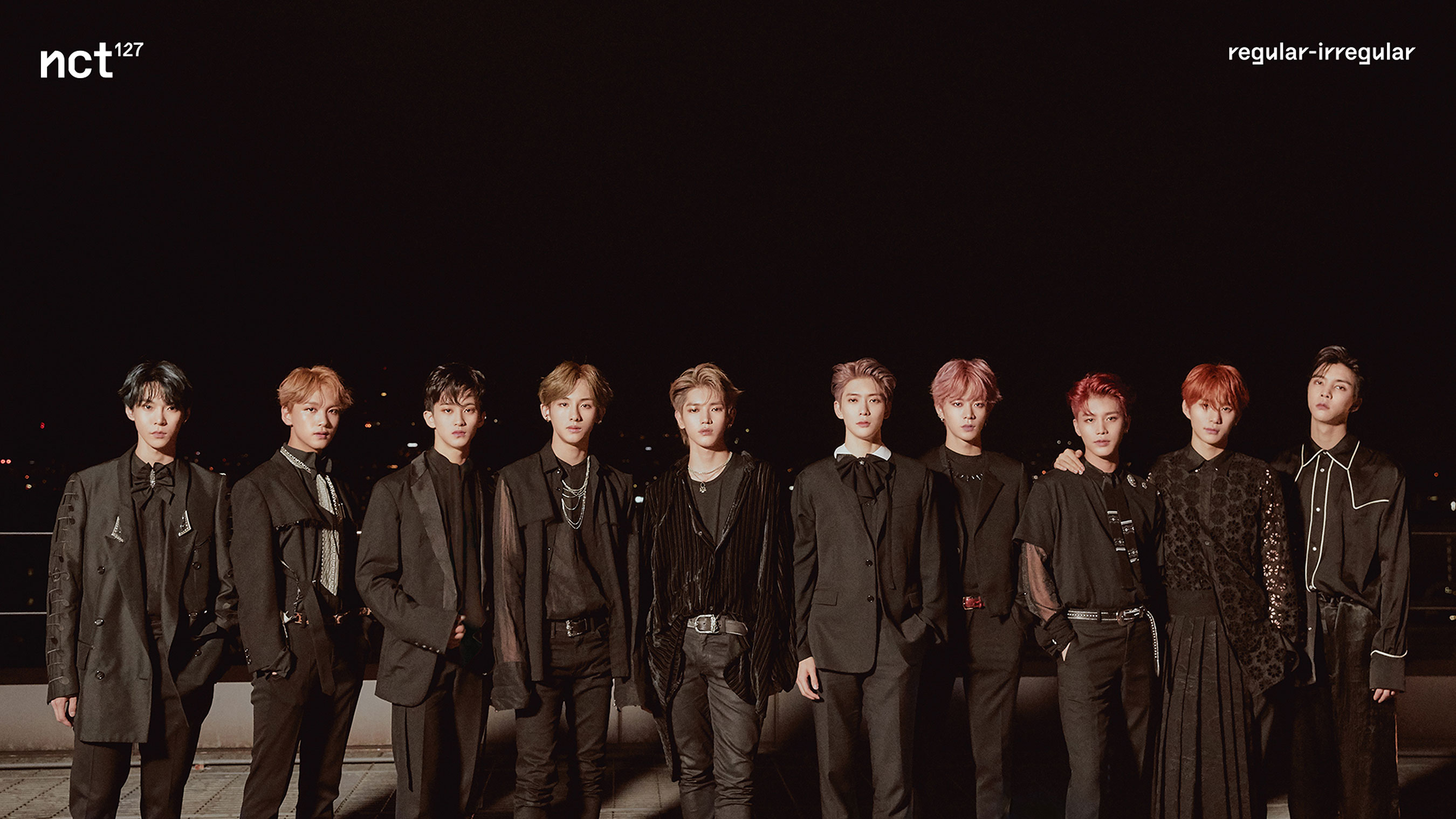 Regular-Irregular may be the first NCT 127 release in its current 10-member form, but the creative, fantastical album is the product of years of growth and experimentation within the NCT ecosystem. The narrative of the album itself is split into two parts: reality ("regular") and the surreal ("irregular"). "As we've tried out so many different genres of music, we've grown a lot as artists," says Taeyong. "This album especially showcases all the different styles we're challenging ourselves with, so I'm particularly proud of it."
The visual for the Latin-inspired dance track, "Regular," is somewhat of a departure from the bright, punchy concepts of previous hits such as "Cherry Bomb" and "Limitless." "[The 'Regular' music video] points to a more futuristic mood that reflects NCT 127's new style and era of music," Taeyong explained. The video is set in a Blade Runner-esque version of Seoul (or the "Neo" vibe of Seoul, as Taeyong called it), where the members are depicted as hustlers that rule the city's streets as they sing about their growing success. "If 'Cherry Bomb' was a song about our dreams and our aspirations as a group," said Taeyong, "'Regular' is a more detailed approach to a dream that could become a reality."
But despite the more cerebral concept, the song still drips with the signature bravado and swag that the group touts so often. And according to Canadian member Mark, this attitude is adopted with the hope that it will inspire confidence in others. "People go through a lot of rough times. We're all in different circumstances, but as long as we don't lose hope and remain confident, we can all overcome our hardships."
They certainly needed all of the confidence they could muster when they debuted "Regular" on Jimmy Kimmel Live! earlier this month, an experience that the band called "a dream come true." They mentioned that they were shocked by the large number fans who attended the performance — a sign of the group's traction in the U.S. — but also how much it energized them. "Meeting our fans in L.A. during our promotions there, performing on Jimmy Kimmel, walking the red carpet at the AMAs… All of these experiences, in addition to the fans that always support us, are our biggest sources of inspiration and motivation," Chicago-born member Johnny said. "We want to work harder for our fans."
https://www.youtube.com/watch?v=JZ9ZC1GEEjw
As for the group's future, NCT 127 told EARMILK that they hope to continue to push boundaries musically. "I hope people see NCT 127 as a group that challenges the status quo and takes on music styles that are almost unimaginable for groups like ours," Taeil said. "One day, I hope that we're introduced as a group that leads the K-pop trends." But most importantly, the unit shares the admirable and lofty goal of connecting people through their work. "Our biggest hope," said Jaehyun, "is that not just fans, but people all over the world will start dreaming, start empathizing with each other and also become one."