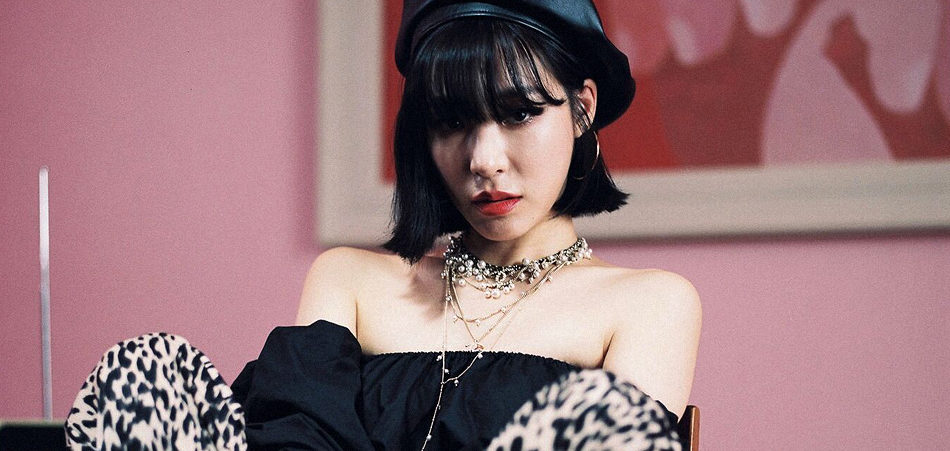 It's easy to mistake toxicity in a relationship for love, but while some may let it slide, pop phenomena Tiffany Young refuses to be a victim. The Korean-American Girls' Generation member is back with a vengeance in her newest solo single, "Teach You," a sultry, quirky track that is just as catchy as it is necessary for women to hear. The film noir-esque music video for the song paints a dramatic and visually stunning picture, bringing Young's truthful words to life.
From the moment the first otherworldly trill bounces in, we are instantly pulled by the collar into Young's world. The unearthly synths whizzing around make for a hypnotic introduction, and when the punchy clicks of the beat drop in, the unlikely pair satisfyingly meld into a rich texture. Most importantly, it's a sonically creative platform that allows Young's smoky, passionate vocals to shine and her message, — which she co-penned — to be heard loud and clear.
"It's all about noticing the wrong signs in a relationship and letting the ladies know it's okay to stand up for yourself. [...] You should know better as a woman to teach a man that he needs to treat you right!" Young said in a press release.
Just as "Teach You" isn't afraid to break the rules in its arrangement, with bursts of unexpected sounds and syncopation rippling throughout, the visual similarly doesn't shy away from playing with color and plot. The cinematic video, which Young referred to as her "own little Korean drama" was shot entirely on film. It begins with a flashback to a romantic proposal but is marred by text messages saying that her love (played by SNL Korea's Kwun Hyuksoo)  has been unfaithful. She tells her friends regretfully (Girls' Generation members Hyoyeon and Sooyoung) that she should've seen it coming.
But instead of lamenting over his betrayal, she reclaims her power and becomes the prosecutor instead of the victim: "What a mess you made with your little games, baby you're gonna learn, if you mess with me you get hurt." The scene cuts to a detention room, where Young, dressed as a detective, cheekily chastises her scorned lover, singing, "Didn't your mother teach you not to play with fire?" From this moment on, Young's former flame doesn't stand a chance — she spends his money, nearly runs him over with her car, and throws his belongings out of a window.
Much of the inspiration for the Director VM-shot music video was taken from Young's bicultural upbringing and the vibrant storytelling of Korean movies. "It goes back to what I love about K-Pop and Korean films: intricate set design, aesthetically pleasing color schemes, plot twists," Young said. "And the fact that I was able to have my friends on board for the shoot made it even more special for me."
As playful and aesthetically over-the-top as it may be, "Teach You" gets at the heart of an issue that plagues women across the globe. In a time when recognizing your self-worth and speaking up is more important than ever, Young is a fierce advocate for women who deserve better.
"Teach You" follows Young's summer single "Over My Skin," a soulful, groovy track that is all about not succumbing to societal pressures. In addition to new music, the singer recently announced her partnership with H&M Worldwide, and her collection is set to launch in October.
Connect with Tiffany Young: Instagram | Twitter | Facebook | Spotify