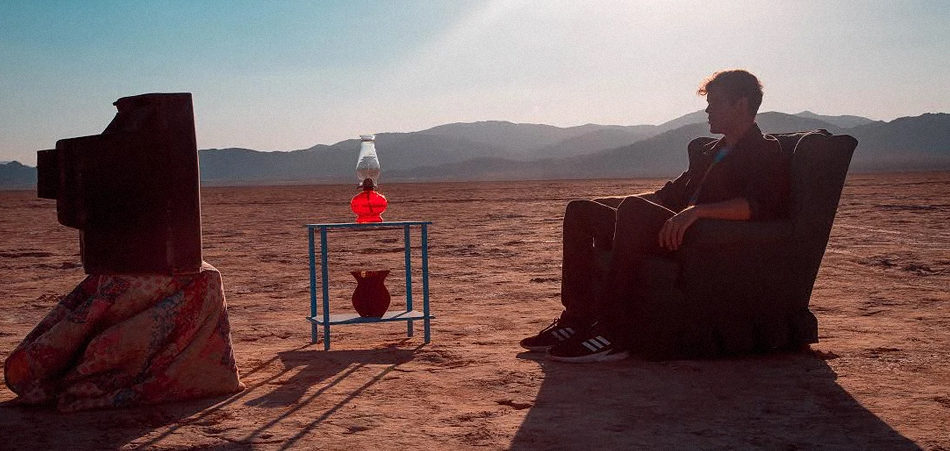 The hardest part about being in a relationship is knowing when to call it quits. In Dylan Bernard's case, the singer-songwriter finds the courage to make this difficult choice in his single "Forever For Now," a bittersweet break-up track that is as resolute as it is filled with warmth and good intentions. EARMILK is excited to premiere the new video for "Forever For Now," offering a beautifully artistic dimension to what may be a familiar circumstance.
The visual opens on Bernard walking slowly in a picturesque desert, his piercing eyes filled with both solemnity and resolve. The scene is devoid of distractions or gimmicks. It's just calm, fluid motion as the singer lays his cards on the table: "It's not forever for now/I need to be alone to figure it out." It's this soaring, anthemic chorus that propels the camera skyward, and then back down to earth. The video continues this thread of powerful minimalism as we follow Bernard into an abandoned house. He walks through the empty rooms and, like the exposed foundation that surrounds him, bears his soul with every step.
During the song's bridge, he sits alone in an armchair and faces a dark television, the furniture arranged like an exposed living room in the middle of nowhere. But somehow the singer seems to find comfort in his solitude — and even his sadness — as he knows that this is exactly what he needs at this moment. And it's with that certainty and knowledge that he offers hope, as he croons, "The universe ain't on our side, these stars won't align, but someday they might, right place, right time."
The video for "Forever For Now" was shot and directed by Spencer. D Evans of Spirinity Productions. The single follows Bernard's debut EP Sparks, released in March 2017.