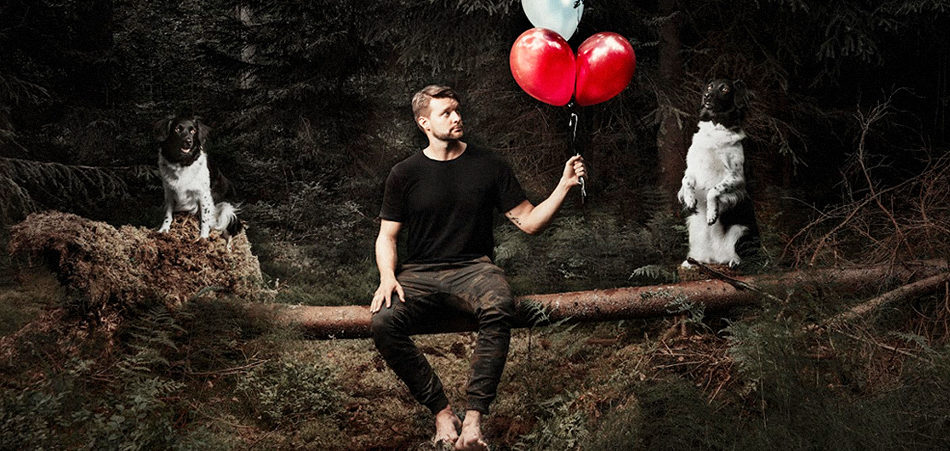 Today, Yotto has completed a feat that he's been daydreaming about since he was a kid. The Finnish artist has been crate digging since he was 10, consuming albums and eventually, envisioning the day he would be able to make one himself. And now, after a few years of releasing singles, his debut LP Hyperfall is out today via his longtime supporters at Anjunadeep.
We caught Yotto - known personally as Otto Yliperttula - at his home in Helsinki as he was gearing up for the biggest music release of his career so far. This album feels like a longtime coming for an artist who was surrounded by music as a child at home, where his dad was in a band and someone was always banging the pots and kettles at home or playing instruments or playing records, creating an environment where he could grow up nearly always under the influence of sound. 
In Finland, the public library system has an extensive section of music, including vinyl collections that as he got older would do as so many of us fans do - dig through to find something that would strike him. For Yliperttula, he was drawn to records by the coolest sleeves he could find and in this case, they ended up being from some of the most venerated artists in the electronic music scene like Chemical Brothers and Orbital. This introduction to early 90's electronic music led to an infatuation that turned into a hobby, and later a career. Still, for Yotto, he isn't quite sure why he chose electronic music.
"I don't know why, but it felt like it was something that was possible or something that I could do. We had this old crappy synthesizer at home and I was able to play around with that - not making music but pressing keys and figuring out what happens." And while his dad wasn't happy about his choice in electronic music and not his roots in blues or rock, he was allowed to continue pursuing his interest. When he was 14, he upgraded to his first production software called "Dance DJ," with partially already produced songs and "robotic, cheesy voices" to sample and experiment with.  
With Scandinavia's notorious long winters, so many artists from the region train themselves to get lost in their music, fueled by some hopeful darkness either literal or figurative. "We just have to figure out a hobby to spend our days doing, for a lot of people it's music, for some it's sports." Music was his outlet, where he could bring his influences together - dark, heavy rock and roll, with his love for experiment, cinema and electronic production. Hearing this explanation gives clarity to much of Hyperfall's sound, on which you can hear influences from electronic music's early days. Yliperttula's favorite track of the moment is its title track which displays just that - as "It's beatless, cinematic, very dramatic, influenced by soundtracking and music from the 80's."
On this album, it's clear that the electronica that sparked his career isn't the only influence as he builds his current music. It ebbs and flows, taking on a cinematic quality - with tracks like "The One You Left Behind" drawing from the deepest emotion ranging to those like "Nada C" that play with time and space through instrumentation. When he's at home now he doesn't listen to electronic music when he's home - it's now film scores, folk or rap. As he learned to create his own music, his training in piano as a child reminded him of the classical music he's always loved and whether intentionally or unintentionally, has influenced his music. Hyperfall can and should be listened to in its entirety as it translates classical music's movement into beautiful layered soundscapes whose evolving tempos and message take time to digest.
For Yliperttula, music became a fascination and a creative challenge more than just a hobby. It took nearly a decade, but he grew from early childhood days of exploration, dreaming of one day releasing his own, to actually learning how to make music. But in his reality, he went to school for hospitality, managing a bar along that career path and DJing on the weekends. It was only three years ago where everything changed, when his leisure activity became his job and his former career became a back up plan.
Eventually, Yliperttula got good enough in his pursuit of production that he decided to start sending music around and people - like the team at Anjunadeep - picked it up to listen further.  After releasing a few tracks, and the team showed even further interest, playing a few of his tracks on their radio show and presenting an opportunity. After much of his music to date was immediately signed to the label, Yliperttula found his hobby as Yotto turning into a burgeoning career. He released single after single, from "Memento" to "The Owls," but still in the back of his mind always loved the idea of creating a larger body of work that has a story to tell, with more ups and downs than releasing an EP or just a track. Hyperfall does just that, combining the music of Yliperttula's childhood with the influences he's had surrounding him since, into a body of work that tells not just any story, but his story.
Connect with Yotto: Facebook | SoundCloud | Twitter