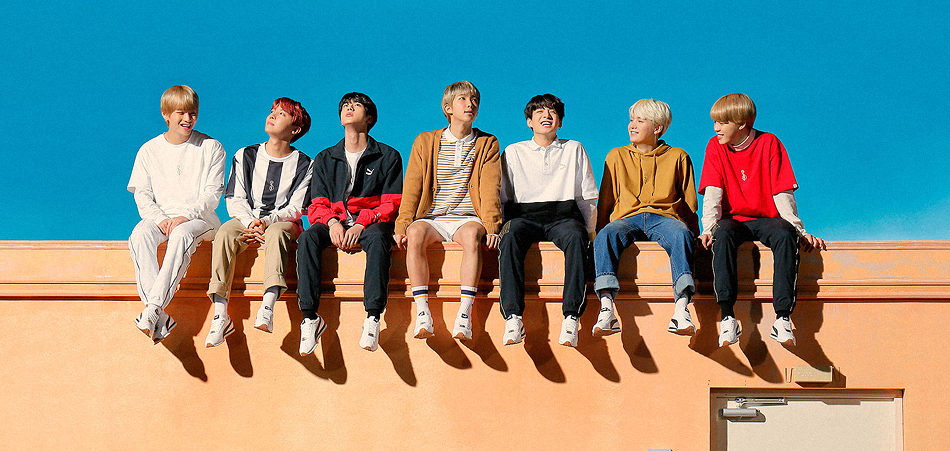 After months of urging fans to accept and love themselves, South Korean septet BTS — an acronym of Bangtan Sonyeondan (방탄소년단) or "Beyond the Scene," — hammered the message home with their new single "Idol" and the accompanying vibrant music video, released on Friday (August 24).
The visual for "Idol" is as loud and vivid as the song, instantly taking the viewer on a wild ride into a world saturated with warm colors and boasting a mix of unique cultural influences. Members RM, Jin, Suga, J-Hope, Jimin, V, and Jungkook are at the center of the prism, performing their signature tight and dynamic choreography against backdrops that include the African savannah, a traditional Korean house (hanok) with a Giwa-tiled roof and fantastical, trippy graphics. Dressed in hanboks and flanked by tigers — a symbol of Korea and its people — BTS is bursting with pride as they sing "you can't stop me loving myself."
At first glance, this confluence of striking scenes may feel like an assault on the senses. But it's the careful, creative incorporation of multi-cultural elements that elevate "Idol" — and, in true Bangtan style, make it a banger that is somehow both highly danceable and cerebral.
The pulsating bassline and EDM synths that make up "Idol" were inspired by gqom, a subgenre of electronic music that originated in South Africa, according to the K-pop group's label BigHit Entertainment. Overlaid on the thumping percussion is a blend of Korean instruments and vocal styles, such as the hypnotic refrain "dung-gi-duk-koong-deo-reo-reok," a rhythm that nods to the Korean percussion called Samulnori. Even key pieces of choreography in the song include elements of traditional Korean dance and Gwara Gwara, a South African dance that has also been used by artists like Rihanna and Childish Gambino.
With the anthemic "Idol," the Bangtan boys are not only proclaiming their love for themselves, their work and their dedicated fans (called ARMY), but proving that BTS' rise in Western (as well as global) popularity does not mean they'll stifle their Korean identity. And precisely because of that fact, their fame is not just some flash in a pan — these "Idol"s are here to stay.
The song fronts their behemoth of an album Love Yourself 結 'Answer,' the highly anticipated conclusion to BTS' Love Yourself series. The 25-track repackage album boasts seven brand new tracks, alongside hits from September's Love Yourself 承 'Her' and May's chart-topper, Love Yourself 轉 'Tear.' "Idol" has already gained over 30 million views on YouTube, and a alternate version of the song featuring rapper Nicki Minaj is also available digitally.
BTS is currently preparing for the Love Yourself world tour, which kicks off in Seoul on August 25th and will come to North America this fall. 
Connect with BTS: Instagram | Twitter | Facebook | Soundcloud