Perhaps it was when "Real Life" woke us up to current social constructs through its upbeat house tempo, or when "All Four Walls" came crashing down through a symphony of piano acoustics and bass, that Gorgon City had already snared us in – and placed us on a pedestal to constantly lookout for 'what's next' in their releases. With a repertoire of hit singles carefully crafted after Sirens, the iconic UK house duo continued to excite and satisfy audiences whilst still maintaining their dominance over dance floors and airways. It's hard to imagine or even fathom a music scene without their signature garage-rooted, versatile palette of sounds.
Today, Gorgon City finally drops their long awaited second album Escape, a compilation of released singles spanning the last few years with new songs, collaborations and ventures into new landscapes.
Ranging from dance floor bangers to more deep and pensive, downtempo rhythms, the duo does not disappoint in divvying away from their Sirens sounds and showcasing unique lyrical stories through introductions of soul and sultry influences. Each song is unique, proof of their versatility and craft, and with each press of the play button, the songs reverberate and create layers of warmth and varying interpretations. 
The title track "Kingdom" is the epitome of their predominant bass line productions; collaborating with Raphaella, her vocals are matched perfectly with the beat and layered with upbeat synths – an instant club hit. Similarly, "Real Life" with Duke Dumont, NAATIONS and "Go Deep" with Kamille, Ghosted string together deep bass lines and tonal range with pop influences.
One notable track off the album is "Hear That" in collaboration with grime scene legend D Double E. Rather than going the usual route, "Hear That" is rave-ready, with catchy refrains guaranteed to get people grooving – a marriage of house and grime sounds. 
In addition Lulu James's vocals in "Love Me", from sultry crooning to pleading, accompany a haunting, complex composition of synths and bass. Following, Josh Barry's husky tones in "Overdose" are equally as haunting in the more downtempo rhythm – mesmerizing and introspective. The darker tones in this track do not go unnoticed – but are welcomed.
Gorgon City is set to go on their Escape tour on October 25, kicking off their North America and UK show in Seattle.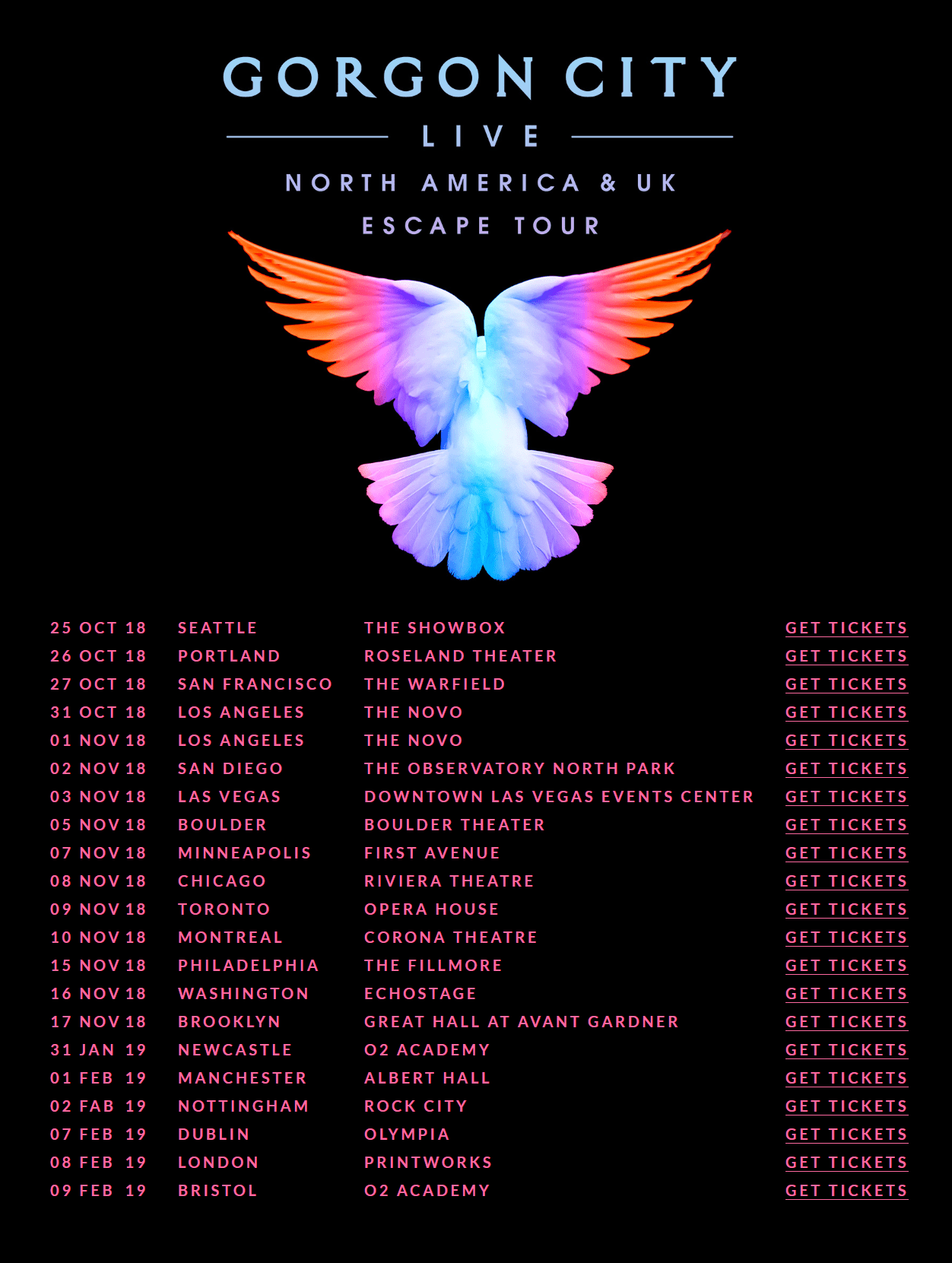 Connect with Gorgon City: Facebook | SoundCloud | Spotify | Twitter