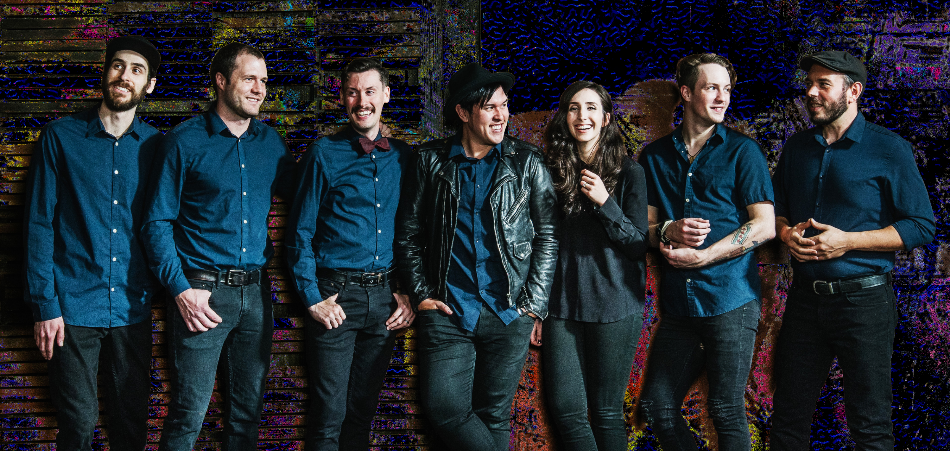 San Francisco-based seven-piece band The Family Crest are back with an explosive new anthem, "Take Tonight". This latest single is filled with soaring orchestral melodies and sweeping harmonies.
Lying somewhere between the grandiose adult contemporary sounds of Arcade Fire and the uplifting indie rock of Edward Sharpe and the Magnetic Zeros lies "Take Tonight". A call to arms in the lyrics but played out as a larger than life poetic ode. The Family Crest drive home a rich brass and choral arrangement with this latest track. They're also never too shy to demonstrate the explosive sound in their disposal at any given time, while still never allowing it be too overbearing or distracting away from the gently soaring melodies that fill your soul.
For me, The Family Crest deliver complex arrangements with such confidence that each varying sound produced is done with effortless intent and is never perceived as an afterthought. Thier bold orchestral sound and poetic songwriting are incredibly ambitious but delightfully endearing. "Take Tonight" is thematically a stunning explosion of color & emotion and just another reason why I'm continually captivated by this group. 
"Take 

Tonight"

 is a song about falling in love, being humbled, and taking risks. It's about meeting someone that lifts you up and pushes you to do things that you never thought you could possibly do. The main melody is crafted out of both '50's style syrupy saxophones and '80's buzzy synths. I always joke that the clearest visual representation of the sonic landscape of the track are the high school dance scenes from 'Back to the Future'. A solid visual mix of both eras, but with a lot of orchestration. If you listen closely, you can pick up steel drums, saxophones, synthesizers and various percussion elements that, up until "Take 

Tonight"

, we'd never experimented with before." Liam McCormick, Singer & Songwriter
Tour Dates (more to be announced shortly):
April 12th
                Great American Music Hall              San Francisco, CA
May 9th
                   Doug Fir Lounge                        
         Portland, OR
May 10th
                 The Shakedown                     
              Bellingham, WA
May 11th
                  Tractor Tavern                        
            Seattle, WA
May 12th
                  The. Bartlett                      
                  Spokane, WA
May 13th
                  HiFi. Music Hall                          
       Eugene, OR
July 5th - 8th
          High. Sierra Music Festival              Quincy, 
 California
Connect with The Family Crest: Facebook | Twitter | Soundcloud