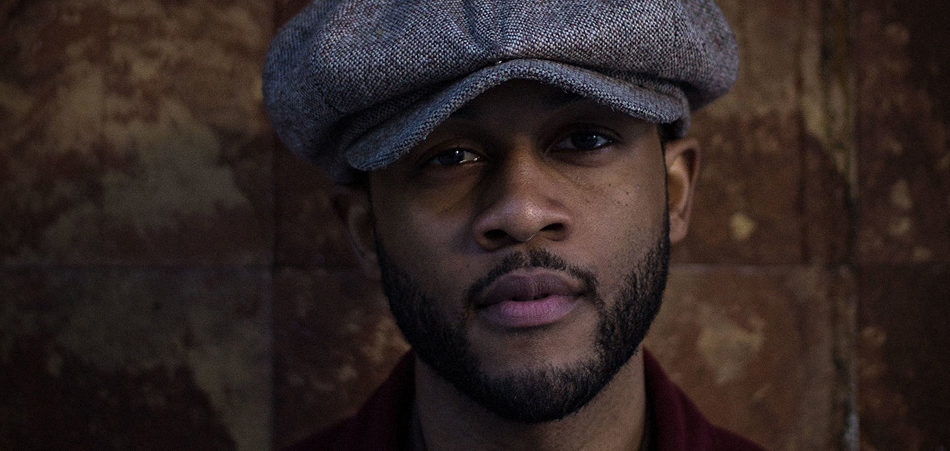 Brooklyn raised funk artist, Shareef Keyes and his live-band The Groove, got something cooking for us and we mean that literally. Their latest project is aptly titled  Cooking Something and it's themed around different types of food.  The  singer and band coordinator also went as far as personally handpicking the 12 talented musicians from  three different schools; Juilliard, The New School and Berklee College of Music to form the live funk-hip-hop band. The album hones a distinctive sound that fuses '70s jazz-funk influences with a modern hip-hop undertone. Listeners will experience a very dynamic sound roller coaster on this 11 track body of work. From the Motown influenced "Cupcake", the neo soul vibes of "Honey", trip hop "Cornbread", and of course a solid Ghostface Killah verse on the jazz boom bap head nodding "Spaghetti Fettuccini". There is definitely something for everyone on this project.
We were also fortunate enough to chew the fat with the man behind this project. Even if for a few minutes to prick his brains on all things music, food and then some.
EM: Can you tell us a bit about the Cooking Something project?
SK&TG: Cooking Something took me 4 years to make. I knew I wanted to make an album that felt warm, fulfilling, and rich with instrumentation. I would spend hours and hours everyday studying George Clinton, James Brown (especially), and Janelle Monae to seek a better understanding and perception of what Funk really was, because I knew I wanted to make Funk, but I had no idea how to start. During that same time I came up with the idea of making the album themed after a family dinner, something that would be relatable but still very unique. I guess this entire album was about finding my distinction in sound. 
EM: How much thought went into naming each song after a type of food. Was it a before or after type of situation?
SK&TG: Nine times out of 10 it would be before. My process was, ask whoever was present in the room at the time of creating a song to close there eyes and to tell me what they see, smell, and taste. And if I agree to that food, I would keep that name.
EM: The skits seem to act as a Segue on the project. What was the concept behind them on this project? 
SK&TG: They are exactly that, the vessel to every song. I wanted to really reel listeners into the moment I created. What would a 38-minute wait to eat food with your family sound like, what kind of things would happen during that small duration and also linking some of concepts of the songs to the actual skits altogether.
EM: What aspect of the music making process excites you most, and what aspect discourages you the most?
SK&TG: The most exciting part has to be creating the production. Being able to have an idea I sang on my phone recorder and actually manifest that into a song that lands on a tv show or in people's phones is so dope! The most discouraging would be writing something that's catchy but having substance. Finding that medium is truly a hard task when you aren't in the zone. 
EM: Describe a real-life situation that inspired you?
SK&TG: Me and my older brother literally had no money during the beginning stages of running our own studio. It was so bad that we had to eat bagels for dinner, THAT'S NO FUCKING EXAGGERATION! Going through moments like that grounds you and reminds you that shit can get really bad really quick. I tried to encompass that pain on Spaghetti, that whole first half of the song is about the hunger and pain we went through to get to this point. 
EM: What's your scariest experience?
SK&TG: Scariest experience would be definitely not being able to eat a nutritional dinner lol, but also having a girlfriend with a daughter. I would think about it all the time when we first started dating. How people would look at me? What would my family think? How should I be around the kid? Am I ready to be a father figure? But you get over that quick and just enjoy the moments. 
EM: Are there any questions that your were expecting that I didn't ask and want to answer?
SK&TG: I think your questions were on the money. You could of asked what's my favorite food, what's my favorite song on the album, Will there be a part 2 lol. But I can live with these. 
Stream the full project on Spotify HERE.
Connect with Shareef Keyes and The Groove : Website| Facebook | Twitter | Instagram