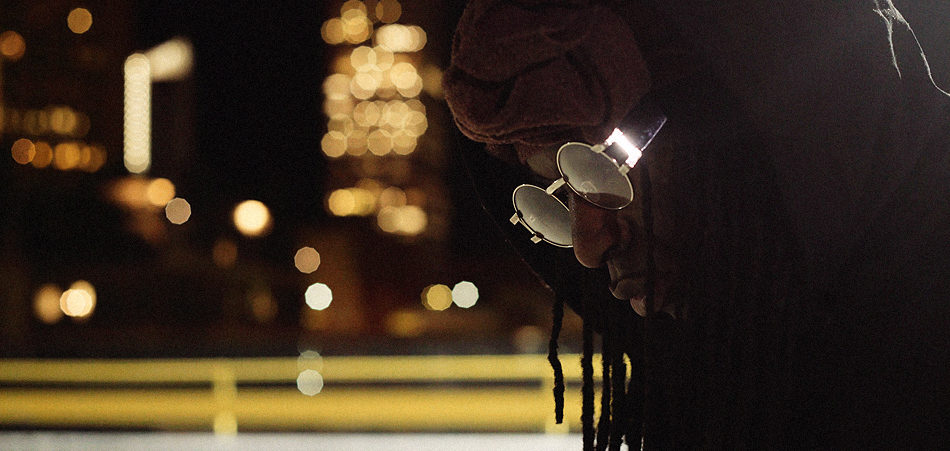 Only a few weeks after sitting down to speak with us, Rob Hicks is back to deliver a dark and brooding video for his Paradise in Hell standout, "Bail Money."
The video for "Bail Money" is a rather simple venture that finds both Hicks and BoodahDARR spitting their respective verses in a forest and/or in a parking lot. What makes this video more than your average "dudes rapping into the camera" video, are the effects used while filming. For starters, director Brett Schmidt saw fit to use a massive amount of red lighting and red filters for the shots. This gives the video an eerie and foreboding feel which perfectly echoes the sentiment of the song. At any given moment, be it when Hicks is tied up or BoodahDARR is spitting his verse by the blazing fire, you half expect the scene to erupt into violence and madness. Another smart detail used in this video is the heavy amount of shadowing on both rappers' faces. Save a few quick shots, the majority of the song sees both Hicks and BoodaDARR covered in shadows, adding another sense of urgency and darkness to the tune.
With quality tracks like "Bail Money" and quality videos to match, it's easy to expect great things from Rob Hicks. If this is your first experience with the Racine, Wisconsin emcee, do not sleep on his Paradise in Hell project. Press play on "Bail Money" above and be sure to keep it right here on EARMILK for all things dope music.
Connect with Rob Hicks: SoundCloud | Instagram | Twitter