It's mind boggling to consider that just five years ago, Matt Robson-Scott and Kye Gibbon were solo artists in the London scene (RackNRuin and Foamo, respectively) hyping one another's work and forging plans for collaboration. Fast forward to the cusp of 2018 and their duo Gorgon City is one of the indisputable international authorities in house music. With the recent launch of their underground imprint REALM, this pair of multi-talented creators prove their worth as tastemakers, mentors, and curators. Today Gorgon City reveal their newest release on REALM, a 4-track club-ready EP of funky goodness entitled Grooves On The Vinyl. 
I recently had the chance to sit down with Matt in Amsterdam, where he and Kye were prepping to debut the brand new Pioneer DJS-1000 at Amsterdam Dance Event. "It's basically the same size as the CDJ, but instead of having a flatter, it has buttons, which are used for sampling, for sequencing. It's a drum machine, it's a synthesizer, it's everything all in one," Matt explained. Only now penning this article did I realize what an accurate metaphor for Gorgon themselves this piece of equipment is – it's a veritable one-stop shop for all things creatively electronic. The same can certainly be said for Gorgon City.
REALM provides the duo with a platform to explore some of the more hidden corners of the genre, and to boost burgeoning talents that may not fit the mainstream status quo. "For a good few years, people have been sending us demos, up and coming producers wanting to sign to our label," said Matt. The priority with REALM is to exist not only as a launchpad for Gorgon City's own deeper cuts, but as an incubator to instill confidence in these rising artists. "Me and Kye have both grown up making dance music since we were kids. We've had that feedback and constructive criticism over the years, from label managers and agents," Matt relates. "Especially if you're a solo producer and you don't have anyone else to bounce your ideas off, it's really difficult to know whether things are good, whether they're finished, or whether they're worth doing in the first place."
With a repertoire of hits like "Imagination," "Ready For Your Love," and this summer's smash Duke Dumont collaboration "Real Life," Gorgon City continuously prove their ability to bridge the gap between club and festival, mainstream and underground. With REALM, the duo is poised to dig deep into the latter. I put Matt on the spot during our conversation to identify some of his favorite underground acts playing the event because, well, if you're sharing space with a tastemaker of this caliber, you better ask for their recommendations! Always representing the U.K, Matt's picks were Solardo (who have supported several of Gorgon City's KINGDOM tour dates), Riva Starr, as well as "the tech house guys from the U.K., Richy Ahmed, we're massive fans of all of those guys, so I think they are definitely a crew to check out. Latmun is another guy who's killing it right now. Those guys are really pushing it right now from the U.K."
When artists reach a point of esteem to the level of Gorgon City, it's not uncommon for them to lose a connection with the community from which they came. Grimy shoebox clubs are replaced with green rooms and private jets. Once the VIP curtain has been drawn, it's hard to go back to GA. But every DJ was at one point another raver, trudging to the club on weekends to catch a glimpse of their favorite act. For Matt Robson-Scott, that magic never died. "Walking home at 6 in the morning after being at Melkweg or something, is an amazing experience in itself. I can't wait already for tonight, to walk home from the club. Do you know what I mean?"
Don't miss Gorgon City's forthcoming KINGDOM tour, traversing the U.K. and Europe next spring. Grab Grooves On The Vinyl of your platform of choice here.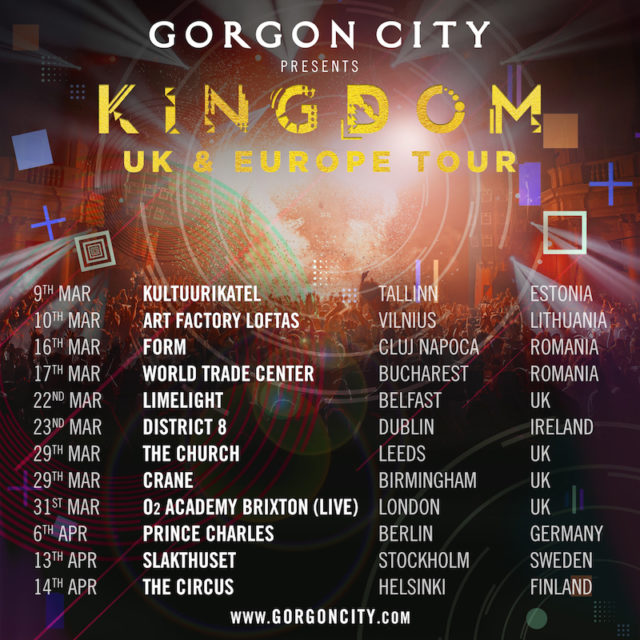 Connect with Gorgon City: Facebook | SoundCloud | Spotify | Twitter