Seattle-native rapper Sadistik has been in the game since 2007, churning out dark, cathartic hip-hop that feels birthed out of of cigarette ash and nighttime fog. He released his debut album The Balancing Act on Clockwork Grey Music and has been hard at work since, linking up with artists as Nacho Picasso, Mr. MFN eXquire, Astronautalis, Vast Aire and Terra Lopez, while paving his own way as one of the more thought-provoking alternative rappers out there today. He's undeniably one-of-a-kind, dead set on his wordplay and evolution of his own darkish sound.
Earlier this year, Sadistik released his fourth studio album on Equal Vision Records, Altars. Though the label is typically known for their punk rock and emo releases, Sadistik seemingly fit the bill. Altars is unsettling and often uncomfortable, littered in clever lyricism, rebellious attitude and droplets of despair. He tackled the subject of religious hypocrisy on the songs "Salem Witches" and "Sacrifice," while painting drab, revealing landscapes on songs like "Silhouettes" and "Roaches." Sadistik isn't shy about tackling his deepest thoughts and insecurities and projecting them out into the world. And that's most obviously displayed from the album's cover, which was created by California artist Michael Hussar.
EARMILK had the opportunity to chop it up with Sadistik as well as Michael Hussar to speak on the creation of Altars, the inception of its album cover, how the two artists start to work together and much more. Take a look down below.
EARMILK: How did Altars come about?
Sadistik: To be honest, I can't pinpoint any particular moment where Altars was born. I tend to work constantly, and over time my energy and instincts lead me to a place that finally starts to feel like it makes sense. With that said though, I feel like Altars is something that has been brewing inside of me since I was a child. The themes, imagery and tone of the project are subjects that I've warred with for most of my life. 
EARMILK: How did Michael Hussar get involved? What struck you about Michael Hussar's style?
Sadistik: Michael Hussar is my favorite painter and he was the only artist I could envision for Altars. He has a truly distinct aesthetic and paints a world that's both hyper-realistic and fantastically morbid at the same time. When he agreed to take on the project with me I showed him demos of the music and we discussed ideas behind the album, but I knew I didn't have to say much. He's one of the best painters in the world and some of the themes our crafts happen to share already complement one another naturally.  We both express ourselves through darkness.
EARMILK: Hussar, how did you feel about being attached to this project? Are you a fan of Sadistik?
Michael Hussar: Am I a fan? Have you heard the album? I've turned down countless musical projects over the course of my 20+ year career. Altars is the one and only cover I've ever done, and probably will ever do. I couldn't be more thrilled and proud to be involved with what I think is the best album of 2017 thus far.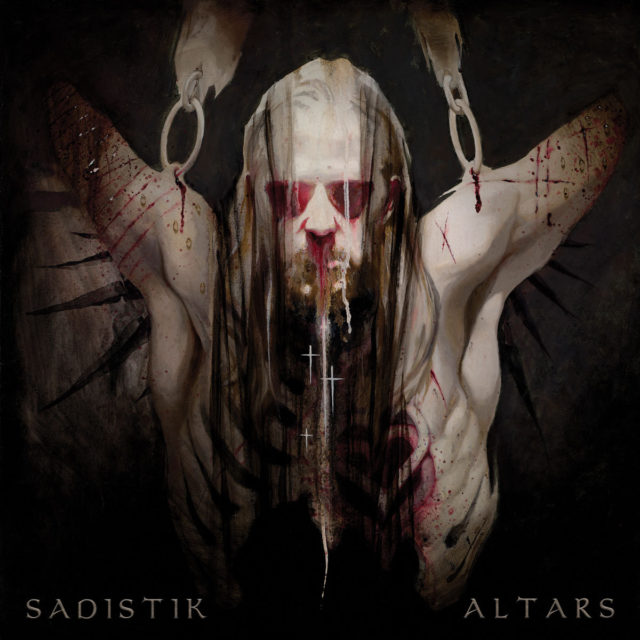 EARMILK: How did you approach creating the album cover?
Michael Hussar: Much in the same way I'd approach any painting. Only different. The difference was it being important to me to have his identity rise above and out of my style of painting.
EARMILK: How long was the process? What was the process like?
Michael Hussar: It was a year or two. but i was working on other stuff at the time too. It's always difficult to pinpoint just how many hours go into a painting for that reason. Lucky for me he contacted me early on in the process of making Altars. Since he was still writing and recording I had plenty of time and never felt rushed, which is not typical of being a hired gun. The best part of painting this cover was when I wasn't working on it at all. It was when he and I were out destroying Hollywood and Pasadena one bottle of whiskey at a time…
EARMILK: Hussar, did Sadistik give you an idea for the cover, or did you just paint from hearing the concepts of the album alone and discussing/hanging out with Sadistik?
Michael Hussar: I had full visual authority on this. I feel like because we're both exploring similar themes in our crafts he had the confidence that if left alone I'd come with something that would fit and advance the concept of the album. As I mentioned before he had been sending me rough tracks along the way so I was being informed and inspired along the way throughout the recording process. Early on I sent him a sketch or two that captured the tone of what was essentially the finished piece.
EARMILK: Sadistik, how did you feel when you first saw the cover?
Sadistik: I felt deeply honored and proud. I'm the only musician who's ever had the opportunity to work with Michael.
EARMILK: How do you believe music can be a visual medium? What did you want achieved with Altar's album cover and reveal, as being the face for the project?
Sadistik: By definition music isn't a visual medium, but I don't view myself only as a musician. I've always had a very strong visual element to my work from the album covers to the music videos I direct or write; it's all meant to be connected. A lot of the themes and feelings behind the songwriting were those of feeling dehumanized; about trying to connect in an increasingly digitized and cheapened place, so I knew only a truly tangible, hand crafted piece of art could properly symbolize these ideas. 
EARMILK: The lyrics on Altars seem very cathartic for you, touching on the darkest themes of your inner-self and projecting them outward. Where do you go mentally to tap into that?
Sadistik: That's just kind of what I do. Ever since I was a child I've been buried in my head and drawn to darkness. I think I've accepted that I have a lot of scars and ugly things that I'll probably carry around forever, so my goal is to try to turn them into something meaningful.
EARMILK: Obviously religion is a huge topic on Altars. What makes you want to tackle the subject of rejecting it in your music? Were you grown into a religious family? Do you feel like the majority of the people you see on a daily basis are blinded by religion?
Sadistik: Religion is something I'll never stop wrestling with. When I was a kid my environment was constantly changing and for a while I thought I found my place in a Southern Baptist church. Over time that phase of devout belief eventually morphed into anger and resentment towards worship and people in power. But that's not what this record is about. I have no interest in changing people's minds about religion, it's about thinking for yourself.
EARMILK: Were any movies involved with inspiring some of the ideas on Altars? I know you're a big movie buff. Honestly, the album cover channels a bit of Martyrs and Saw for me…
Sadistik: My love for movies always finds its way into my music in one way or another. It's funny you mention Martyrs, because I think beneath all the violence that's a movie about having a willingness to endure great suffering for a cause that you believe is truly greater. It's also a movie that many will immediately write-off due to its intensity. I relate to both of these things.  
EARMILK: This is your first record out on Equal Vision. How is it working with them? How is it being on a label known for its pioneering emo and rock acts?
Sadistik: It's been cool. I've never really fit in anywhere I go, so I feel comfortable being on a rock label even though I'm a rapper. They've looked out for me and helped me bring my ideas to life for this project. 
Connect with Sadistik: Facebook | Instagram | Twitter | Bandcamp