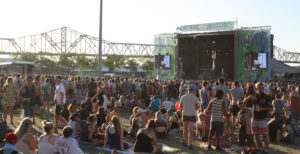 On July 14-16 Louisville, Kentucky held their 15th annual Forecastle Music Festival at the Waterfront Park. I was lucky enough to go and cover the hip-hop acts that would be performing and let me tell you, they did not disappoint. With the Midwest not being the priority stop for a lot of hip-hop artists,  I was really surprised to see some colossal names on the lineup. This included Run The Jewels, Vince Staples, and Waka Flocka Flame. It is safe to say that hip-hop made their presence known and it was lit af. The entire festival as a whole though was run perfectly. They had all sorts of merchandise booths selling all of the artists performing merchandise, the food was off the chain (however a little overpriced, I paid $17 for chicken strips and fries!?), and they made sure to have all sorts of shade everywhere because it was so damn hot. They even offered free water which was very useful so people didn't end up having a heat stroke while trying to catch their favorite set. But, enough with all of that, let's get into the shows that I was lucky enough to see. 
Friday: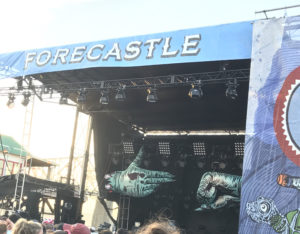 I am so mad at myself because I forgot my camera so I wasn't able to get some nice shots but I did get this one off of my phone so excuse the quality please. But, Friday started off with the weekend off with an absolute bang. This was the day for Waka and RTJ to perform their sets later in the evening with Waka coming up first. He was about 15 minutes late but that didn't stop the DJ from throwing on some heaters to get the crowd going early. Once he finally got there and started to perform, it was a zoo. All of the kids in the crowd were going insane and you could barely even hear Waka over the immense amounts of bass and screams from fans. It only took him roughly two minutes until he made his way into the crowd to submerge himself in the madness. The standout track he performed was not actually "Hard in the Paint", it was when he had the entire crowd throw their finger guns in the air as he performed "Bustin' At 'Em" and I gotta say, I have never heard a crowd scream "BOW BOW BOW" in unison so beautifully. If you haven't seen this wild ass live, I suggest you do sometime very soon. 
After the madness of Waka was over, it was time to head over to the stage to see a few of the best rappers in the game. Run The Jewels was a show that I will never forget and this is why. First off, they didn't come out to one of their own songs, THEY CAME OUT TO "We Are The Champions" BY QUEEN  BRUH. It is safe to say that from the second this set started I was shook because I wasn't sure what the hell was about to happen. This show had all sorts of elements that made it stand out as one of the best of the weekend and not just because of their astonishing entrance. At one point El-P had to inform the crowd that since he had seen a great amount of success from RTJ, it was his time to leave the group and pursue his own thing. He landed on spoken word poetry and uhh it didn't last long because his poem was actually the beginning of "Panther Like a Panther" from their third album. He did his verse and then, BOOM, bass drop and all was well again. They were always making sure to pay their respects to the great city of Louisville as they told the story about how they wouldn't have formed without the two men from Louisville hadn't had introduced them to each other. To wrap this up, Killer Mike wanted to make sure to dedicate this performance to his mother who passed away a few weeks before. This was his first show since the incident and he praised the crowd for helping him cope with the pain by helping them put on an amazing show. 
Saturday: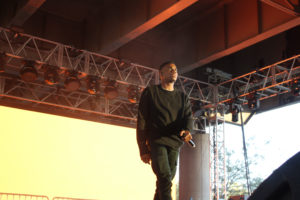 Saturday was a slower day for hip-hop but they did have one of the most interesting men in the game right now come through. Saturday belonged to Vince Staples who was coming fresh off his album Big Fish Theory which is nothing but HEAT so it was safe to say I was ready for this one. Without any introduction, Vince let the beat rock and the crowd went wild. The first track he came out to was "Party People" and I don't think there was any other record that could have started the show the way that one did. From the first to last bass drop that crowd was invested in every single moment of the show. Vince has always been very chill at his shows with not much crowd interaction but this time he actually was. This was my second time seeing him this year and the first time, he just showed up, did his thing, and left. However, with this show, he was more crowd friendly and was always asking to put their hands up or help out with the chorus. The standout track he did was off of his new album and it was "Yeah Right". From the first listen off the album, I knew that this was going to be the one that the crowd goes wild over because the hook is set up so Vince and the crowd can go back and forth. He definitely put on an amazing show and the crowd loved every second of it. Bravo Vince Staples, bravo. 
Sunday: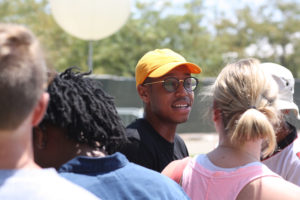 With all of the juggernauts performing on the other days, Sunday was controlled by up and coming rapper/singer/songwriter Pell. He went on at 1:15 which is a lot earlier of a show than I had seen all weekend but there was still a great crowd nonetheless to see this guy. He probably had the best crowd interaction that I was able to see at the entire festival. He was always making sure that they were there ready to help out with any hook or ad-lib needed by letting them know how it went before the DJ hit play. I was actually lucky enough to catch an interview with Pell later on in the day to talk about the performance, his new track, and his plans for the future. 
EARMILK: I was sent here to basically cover all of the hip-hop acts since we had some big names coming to Louisville so I just wanted to hear your thoughts about the Louisville crowd with this being your first time performing here?
Pell: It was great, definitely great. The energy in the crowd was incredible especially since it is so hot out here you know since we are in the south, everyone came with it. Man, that is really what it is all about. I'm just out here trying to have a good time, I flew all the way here from L.A. so I don't have any time for no bullshit.
EARMILK: Were you kind of surprised to see the crowd react the way they did to your show?
Pell: Oh, definitely! I mean, I know the ones that they want to hear like my record, "Eleven:11" they went crazy over that and it was dope to see that they are loving that over here.
EARMILK: It sounds like you enjoyed the set so it is safe to say that you will be making sure to add Louisville to your next tour?
Pell: For sure, I am definitely going to make sure to incorporate Louisville or just Kentucky in general next time I go on tour. 
EARMILK: Okay, enough with the Louisville talk, I want to get into your new track "Jam" with London On Da Track. How did that one come together?
Pell: That actually came together really cool. We met through Redbull actually, we did a couple joints for them for their Redbull sound select. After that, we were only supposed to make two records but we ended up making like five or six. "Jam" was actually the first one we made. I came in there and started freestyling a little bit and told me to keep going and he was making the beat on the spot. It only took him like 20 minutes to make the beat and it took me like two hours to really come up with all of the lyrics. It was a beautiful thing because it was quick. 
EARMILK: With your last album coming out in 2014, how have things changed for you as an artist as we fast forward into 2017?
Pell: Oh, I am producing a lot more. I am trying to have my hands on at least 80-90% of the things that I am doing. But, I do have some friends that I really look up to for production purposes. But I have really been focusing on how to be better personally. 
All in all, Forecastle was a blast. This is one of the times that the Midwest can find an environment outside of Lollapalooza where they can find not only great music, but also great food, people, and environment surrounded by music lovers. With this being their 15th anniversary, they wanted to go above and beyond something that they have never done before and they nailed it right on the head. The scenery here was also insane since it was right on the river by the bridge. You had a view of the whole city as well and also received a nice breeze that helped since it was so damn hot. This is one that you need to keep on your calendar every year if you ever plan on coming to Lousiville.