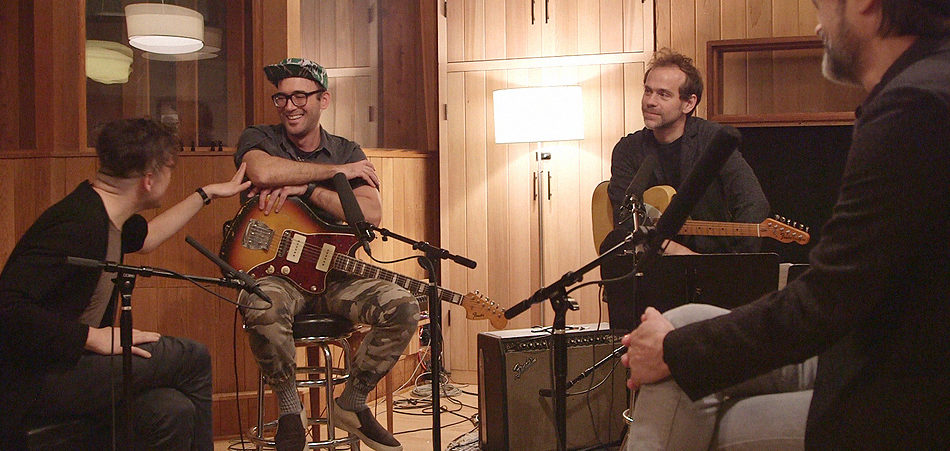 The podcast renaissance is still growing strong in 2017, with a program available for even the most niche interests out there, making long days at work and solo-road trips more bearable than ever. Aside from podcasts about 20-year-old cult TV shows, the worst movies ever made, and murderers throughout history, there's also a hell of a lot focusing on music, allowing listeners to fill their free time with hours of music facts, interviews, and discussions. Here are some of the best music-based podcasts available today. 
Song Exploder
Song Exploder host Hrishikesh Hirway brings in noteworthy musicians to separate their multi-layered tracks and explain the meaning behind even the tiniest of musical decisions when it came to a specific song's production. This podcast allows listeners to grow close to songs they may have been familiar with for years while sharpening up their knowledge of musical terminology and work ethic behind the scenes of a song's creation. Fleet Foxes, Gorillaz, and Michelle Branch have been amongst some of the podcast's recently featured artists.
Subscribe to Song Exploder on iTunes, Google Play, or Soundcloud, and check out an episode below.
[soundcloud url="https://api.soundcloud.com/tracks/317163144" params="auto_play=false&hide_related=false&show_comments=true&show_user=true&show_reposts=false&visual=true" width="100%" height="450" iframe="true" /]
All Songs Considered
This is the podcast for the people who love to make playlists. Each week, the hosts of All Songs Considered curate a list of tracks based on a specific theme or artist, often bringing in bands to guest DJ and discuss why the songs they added to the mix are significant to them. All Songs Considered excludes no musical genre, and incorporates interview, discussion, and song breakdown in each episode.
Listen to All Songs Considered on iTunes.
No Jumper
Host Adam22, currently on tour for the show, brings in hip-hop artists about to blow up for weekly interviews and has quickly become one of the most listened to music podcasts of the year. The iTunes description deems No Jumper to be "The Coolest Podcast in the World," and whether this description is self-written or taken from a critic, the fact is far from false. With guests such as Ghostmane, Oliver Francis, and Yung Jake, No Jumper mixes hip-hop with internet culture to bring fans a unique blend of weekly listening.
Find No Jumper on YouTube, iTunes, and Soundcloud, and watch an episode below.
The Future of What
The Future of What delves into the very serious and vast question: "What is the future of music?" Topics range from the discussion of vinyl to jobs in the music industry and feature prominent and informed guests from the industry in each episode. The podcast often runs spotlights on names in the music industry that listeners probably don't know about, highlighting behind the scenes workers, music supervisors, and other sections of musical careers, amongst many other points of interest for those looking to expand their horizon on the subject of all things music.
The Future of What is available on iTunes, Bandcamp, and Soundcloud.
Talkhouse Podcast
What do you get when you stick two very different artists in one room and ask them to interview each other? Find the answer while listening to Talkhouse Podcast, which does just that. Previous episodes include discussions between Alan Palomo and Caroline Polachek, Kid Cudi and Paul Reubens, and Peter Hook and Andy Rourke. Actors, comedians, and others are often sprinkled into the mix, giving listeners an unexpected conversation with each listen.
Talkhouse Podcast can be found on Soundcloud, listen to an episode below.
[soundcloud url="https://api.soundcloud.com/tracks/319629283" params="auto_play=false&hide_related=false&show_comments=true&show_user=true&show_reposts=false&visual=true" width="100%" height="450" iframe="true" /]
Turned Out a Punk
Famous former punks such as Anthony Bourdain and Fred Armisen join host Damian Abraham to discuss the history of the genre, how they got into punk music, and, quintessentially, how punk music changed their life in some way, shape, or form. Listeners are able to hear stories about some of their favorite celebrities and musicians attending iconic shows at CBGB, learn about punk bands signed with smaller labels, and weigh in on where punk originated, a viewpoint that stands different with almost anyone asked.