Success isn't easy, but Grandtheft and Delaney Jane aren't having any problems there. The duo has been riding high since the release of their track "Easy Go", which currently has over three million plays on Spotify, broke the Top 50 on US radio and just debuted at #39 on US pop radio – the only indie act in the entire Top 40.
Adding to the success of the single, Grandtheft has just announced the Easy Go World Tour, which includes 30 dates across North America and Europe with more dates to be announced. The tour starts tomorrow, March 3rd, in San Francisco and ends June 10th at Summerburst Festival in Stockholm.
Ahead of the upcoming tour and after the release of the "Easy Go" music video, EARMILK had the opportunity to chat with Grandtheft and Delaney Jane about the collaboration, its massive success, Toronto and plans for 2017 back in January.
"I never imagined having a single of mine in rotation on pop radio all over the US. It blew up on Canadian radio first and we are up to #41 in US pop and almost top 10 on dance radio. We didn't initially set out to make an up-the-middle pop song. This was a song written with friends that just felt right. So this is all a crazy bonus to be hearing it playing everywhere in stores, Ubers and public places in general", says Grandtheft in regards to the track's success.
Both himself and Jane never thought the track would blow up to this level, but the surprise is definitely a pleasant one. The music video, released on January 23rd and has close to 200,000 views, showcases the track's inner sexy theme. Jane says they wanted to avoid the obvious cliches surrounding the theme of "falling in love", which meant the video went towards a darker, more provocative route. The overall vibe of the video captures the raw, real emotions encapsulated within the track.
"Easy Go" is a collaborative effort between artists who all call Toronto, Canada home. The track also includes musician Shaun Frank as a co-writer and I wondered what it was like for friends, and fellow Canadians, to collaborate on such a project together. "I like collaborating best when it's with friends – We have a lot of talent in Toronto and elsewhere in Canada. I have collaborated with Keys N Krates, Sleepy Tom, Lowell and lots of others too. Shaun and Delaney are both great people and monster talents. It was a gift to work with them on this – the process was all organic, easy and fun", says Grandtheft. Jane also adds, "It's always nice meeting and collaborating with fellow Canadian talent. I had been a huge fan of Grandtheft for years before we even met, so it was particularly special for me when he reached out to work on a track together. He's not only really good at what he does musically, but he's also a genuinely kind human being who I'm glad to call my friend". 
At the time of this interview, The Hoxton, a pivotal venue for electronic, indie and hip-hop musicians in Toronto, had recently closed and Grandtheft had taken part in the venue's closing 'No Neon' party. As many Toronto artists and fans feel, he says there aren't many venues like The Hoxton left and it will be missed by the city's music scene. He had played his first sold out show there, some memorable B2Bs and knew he had the jump on the decks with Hunter Siegel (No Neon's founder) for a set that lasted close to 5 hours. Delaney Jane mirrors Grandtheft's statement and says the venue felt like a big family reunion at every show.
I was definitely curious to see what was in store for Grandtheft in the upcoming year. The producer has a few remixes planned and is hoping to work with more Toronto-based artists such as Partynextdoor, Jazz Cartier, Tory Lanez and Nav. He also has a few more singles to release, which will lead into a new EP out this spring/summer, as well as an official "Starboy" remix with Sam Spiegel and the upcoming tour.
Check out the Easy Go World Tour dates below.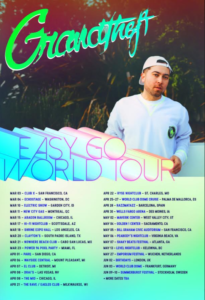 Friday, March 3     San Francisco, CA     Club X
Saturday, March 4    Washington, DC    Echostage
Friday, March 10    Garden City, ID    Electric Snow
Saturday, March 11    Montreal, QC    New City Gas
Wednesday, March 15    Chicago, IL    Aragon Ballroom
Friday, March 17    Scottsdale, AZ    Hi-Fi Nightclub
Saturday, March 18    Los Angeles, CA    Shrine Expo Hall
Monday, March 20    South Padre Island, TX    Clayton's
Tuesday, March 21    Cabo San Lucas, MX    Nowhere Beach Club
Thursday, March 23    Miami, FL    Power 96 Pool Party
Saturday, April 1    San Diego, CA    PARQ
Thursday, April 6    Mount Pleasant, MI    Wayside Central
Friday, April 7    Detroit, MI    El Club
Saturday, April 8    Las Vegas, NV    Drai's
Saturday, April 8    Chicago, IL    The Mid
Tuesday, April 21    Milwaukee, WI    The Rave/Eagles Club
Wednesday, April 22    St. Charles, MO    Ryse Nightclub
Tuesday, April 25 – 27    Palma De Mallorca, ES    World Club Dome Cruise
Friday, April 28    Barcelona, Spain    Razzmatazz
Sunday, April 30    Des Moines, IA    Wells Fargo Arena
Tuesday, May 2    West Valley City, UT    Maverik Center
Thursday, May 4    Sacramento, CA    Golden 1 Center
Friday, May 5    San Francisco, CA    Bill Graham Civic Auditorium
Saturday, May 6    Virginia Beach, VA    Peabody's Nightclub
Sunday, May 7    Atlanta, GA    Shaky Beats Festival
Saturday, May 13    Kelowna, BC    Level Nightclub
Saturday, May 27    Wuchen, Netherlands    Emporium Festival
Friday, June 2    London, UK    Birthdays
Saturday, June 3    Frankfurt, Germany    World Club Dome
Friday, June 9 – 10    Stockholm, Sweden    Summerburst Festival
Connect with Grandtheft: Soundcloud | Facebook | Twitter