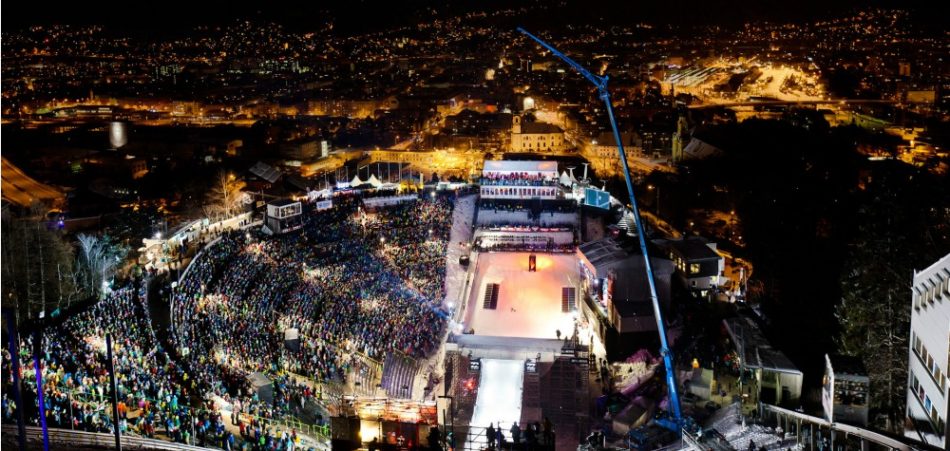 In a day and age ruled by "alternative facts" it's good to have a few "alternative" festivals to keep our heads from exploding and no I don't mean a Smashing Pumpkins concert. In slides Air + Style, a surprisingly smooth marriage of contemporary music and extreme sports. With a line-up featuring rising hip-hop stars Vic Mensa, Vin Staples, and YG in addition to electronic super producers Flume and Diplo (Major Lazer) the Sean White owned festival treated LA's downtown Exposition Park to a high octane, crowd-pleasing, orgy of beats and boards.
After checking out the set times and scoping the layout, it became clear to me that cohesion and accessibility is this popup festival's top two priorities. The two-stage set-up (well 3 if you count the enormous snowboarding ramp) had staggered set times and were less than a couple of acres apart. During the early evening gaps between sets were filled with the actual snowboarding contest. This made for a welcomed and visceral distraction from the music and gave the stage techs valuable time to set-up the next act. All-in-all you can say that you never went more than 10 minutes without any sort of auditory or visual stimulation.
Going into the weekend Los Angeles was hit by its worst rain storm in the last 5 years so bouncing back from such a dim outlook for the weekend and ensuring the festival went ahead as planned, was safe for attendees and athletes, was a testament to how hard the staff worked on planning and execution. Not to name names but A+S succeeded where many other festivals I've attended in the past failed miserably following such inclement weather. 
Now onto the music. For the most par,t you could categorize the music selection as an au courant mix of hip-hop and electronic music. On Saturday Vic Mensa showed up late but still put on a great show. Chromeo performed with true flair and debonair as only Dave-1 and Pete Thug truly can. Vin Staples rocked the hometown crowd into a rowdy stupor and Flume brought it all home performing a massive sermon bringing out the both the aforementioned artists for their respective records and Pusha T to perform "Enough" off the new Skin Companion EP II. The Aussie bass-king had the entire crowd hanging on hit after hit after hit as he hit each beat of his rogues gallery of bangers. Sunday was just as epic featuring a stacked line-up of YG, TV on the Radio, Louis the Child, Zhu, and Major Lazer. Let's just say in this day and age YG's "FDT" goes off. Louis the Child always brings it and despite the weather the mysterious Zhu and the eclectic Major Lazer closed the weekend out on a high note. 
The festival was certainly a hit. The only two drawbacks were that the crowd leans a bit on the younger side even for me (I'm 26) and the sound design at each of the stages left a lot to be desired (I'm an audio-whore) especially when Air + Style is a unique blend of fun and wonderment. I hope Mr. White continues to grace us Angeliños with times like this for years to come.