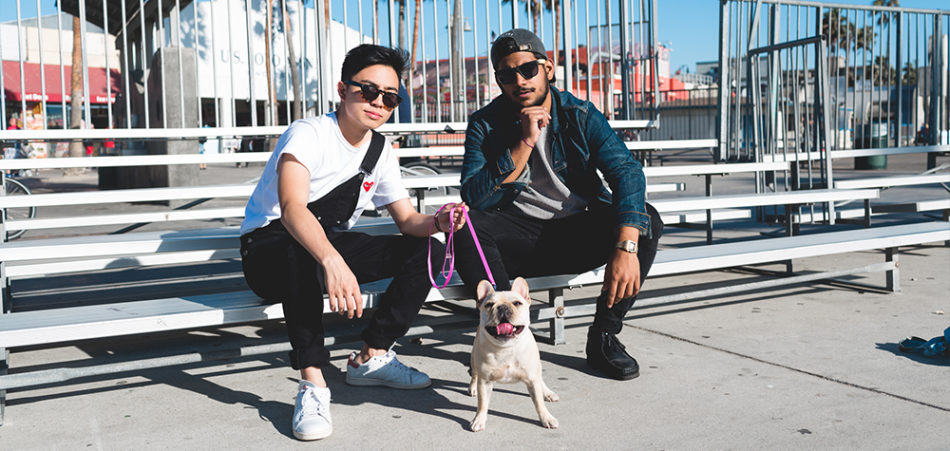 One listen through Hotel Garuda's Eternal Sun tour mixtape will have you elated in one resolution - this is music to fall in love to. Whether it's a sparkling original track or smooth rendition of a friends', HG members Chris Gavino (aka Manila Killa) and Aseem Mangaokar never fail to fill a room with contagious smiles and bouncing fans. 
[soundcloud url="https://api.soundcloud.com/tracks/303383899" params="auto_play=false&hide_related=false&show_comments=true&show_user=true&show_reposts=false&visual=true" width="100%" height="450" iframe="true" /]
The duo just finished the Southern California leg of their Eternal Sun tour, where EARMILK got the chance to catch up with them. We were interested in the unique story that brought them together and how it influenced their music, having heard that they reconnected after attending the same middle school in Indonesia. 
Aseem comments, "I lived in a bunch of different countries growing up, but a lot of the music I grew up on was influenced by my dad, who's Indian. He listens to a lot of classic rock. That was the early start of what influenced my taste, and eventually my music." Chris elaborates, 
"Because I've lived around the world, I've been able to listen to a lot of different kinds of music. What was popular in one country wasn't necessarily popular in another, so I was able to hear a whole melting pot of different kinds of music. This carried over in helping me keep an 'open ear' where I was able to appreciate different kinds of music, even though it wasn't necessarily my cup of tea."
HG keeps their sets interesting by maintaining this open ear; they slide in atypical tracks like Fleetwood Mac's "Everywhere" into a cohesive, warm mix. Keeping things unexpected is a keynote feature to HG's success, which began to pop off around three years ago with their remix of Disclosure's "White Noise" with MNEK. The song clocked over a million Soundcloud plays and was one of the duo's first "ah-hah" moments in their careers.
[soundcloud url="https://api.soundcloud.com/tracks/129819638" params="auto_play=false&hide_related=false&show_comments=true&show_user=true&show_reposts=false&visual=true" width="100%" height="450" iframe="true" /]
Another big moment for HG's career was when they opened for Thomas Jack. Chris comments, "We were asked by Alex English to open for Thomas Jack at the legendary Webster Hall in 2014 - that was definitely a defining moment for me realizing that perhaps, this whole music thing is bigger than just a hobby."
Aseem agrees, and notes about the show,"I remember the feeling of seeing all of these people looking up at us eagerly awaiting the music and thought, 'Oh well, now we have to go for it!'"
Over the years, they've evolved their feel good, summer house sound with influences from The Alan Parsons Project, Bon Iver, Cashmere Cat, Odesza, Porter Robinson, Hans Zimmer, and Taiki Nulight, to name a few. In fact, both Chris and Aseem said "Hans Zimmer" in unison when asked who they'd love to see live in the future.
With these legends in mind, HG is furiously cultivating considerable buzz around the world, having played festivals like Snowglobe, North Coast, and Splash House, sharing positive vibes across the globe. Now, they're able to give fans the same goosebumps that their heroes continue to give them. When asked some of their favorite memories from tours, Chris shares a heartwarming memory from just a few weeks ago at Holy Ship 2017, "I was recently on Holy Ship, on my way to play our Hotel Garuda set, and as I was walking down the corridor where I was staying, a girl came up to me and asked if I was Hotel Garuda. I said yes and she immediately started crying and explained how much our music meant to her. That was one of the most beautiful moments I've ever experienced."
Aseem is starstruck with every new show, saying,
"I have a ton of great memories form shows but seeing people yell the words to our songs at our first headline tour is a new favorite."
The only way to go is up for HG. Taking tips from these veterans, they've has sold out a solid portion of their debut national tour. Chris explains about the first show, a collaboration with Brownies & Lemonade at The Roxy, and his expectation for the rest of the tour, "The energy was sooo wild. I'm really excited for New York and DC, they both hold special places in my heart. New York because I've always loved that city, and DC because that's where I'm from."
Aseem chimes in about the places he's most stoked for on tour, "San Francisco has always supported us in crazy numbers so I'm really excited to go back there, [and] DC because it's a hometown show for Chris."
No HG show would be complete without openers who effortlessly weave electronic and smooth R&B on feel good sets. For the Eternal Sun tour, they've enlisted sounds from friends Matt Dimona and Wingtip, two close friends of the duo. 
Aseem explains of HG's picks for openers, "Matt Dimona is my roommate and we've known each other for a few years. Chris and I both love his music so it was an easy decision to reach out to him. Nick (Wingtip) and I have also known each other for a few years and we originally met because we had a mutual friend in college (back when he was Flaxo)."
Chris elaborates, "I've met both of them through Aseem, actually, and instantly became fans. I recently found out Wingtip was formerly known as Flaxo, so that was a huge surprise to me; I'd been a fan of Flaxo for years now."
Check if your city is on HG's tour here, and check out their latest release below. I can't wait for more HG in 2017; I've got a feeling it'll be a huge year for the duo.
[soundcloud url="https://api.soundcloud.com/tracks/285847528" params="auto_play=false&hide_related=false&show_comments=true&show_user=true&show_reposts=false&visual=true" width="100%" height="450" iframe="true" /]