In today's fast, commercially driven electronic music world, digital releases are blasted across more platforms than ever, and at a truly furious pace. Often times of true creativity is lost in the quest to reach the most ears, gain the most exposure, and pique the interest of the blogosphere. It's an admittedly exhausting process for those of us tasked with sorting through the sludge. So when a noted electronic group releases a 400-copy straight to cassette ambient project that is a complete left-turn from their previous music, we take note.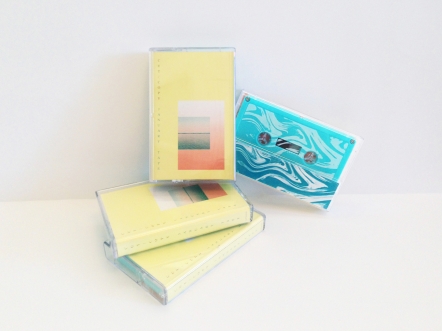 I recently had the opportunity to chat with Dan Whitford of Cut Copy on The January Tape (out now on digital platforms) and learn what inspired the unique and refreshing release. Most known for a highly danceable, vocally driven electro-pop sound, the ambient instrumental latest from the band is quite a change from the peppy grooves most associated with Cut Copy. "It probably seems like a bit of a departure from things that we've released in the past, previous albums," remarked Dan. "We listen to all sorts of music and are inspired by all sorts of things that don't sound exactly like Cut Copy. We thought it would be a cool opportunity to put out something that really was different from what we normally do, and hopefully, people are vibing on that."
It's a 44-minute meditative journey through space and time, more suited for the yoga room than the dance floor. "The evolving nature of the music suggests the dynamic of maybe like a film score," said Dan. "To be honest, I listen to a lot more music that sounds like this kind of thing than I would to something that sounds like Cut Copy when I'm at home or in between touring. There's probably an element of being able to escape into like a whole different weird landscape which is reflective of this kind of music."
Hailing from Melbourne, Australia, Cut Copy originated in 2001 as a solo project by DJ and graphic designer Dan Whitford. Subsequently joined by band mates Tim Hoey (guitar), Ben Browning (bass) and Mitchell Scott (drums), over the course of the next decade Cut Copy went from mainstays of the Australian blog house scene to dominating the major international festival circuit. Their big break came with 2008's In Ghost Colours, and the band has continued to steadily release intelligent, evolving electronic music in the years since. Their last release was 2013's triumphant Free Your Mind, and fans are eager to see what direction the band will take next.
[soundcloud url="https://api.soundcloud.com/playlists/249460854" params="auto_play=false&hide_related=false&show_comments=true&show_user=true&show_reposts=false&visual=true" width="100%" height="450" iframe="true" /]
"We've just embarked on doing final recordings for the next Cut Copy album," divulged Dan. "At this stage we've spent the majority of the past year and a half working on writing songs for the new album. We've gotten to a point of creating a short list or distilling down what we feel like the core of the next album is going to be. Now we're in the studio thrashing out some ideas just to sort of see what that actually turns into. Certainly, there's a few themes, flavors, things that I feel might bind these songs together."
When considering Cut Copy's catalogue in chronological order, it's apparent that the group has progressed in ways that challenge the status quo of mainstream dance music. "It's essential to evolve things," explained Dan. "There's obviously an element of any dance fan that wants more of the same. Sometimes you've got to give people what they don't even know they want yet, exactly what they're asking for. Sometimes you've got to almost be the fortune teller, looking into the future of what you think is really going to switch people on, what's really going to surprise people or excite people. I think that sort of evolution each time is really important."
With The January Tape as a reprieve between studio albums, the band looked to the undeniably nostalgic platform of the cassette tape for an intimate release that rewarded the diligent fan. "We've always had some sort of loyalty to physical formats, and I guess that's maybe because of our ages. We were around through the time when CDs dominated, vinyl obviously before that. Cassettes I think are interesting formats because they never really ruled. Traditionally you would make a mixtape and pass it to your friends," said Dan.
It's the intimacy of the release that struck me, the choice to first limit production to 400 units and withhold from digital release until months after the fact. "I like the idea that by putting it out initially purely on tape it encapsulates the sentiment behind the music," explained Dan. "It's for people who want to dig or discover something different. And I think it rewards people that put in the effort."
In the current climate of fast food-style dance music consumption, this sort of release is a blessing and a rarity. Dan puts it best – "it's sort of a playful way for people to experience this music, rather than feeling like its just another thing on the conveyor belt of digital music that's shoved down your throat on a daily basis. If you really want to check this out you can put in some effort and be rewarded."
Connect with Cut Copy: Facebook | SoundCloud | Twitter