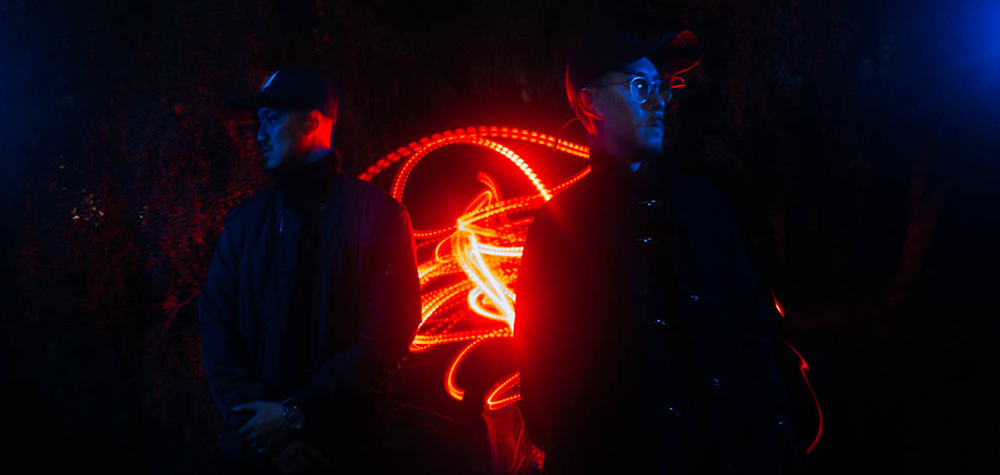 Today, MIKNNA drops the third single off their upcoming EP 50/50 (All Seasons) titled "302". EARMILK had the pleasure of sitting down with the duo themselves to discuss how they collaborate, following their intuition, finding the balance & all things creatively stimulating. 
MIKE B & Ken Nana first met working on a homies music video. They both acknowledged the fact they were musicians but didn't take the time to actually execute anything creatively together. After seeing each other coincidently by being in the same place at the same time - they decided to create. However, Ken Nana's father passed away around the time they decided to collaborate. So naturally this had the two artist rescheduling a time to commit to their craft together. He inherited his father's instruments allowing him to be in one of the most devastating but inspiring periods of his life. In the wake of his father's passing, Ken picked up a guitar and decided to channel his father's energy to create in his honor. 
"He was a musician; I grew up influenced by him playing music – that's where I picked up the "soul" part of the sound. He never read music, he didn't play like that, and it was all by how he felt. Everything is about feeling. There isn't a single thing I do that's "calculated", I literally jam with myself. I play one thing, record it, play something else, record it, and layer it with some other sound. Then I go through and dissect what goes well together. "
So they knew they had to collaborate, they knew they had a sound to share, but where? 
"Our first song was "Can't Hold You". Which sounded really different and really similar at the same time. We really sat down and figured out each other's musical taste and our longevity. We discussed different genres and we brainstormed a lot. So we were like let's just do another project. We were confused because like, should we do a one off project like Mike B + Ken Nana or what?" - Mike B

"We really had a distinct sound and it was really unique sound but how will it fit with our direct fan base and our sound as solo artist? So we decided to create something brand new together and use the platforms we have, learning from what we've built in the past and rebrand to shape something as a whole new artist and a whole new entity. That's where MIKNNA is a lot more fun cause we are really building from the ground up oppose to trying to deliver to our individual artist." - Ken Nana
Regardless of their feels on following their intuition and not making calculated moves, both Mike B & Ken Nana studied at the Musician's Institute in Hollywood, CA. But a big thing for both artists in their collaborative space is allowing themselves to let go and let "the song be the biggest ego in the room." The duo speak on their love for each other with that quality yin and yang vibe. 
 "We like to treat Mike B's voice as another instrument. He has a great tone and great ear and his melodies are always on point. He wasn't really singing before so we really started expanding on that and really opened up as an artist as he started singing because he was already an ill ass rapper – he's got the cadence and he's got the flow and now he has the melodic tone too and that's what makes timeless music." - Ken Nana
And Mike B has a little hypothesis on how we interpret sound as listeners, specifically, Ken Nana's keys.
"I have this theory that the body is made up of 75% water so with music it travels with frequencies. The way the low end hits when Ken lays it down, it's really a fluid vibration. He's really good at feelin the sound of things – he doesn't put things in place where it doesn't need to be. He's not trying to outshine the other artist or outshine himself and gives me plenty of space to experience as an artist. It's a lot easier for me to be open and vulnerable with him and that's where the best music is made." 
For "302" in particular, fluidity is an understatement. The upbeat track is easily adaptable in the clouds or under the sea. Mike B possesses some of the most sexy wordplay over Ken Nana's beat. Ken Nana uses sounds that are reminiscent of some of M83's early productions, yet also sounds like the notorious sounds from Major Lazer's "Lean On" but slowed way the fuck down. The production has expanding synths and analog beeps while Mike B effortless flows over the beat. Sampling some of my favorite Missy lyrics of all time - Mike B pays ode to the OG saying, "Ain't nobody ever going to love you like me. Put your thing down, flip it and reverse it for me". This duo really get to value of blending hip-hop, rock, soul, pop and jazz. They really have a taste for everybody like satisfying a universal appetite with their sound. 
As Mike B put it best,  "50/50 is everything we are about. Relationships or jobs: You always think you deserve more or less, so it's always about finding a balance."
This is the third release off their well received and very anticipated debut EP 50/50 (All Seasons). We cannot wait to hear more, simply because they drop banger....after banger....after banger. 
Connect with MIKNNA: Soundcloud | Instagram | Twitter | All Things MIKNNA | Spotify