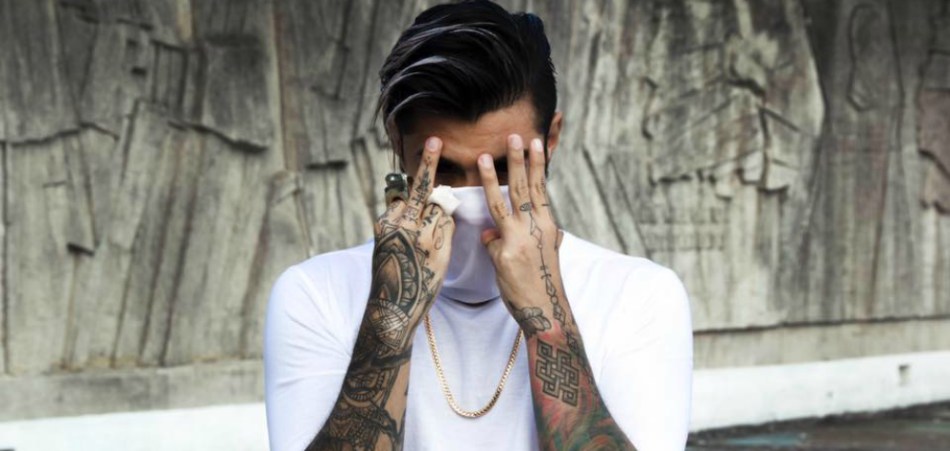 True flavour and spunk is what pushes artistry forward and sets a standard to move beyond the cookie cutter trajectory. The electronic realm of music is booming with aspiring producers, each in search of their niche and simultaneously attempting to craft a signature style. One artist who refuses to adhere to generally popular tastes is house music producer k-lix. The Guatemalan producer is currently making waves in the scene with his eccentric beats that challenge all qualities of house music. With quirky tracks like "#1 Stunna" and "Una Chica Boom", k-lix has enveloped his audiences in a textured and colorful tech house experience and has successfully curated a unique identity to push him forward in the electronic world. 
Just two months ago, EARMILK had the exciting opportunity to premiere k-lix's "Shot Caller". Today we unveil to you an exclusive mix from the producer, filled with hypnotic frequencies, fat bass and delicate details. Additionally, k-lix was able to chat to go into depth about his passions and thoughts in the industry. In this exclusive interview with EARMILK, k-lix discusses the revolution of his imprint Kill the Rave, his inspirations, the diversified scenes of electronic music and how it varies from his home of Guatemala to Los Angeles. A true renegade in his art, k-lix follows no guidelines and stands by his passion through his idiosyncratic sounds. More than anything, k-lix represents an admirable trait to want to merge musical worlds and unite the community through its diversified sounds.
EARMILK: For those just discovering your music, tell us a little bit about yourself
k-lix: I've been making music and DJing for awhile now. I'm Guatemalan, born and raised. I just moved to Los Angeles. I've been pushing my records on our own label that started as a party night 4 years ago called Kill The Rave. We throw a monthly party with international talent in Guatemala and we also showcase up and coming local talent.
EM: What were your musical inspirations growing up? How did you find yourself producing music?
K: I grew up to a bunch of punk, hiphop, reggae, dancehall, things like 2pac, Jay-z, Jimi Hendrix, Pink Floyd, Tool, Deftones, classic stuff. Then I started going to psytrance parties and discovered Radiohead's "Ok Computer", it changed my life. It was years after it came out along with Kid A, but it showed me an electronic side of music that made me put down my guitars and pushed me to start making beats. I started evolving from that to producing bass, glitch, techno, tech house and I always went towards darker, deeper, trippy, brain scratching sounding music...
EM: Describe the music scene in Guatemala and how it differs from the United States.
K: It's pretty different, I think all the places and all crowds in the world have their vibes and their things. Guatemala is still a baby, it wasn't long ago the techno/ darker underground House scene was pretty dead. We had one in the early 2000s to 06 when I was really young and I didn't really experience it and it went to being really numb for a good set of years. Then us and few other DJ homies started throwing parties 4-5 years ago. There is a special vibe to a Kill The Rave party in Guatemala, people are always eager in the right mindset to digest artists and their story telling with DJ sets now. Guatemalans go the fuck in, they love to party. There are also bunch of young DJs and crews putting events with locals every weekend, promoters bringing quality international acts every month, it's been beautiful to watch it grow from nothing to what it is now. The US/ Los Angeles scene, I have a lot of respect for the events that get put together every week. It's super overwhelming at first, being from a third world city that when we started, we didn't have venues, we would grab a dope restaurant in a dope location, put bunch of money into good sound and lights and then some, and turned that shit into night club. To seeing clubs like Avalon and Exchange, it's pretty wow at first. Party ends kinda early which bums me out but it's an LA vibe. All crowds/scenes are different around the world I think thats why is so special to play in certain cities and experience them.  
EM: What draws you to house music specifically? How do you see yourself adding your own twist to the genre?
K: Being heavily influenced by techno, hiphop (my 2 main loves in life) bass and trippy glitch music, I feel like the new wave of tech house and g-house gave me a base and something I could put in a blender together and come out with a mix of it all, that's my own sound. I kinda don't really plan it to be, like thats just what pours out. I use house and tech house/techno/glitch basic elements and build from that incorporating all the other stuff I'm into. I fuck heavy with real street trap, Puerto rican/Dominican music, dancehall and Reggaeton, and I use a lot of Reggaeton drums and trap 808s to make house.  
EM. How do you individualize in such a saturated market?
K: Being into so many types of music that mixes all the stuff I like, it ends up coming out being a pretty unique vibe. Especially right now a lot of people are doing stuff in very similar vibes, kinda like a copy of a copy. Even though the market is heavily saturated, I don't think that is that hard to stand out if you have a unique natural honest approach to your art. The biggest battle for something like this is getting the exposure and being able to present it to people. 
EM. What artists do you look up to at the moment? What artists do you feel are changing the game? 
K: Many good artists right now are killing it and truly making waves with progressive fresh sounding music, on my tip that is the darker, close your eyes and it takes you for a ride sound. My favourites are: Marc Spence, Maksim Dark, Victor Ruiz, Etnik, Josh Brown, Cosmic Boys, Malaa, Alesia, Maximono, to name a few of the young blood and legends like Oliver Huntemann, Hatzler, Sven Vath, Josh Wink, old like 2007-06 Popof; Tiga, Dj Sneak, Pan-Pot, Dubfire, Justin Martin, Green Velvet that I still bump on the reg, cause it keeps me super inspired. Music like that is so unique and most of them are still knee deep in the game, pushing dope records and playing everywhere too. 
EM. What is your creative process? What gets you inspired and keeps that flow going?
K: I try to free everything out in advance that I have to do for days in a row, so I can get deep into studio mode. I'll wake up, go for a good work out to clear my head, get them chakras flowing, throw my cell phone away, grab a coffee, get lifted and start playing with synths and programming drum beats. I have to keep it fun cause my ADD is no joke and it's hard to stay concentrated otherwise. I can hibernate and keep that regime for a good amount of time if I'm inspired. My friends often go a good amount of time without seeing me, I love being in my own world creating, it gives me life.
EM. In which direction do you see the electronic music scene moving towards? What is your favourite part of being a part of the industry and what would you change?
K: We are living such a good era, in which there's a lot to choose from. It's a healthy industry for the most part in the underground like Techno and House, which is my world and what I can speak on behalf of. I hope for the world to connect itself more and give more chances in line ups and festivals to the younger up and coming blood. Also, from traveling and living in a bunch of places, I noticed certain parts of the world have certain unique type of sounds that other parts of the world don't get to experience. I feel like that exportation and linking the world so we can all experience music as one, is very important. LA is a good example. The Brazilian Techno/Tech House sound still hasn't reached here and it drives me crazy cause it's so good. Brazil is such a special place in the world right now, putting amazing music out and it hasn't reached here yet. I would say being part of the game means the most to me. Being able to give to the world my approach on music and to my country that they get to experience artists and experiences like the ones that happen more often in the first world. All of this is really hard to make happen on our side of the world. With that said, shoutout to Mr.Warpaint, my Kill The Rave brother/ mentor and one of the most inspiring Techno DJs I know.
Connect with k-lix: Facebook | Soundcloud | Twitter