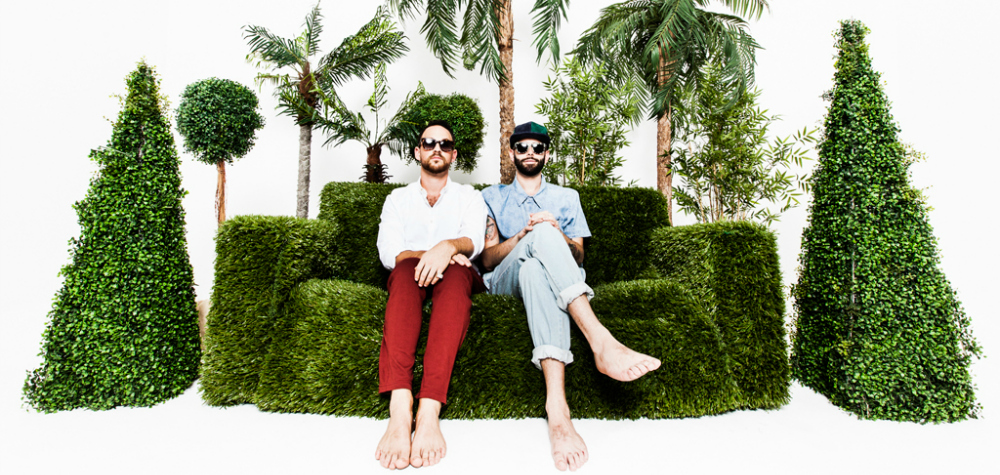 The album's beginnings can only be described as fitting: the journey started on their way to talk collaboration with George Clinton in Tallahassee, Florida, and continued on as Eli Goldstein and Charles Levine traveled through Miami, Red Bull Studios Manhattan, Midnight Magic's studio in Greenpoint and Charlie Levine's Rad Pad in Williamsburg to create Soul Clap's sophomore artist album. Due out on October 14th of this year via !K7 Records and Crew Love, the album will be self-titled and full of collaborations as its beginnings suggest.
Today the duo has released a full view of their next single that will be included on Soul Clap, entitled "Shine." Featuring the vocals of Nona Hendryx, "Shine" employs the guys' backgrounds and influences across just about every kind of musical sound, for a chill, funky and nu disco infused finish. Featuring quirky remixes from Dimitri from Paris and DJ Rocca, "Shine" is an uplifting and lighthearted track with serious quality.
TRACKLISTING:
The Hourchild Introduces
Future 4 Love ft. Nick Monaco & BIlly "Bass" Nelson
Synthesizer Girlfriend ft. Ntem & HazMat Talkbox
F#@k Sorrow
Shine (This Is It) ft. Nona Hendryx
Numb ft. Ebony Houston
Dirty Leslie ft. Wolf + Lamb
Elevation ft. Dayonne Rollins, Ricky Tan & Freeky Neek
Timespent ft Phill Celeste
B.O.G.
Upcoming Tour Dates:
Friday, September 30th - District 8 - Dublin
Saturday, October 1st - Fabric - London
Thursday, October 6th - Jaeger - Oslo
Friday, October 7th - Chateau Motel - Copenhagen
Saturday, October 15th - Wall - Milan
Thursday, October 20th - Disco Dolly - Amsterdam
Saturday, October 22nd - Wintershuiven - Amsterdam
Friday, October 28th - Smart Bar - Chicago
Sunday, October 30th - Output - New York
Thursday, November 3rd - Stereo Bar - Montreal
Friday, November 4th - Electric Pickle - Miami
Saturday, November 5th - Flash - Washington DC
Thursday, November 10th - Q Nightclub - Seattle
Friday, November 11th - Los Globos - Los Angeles
Saturday, November 12th - It'll Do Dallas - Dallas
Thursday, November 17th - Bang Bang - Seattle
Friday, November 18th - Habitat Living Sound - Calgary
Saturday, November 19th - Public Works - San Francisco
Wednesday, November 23rd - TV Lounge - Detroit
Saturday, November 26th - Ascend - Boston
Connect with Soul Clap: SoundCloud | Facebook | Twitter