Oakland is a land of juxtapositions. The hardscrabble ports and Empire Strikes Back cranes of West Oakland can look cold and industrial upon first glance. But much like any David Lynch movie, there's a hidden life buried within this industrial landscape, and it blooms in semi-secret parties at warehouses on select nights. That's why FEELS—a mini festival of art and music—is such a shot in the arm.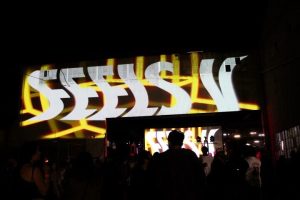 Both in terms of the space and the palpable positivity, the night felt like stepping into a euphoric realm where everyone is welcome. That inclusivity extends to the musicians on the bill, the artists being showcased, and the overall vibe in the air, presented and curated by the folks at Wine & Bowties. For FEELS V, the Based God shared the bill with Toro Y Moi, DJ Fresh, Georgia Anne Muldrow and almost 50 other friends of the Wine & Bowties fam. Aside from blowing minds with a sensory feast of visuals and sounds, the party also gave Lil B a stage to help the Warriors—his headlining performance undoubtedly cemented the BasedGod Curse on OKC's Kevin Durant, manifesting itself a few days later in the Game 7 victory.
MAN "THE BASEDGOD" IS A NOBEL ONE, AS HE SHOWS US WORLDWIDE THE POWER OF TRUTH "THE BASEDGODS CURSE" – Lil B

— Lil B THE BASEDGOD (@LILBTHEBASEDGOD) May 29, 2016
And they said the curse was not real " The BasedGod" has never lied to me and like he told us.. The Warriors are going to the finals – Lil B

— Lil B THE BASEDGOD (@LILBTHEBASEDGOD) May 31, 2016
From Dubs Nation and the Feels community, I want to take a moment for a shout out: thank you Based God.
Lil B is undoubtedly a character, and he was in good company. People watching at any event in the Bay is always pretty prime, but there are times when it becomes the muse itself.  While the music and art were the main attractions at FEELS, the crowd acted like the Draymond Green—the real soul of the squad. Regardless of any particular Warriors analogy, the crowd—some wearing elaborate get-ups, others flying their Freak Flag more subtly—was magnetic. Everywhere you looked, there was a fresh outfit, costume, or ill dance move to catch the eye.
Since I was a FEELS noobie, I spoke with Will Bundy, a co-founder of Wine & Bowties, before the festivities to chop it up and get some context. The venue, American Steel Studios, is a Burning Man hub with studios and massive, metal sculptures curated by Karen Cusolito. For Will and team, this spot was always in the background. "I first heard about American Steel ten or fifteen years ago. When I was in high school, there were some ridiculous parties here," he said.  "When it got to the point where 10 years down the line, we were throwing parties and booking talent, it kind of was just sitting there. West Oakland has this whole Wild West vibe—it's more established now, and it's harder to slip through the cracks and do weird shit."
Fast forward to the inception of the first FEELS several years back, and the team knew exactly where they'd host their debut event. They also had a vision to bring folks together, which is reflected in the party's name. "I think FEELS comes from us wanting it to be a really engaging sensory experience," Will said. "And there's obviously an emotional connotation to that too. It's one thing to like something and say, 'That's a cool thing.' But it's different to feel it."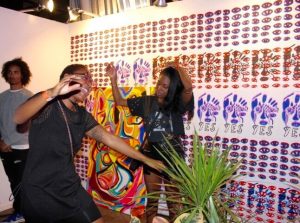 Still, there would be no connection to the audience without dope performers, and Saturday night had jams aplenty. A standout was Georgia Anne Muldrow's simmering outdoor set that mixed Nina Simone-style political soul with slinky, funk. At one point, her band launched into an extended tease of "A Love Supreme," including an exploratory piano jam that would have made Alice Coltrane smile. "I ain't Christian. I ain't Muslim. I'm black. Music is my church," said Georgia between songs.
Muldrow's set overlapped with Toro Y Moi's timeframe for spinning records, so I unfortunately missed most of the latter. But I caught DJ Fresh's series of slappers to get the crowd ready for the Based God. He dropped modern joints like Future's "Lay Up" and Panda's "Desiigner." And this being the Bay, he played Mac Dre's "Feelin' Myself" and kicked the energy up to the hyphy gear.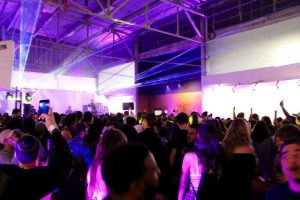 Lil B took the stage to close out the night, but his performance was a mixed bag of Based. Sure, hearing "Stephen Hawking" live with 3,000 people is fun, but it's better suited to an absurdist music video than a live performance. I can't hate on the God tho—he got us that W.
Whether it was the musicians on stage or the 40+ artists showcasing their works in the booth and at Sunday gallery, FEELS is all about giving them some love. "My hope is that we provide a platform that gives exposure to artists and gives them a chance to make their work profitable—and find their audience," Will said. "Hopefully what we do places a certain amount of value on what they do."
The positive impact of FEELS is still being felt days later. I just wish we didn't have to wait a year for the next one.