Up-and-coming R&B artist, vocalist, rapper and activist Michael Blume is ready to bring his fans into his visual world. The song "Colors" is his second release since October 2015. The track is a smooth electronic R&B hit produced by Brady Watt and is a follow up to Blume's first release, "Manufactured Love," which was a viral hit on Spotify and Apple Music. "Colors," is the song that Blume felt was calling most for a visual accompaniment and EARMILK is excited to premiere his first music video below.
"The song introduces a basic concept of myself and my attitude about music and love: trusting the process, knowing that your path is there for you, holding onto your faith in yourself despite any and all outside noise. Early on in the process of recording "Colors," I started developing visual ideas for it.  It spoke to me visually." Michael Blume
Blume was approached by Luca Repola, an ambitious and enthusiastic 21 year old director working with the New York City based production company, Prom Creative. Repola and Blume decided to use a studio for filming so that they could create their own world, an abstract window into who Blume is as an artist and a person. Blume gives off a very distinct and significant vibe in his live performances and the "Colors" video is an important element for those who listen to Blume but haven't had the chance to see him live. The visuals capture the meaning of the song through emotional interpretive dance, a mix of black and white and colors, and Blume's passionate movement and performance.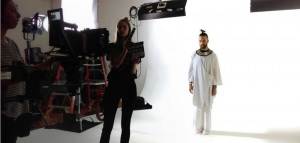 Repola said, "We wanted to explore the progression of sound, color and life through abstract visuals that built along with the song. Colors is an homage to the color spectrum. As we enter an in-studio world of dull, desaturated tones amongst a barren wasteland of subjects, a spark of life through the prophet erupts a slow and steady transformation: the world we are living in is now vibrant. We see bright, lively, and stimulating textures that showcase an embracing of life, energy, creativity, and harmony."
The "Colors" video is the first of many visuals Blume envisions, and he is excited to release his first EP on July 15th.
Upcoming performances include:
June 12 – LA Pride Music Festival June 12 (http://www.lapride.org)
June 13 – School Night (http://www.itsaschoolnight.com)
July 26 – Bowery Ballroom – Tickets on sale 5/20 (https://www.facebook.com/events/1164475440263418/)
Connect with Michael Blume: Official Site | Facebook | Soundcloud | Twitter