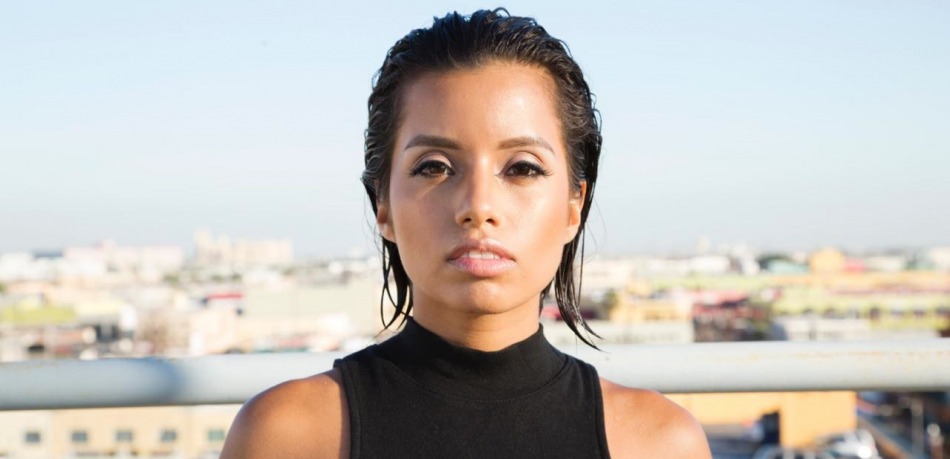 Colombian born Lupe Fuentes is set to release "Robot Love" on her label In The Loop on May 2nd so we caught up with her to chat about the production, her studio in LA and her experiences growing up in Colombia and living in Spain. Enjoy the forthcoming release exclusively via EARMILK  and read on to hear more about her process.
EM: You're about to release "Robot Love" on your label In The Loop on May 2nd. Tell us more about the production behind it?
Lupe: I'm really excited about "Robot Love" dropping next month. We have been getting some really strong support and positive feedback on the track from some of the big artists in the scene. Regarding the production, it is very hard to describe with words how a track sounds, or how I create it. I have my own process of producing my style of tech house music, and it really revolves around the drums and bass above everything else. "Robot Love" has the cherry on top with this standout vocal, so I hope you all enjoy it!
EM: In The Loop has worked with many up-and-coming artists in the past two years. Who are some of the shining stars we need to look out for?
Lupe: Hard to say exactly who the shining stars are, as there are so many talented DJs/Producers that have been, and will be releasing records on In The Loop in the upcoming months! A few of the ones that stand out are: Santero (which this week makes his debut on the label with his EP "808 Bang" brought to you with remixes from myself and ZDS)! Santero is an established UK artist and anything coming from his studio is quality. Italy's own Alaia & Gallo, have been definitely dropping some bombs in the past few months, making tracks straight for the dance floor. We are very happy that they are now part of the ITL family with their latest release "Disco Night" currently #11 on the Traxsource Tech House Chart. Francis Kasibante, from South Philly! Francis is definitely an In the Loop mainstay, and his productions are dark, funky and for sure capture the ITL underground vibe. We are adding new artists to our roster every month, so watch out and stay In The Loop. www.deepintheloop.com
EM: What is some advice you can give to new up-and-coming artists, when they are ready to start shopping out their tracks?
Lupe: Make sure you really know the sound of the label you are sending your demo to, and it is a good fit. Also, very important, not only in terms of sending your demos, but this is also good advice for life: Be patient, polite and don't be pushy, the right track will come, just stay focused and stay in the game.
EM: Lupe, you've mentioned your desire to write an auto-biography in the future. Can you tell us more about what sparked your interest in writing an auto-biography and when you plan to set this in motion?
Lupe: I have been writing my auto-biography for few months now. It's a process, and it's going to take some time. It's almost like an exorcism of all the experiences I have been through in my life. The experiences that have helped me to shape the person I am today. I believe that every single experience that the universe has thrown at me, was because I was ready for it, and I was supposed to learn something from that experience. I truly want to inspire people that maybe are or have been through similar circumstances that I have been through. I want people to know that no matter where you come from or what situation you are in, you CAN change your life/circumstances by changing your mind. I could go on and on about what my book is about but I would be doing a disservice to it. You will have to wait and read it I guess.
EM: How have your experiences growing up in Colombia influenced your musical career? You also spent some time living in Madrid – Did these experiences push you in the direction to pursue music as a career?
Lupe: I believe that you don't choose music, music chooses you. My whole life I have been a really musical person. Colombia and Spain are two extremely rich cultures in terms of music and art. Since I can remember I have always had the urge to express myself, whether is in music or other creative outlets. The fact that I grew up in Colombia and I lived in Spain for such a long time, influences me when I make/play music. But the reason I decided to make music my way of life, had to do with a transcendental evolution of the person I truly am inside.
EM: Do you have your own home studio? Give us a quick visual of what your set up looks like.
Lupe: My studio is in a loft in DTLA (downtown LA) in the Arts district. It's very industrial and raw with cement floors and pillars and is very inspiring. My actual setup is a protools rig with an Omni as my interface. I have several midi keyboards, and some KRK Rockit 8's and a big old Subwoofer. While I create most of my music digitally, I love to also record live vocals, percussion and even guitars and basses in my studio, to give my productions a uniqueness that you can't get using samples that other people might get their hands on. [After showing us some pictures of her studio] The artist makes the studio, not the other way around.
EM: The label has been consistently growing since its launch in 2014. Do you ever find it hard to manage both your own career and the label?
Lupe: I find it truly stimulating. I love to have the label growing alongside my personal career, as it forces me to learn more about the industry and be constantly immersed in what is going on around me musically, which helps me to develop as an artist. In the Loop is a further extension of me, my sound, and my brand!
EM: You have a show coming up on April 23rd in Hawaii! Where are you playing? How would you describe the dance music scene there?
Lupe: I am going to be playing in Honolulu, Hawaii, April the 23rd at Asylum After Hours. A lot of quality underground artists have played there before, and I am really excited because this is my first time playing there. I have been to Hawaii only twice, but it's a place that I love, I love nature, hiking and Hawaii has beautiful landscape and amazing people. In terms of the the music scene in Hawaii, this is my first time immersing myself in the scene, so I will let you know afterwards, but all my friends there tell me that it is Amazing!
Connect with Lupe Fuentes: Facebook | Soundcloud | Twitter