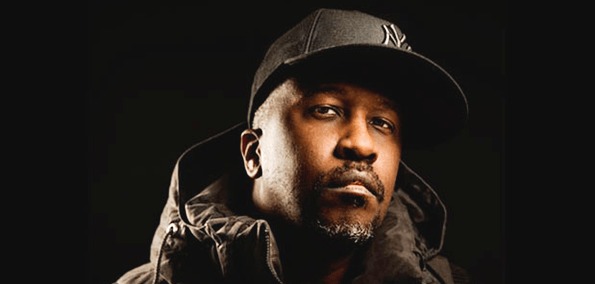 Defected Records is reaching its 17th year of bringing dancefloors the best house music, giving exposure to talented producers, and showing other record labels how it's done. The imprint is celebrating by curating a compilation entitled, We Are Defected. This Is Our House. Running as an anthology and a musical history lesson into the world of Defected. There are four CDs packed with classic and current original tracks and remixes, with more just out on digital.
It includes the first single released on the label in 1998, Soulsearcher's "Can't Get Enough," an edit of the Kings Of Tomorrow - "Finally", Âme's 2006 already classic "Rej", and Solomun's game-changing mix of "Around". As you'd expect, Dennis Ferrer features multiple times, with his unforgettable remixes of "The Cure & The Cause" and Nick Curly's "Underground" included. Plus there's music from the likes of Carl Craig, Todd Terry (pictured), Henrik Schwarz, Deetron, Flashmob, and the artist list goes on.
We Are Defected. This Is Our House. lands on April 29th. 
Tracklist:
CD1 - Chart                                                                                                                               
ATFC feat. Lisa Millett - Bad Habit (ATFC Original Vocal) 
Blaze pres. UDA featuring Barbara Tucker - Most Precious Love (DF Future 3000 Mix)
Dennis Ferrer - Hey Hey (DF's Attention Vocal Mix)  
Pirupa - Party Non Stop (Original Mix)  
Sandy Rivera & Rae - Hide U (Sandy Rivera's Club Mix)                     
Kings of Tomorrow - Finally (Danny Krivit / Steve Travolta Re-edit)                       
Storm Queen - Look Right Through (Vocal Mix)                               
Soulsearcher - Can't Get Enough (Vocal Club Mix)                         
Shakedown - At Night (Original)                         
Oliver Dollar & Jimi Jules - Pushing On           
Fish Go Deep & Tracey K - The Cure & The Cause (Dennis Ferrer Remix)       
Junior Jack - E Samba (Junior Jack Original Club Mix)             
MK feat. Alana - Always (Route 94 Remix)                   
Cleptomaniacs feat. Bryan Chambers - All I Do (Original Cleptomaniacs Mix)
Soul Central - Strings Of Life (Danny Krivit Re Edit)  
CD2 - Classics                                                                                                                          
Tensnake - Coma Cat      
MK - Burning (Vibe Mix)          
Yousef - Beg (Hot Since 82 Future Mix)        
MD X-Spress - God Made Me Phunky (Original Mix)   
Dennis Ferrer feat. Danil Wright - Church Lady (Original)     
Copyright feat. Song Williamson - He Is (Ferrer & Sydenham Inc Vox Mix)        
Candi Staton - Hallelujah Anyway (Larse Vocal)              
Dubtribe Sound System - Do It Now (Extended Version)                        
Noir & Haze - Around (Solomun Vox)                                                   
DJ Gregory - Elle (Original Mix)
Kings Of Tomorrow feat. April - Fall For You (Sandy Rivera's Classic Mix)     
FCL - It's You (Mousse T.'s Discotronic Mix)         
Ron Hall & The MuthaFunkaz feat. Marc Evans - The Way You Love Me (Original)    
Johnny Corporate - Sunday Shoutin' (Original)        
Sandy Rivera feat. LT Brown  - Come Into My Room (Take It Back Mix)                         
CD3 - Underground                                                                                                                
Reboot - Enjoy Music 
Bob Sinclar - Save Our Soul (Brian Tappert Re-edit)   
Playgroup feat. KC Flightt - Front 2 Back (Todd Terry Remix Re-Edit)   
Mr. G - Lightz (G' Out Dub)   
Kevin Saunderson feat. Inner City - Future (Kenny Larkin Tension Mix)   
4th Measure Men - 4 You (Maya Jane Coles Remix)                                      
Osunlade - Envision (Yoruba Soul Mix)                                               
Gel Abril - Spells of Yoruba (Jamie Jones Watertight Mix)
Chicken Lips - He Not In     
Intruder (A Murk Production) feat. Jei - Amame (Long Ass Mix)  
Chez Damier - Can You Feel It (Steve Bug Re-Mix)
Guti - El Solitario (Carl Craig Remix)    
Âme - Rej                                                                                      
Julien Jabre - Swimming Places (Jerome Sydenham Remix)      
Chasing Kurt - From The Inside (Henrik Schwarz Remix)                               
CD4 - Current     
Sísý Ey - Do It Good (Riva Starr Back To Detroit Mix)      
The Juan Maclean - A Simple Design (Deetron Remix)  
Dennis Ferrer feat. Janelle Kroll - Mind Ur Step (Original Mix)      
Nick Curly - Underground (Dennis Ferrer Remix)   
Hercules & Love Affair - Do You Feel The Same?
Sonny Fodera featuring Yasmin - Feeling U (Deep Mix)    
Purple Disco Machine & Boris Dlugosch - L.O.V.E.    
The DangerFeel Newbies - What Am I Here For? (KZR's Defected Stripped Down Mix)   
Eddie Fowlkes - That's What I Think About              
Mr. G featuring blondewearingblack - Precious Cargo (Vocal Mix)                   
GotSome - Just A Feeling (Sonny Fodera Remix) 
Tito Wun - The Way U Do It    
Daniel Steinberg - Let Me Down (Tube & Berger Remix)                            
Flashmob - Need In Me    
Rachel Row - Follow The Step (KiNK Bass & Beats Mix)
Additional Tracks for Digital Release
Louie Vega & Jay 'Sinister' Sealee star. Julie McKnight - Diamond Life (Dance Ritual Mix)
Miguel Migs feat. Meshell Ndegeocello - What Do You Want (Rodriguez Jr. Remix)                                                                            
Jose Burgos feat. Kenny Bobien - Everyday (Vocal)
Kathy Brown - Never Again (Copyright Classic Mix)
Eminence feat. Kathy Brown - Give It Up (Clepto's Classic Vocal Mix)
Copyright feat. Imaani - Wizeman                                                                 
Dennis Ferrer feat. K.T. Brooks - How Do I Let Go (Charles Webster Deep Mix)
King Unique - Love Is What You Need (Look Ahead) (Knee Deep Classic Club Mix)                                                                                
Phunkie Souls - Tha Music (Knee Deep Club Mix)       
Reel People feat. Angela Johnson - Can't Stop (Dennis F's Falling 4 U Mix)  
Dennis Ferrer feat. Mia Tuttavilla - Touched The Sky
Sandy Rivera & Haze - Freak (Jimpster Main Mix) 
Jamie Lewis & Michael Watford - It's Over (Jamie Lewis Main Mix) 
DJ Spen pres. DJ Technic - Gabryelle (Original Mix) 
Soul Rebels - The Revolution Will Not Be Televised (Lunar Disco Remix)    
Pete Doyle pres. The Rock Solid All-Stars - What God Has Chosen (Jimpster Main Mix)   
Bobby Blanco & Miki Moto - 3am (Original Mix)               
Warren Clarke feat. Kathy Brown - Over You (ATFC Club Mix)              
Human Life - In It Together (Extended Mix)           
DJ Gomi feat. Louie Balo & Yasmeen - Glad I Found You (Scott Wozniak Remix)        
Guti & Luca Bacchetti - Finale       
The Black 80s - Give Me Something (Hollis P Monroe Mix)                                                        
Mowgli feat. Amber Jolene - Back In The Day
24. Danism - Love The Way (Crazy P Remix)