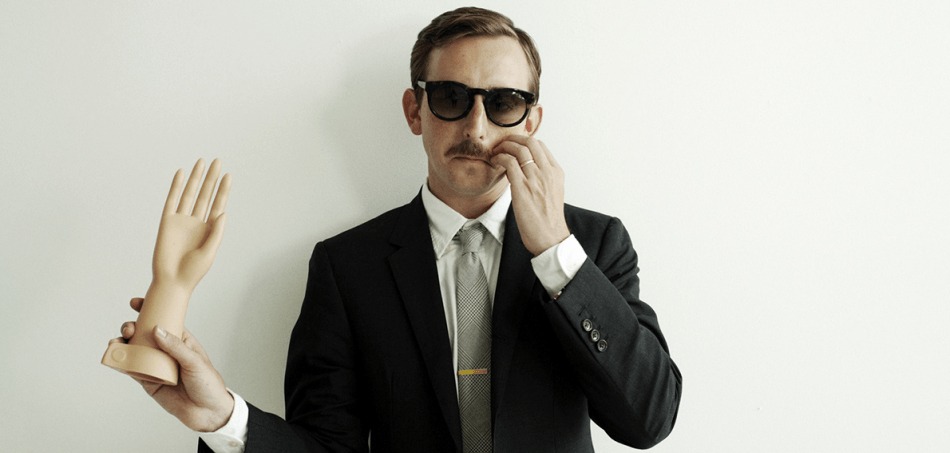 Brooklyn's Sammy Bananas is the life of the party, both in personality and through his music. An original member of the Fool's Gold Records crew, he's built his name and reputation on making upbeat house tracks that directly draw from their disco ancestors, and the personality with which he executes them. His next release is part of a special compilation series from Fool's Gold - Night Shift - which is due out this Friday April 1st, on the label, and will incorporate many of the label's star figures like Bananas himself, A-Trak, KRNE and Nick Catchdubs. Entitled "BLO," it encompasses everything that's lovable about his musical persona: a catchy saxophone sample, quite interestingly juxtaposed against some futuristic synth work and techy, surprising, almost video game like interjections. It's incredibly groovy, with a touch of humor that's enough to get you smiling. 
Ahead of the track's release, we have an exclusive stream as well as some of Sammy Banana's all-time favorite tracks that feature the sax as their main sell.  He's provided some commentary too:
Here's a playlist charting some of my favorites in the world of the Sax.  It starts with 5 Sax House selections to get you in the mood for "BLO", continues through a bit of jazz, finally leaving you with some times I picked up the Sax for remixes.     
Lil Louis & The World - I Called U (The Conversation)
The grandaddy of all Sax House jams!  This track is like getting transported back to a late 80s Chicago House party (crowd noise on dance records needs to come back.)  Just a chunky groove with some fool blown' over the top for nearly the whole thing.  A+
The Sugarcubes - Leash Called love (Tony Humphries Mix)
Another classic from the early days.  Bjork is pretty much my all-time fav so you know I had to get her on the list.  This remix lays the blueprint for the sound on much of her "Debut" LP.  It also makes the important demonstration that Sax House doesn't need to have an actual honest-to-goondess sax on it, especially if you're toting a Korg M1 patch.   
Kerri Chandler - Atmospheric Beats
I'm a latecomer to the world of Mr. Chandler, but believe me he gives and gives.  This is a reboot of one of his early tracks, with a growing, looping sax line that slowly infects your brain.
Enur ft. Natasja - Calabria
It's the perfect mixture.  This song had all the elements to make it a worldwide sax smash without somehow getting plaid out in the process.  The same can not be said of many copycats and euro-sax imitators that followed this hit (particularly that song-which-we-will-not-mention-by-name which paired a male formal pronoun with some rhythmic conjugation of the word "saxophone") .  Also crazy how this track is almost a decade old.
Oliver Koletzki- Going Places
a striped down, subtle yet playful sax joint for the deep masses that like to dance with smiles on their faces.
Guido - Mad Sax
As we depart from sax house territory and into the broader world of sax splashed music, this excellent late aughts dub step vibeout is a keeper.
Kamasi Washington - Askim
Kamasi is the new Jazz hype and IMO it is all deserved.  As a Man of the Horn I'm obviously a big Coltrane fan and Mr. Washington pays respect to the master while blazing his own trail.  This is one of the standouts off his album from last year.
Joshua Redman - St. Thomas
Growing up, Joshua Redman was my favorite sax player.  Some of my fondest and earliest musical memories involve going with my dad to see him (and other jazz greats) at the Regattabar in Cambridge, MA.  This version of the Sonny Rollin's original represents everything I love about how the Sax can be both serious and playful, sometimes at once.  
Bonus Beats: Sammy Sax Discography:
Free Magic & J Kriv - Night Braces (Sammy Bananas Sax Dub)
I get my chance to let loose over the whole length of this loose house groove.
Company Freak - Sexaholic (Sammy Bananas Remix)
This is a very underrated and little know remix I did.  I actually didn't play the sax on this, but played it up heavily. I suggest peeping!
Adulture & OCD Automatic - Paper Cat (Sammy Bananas Remix)
Got my sax freak on with this one taking it a bit avant and squonky.