In 1987, SXSW first kicked off with 177 showcasing artists performing at 15 different venues. This year, the Austin Interactive, Film and Music Festival saw more than 2,300 showcasing artists at over 100 different stages throughout the city. Minus an unfortunate gun shooting, the music festival continues to serve as an amazing platform for both emerging artists and re-emerging artists to perform new music. A few big name acts such as hip hop star Drake or even rock gods like The Kills were seen taking the main stages at night. But the real party happened during the emerging artist sets in the afternoon. Here are a few of our top performances from 2016's SXSW: 
1) Anderson Paak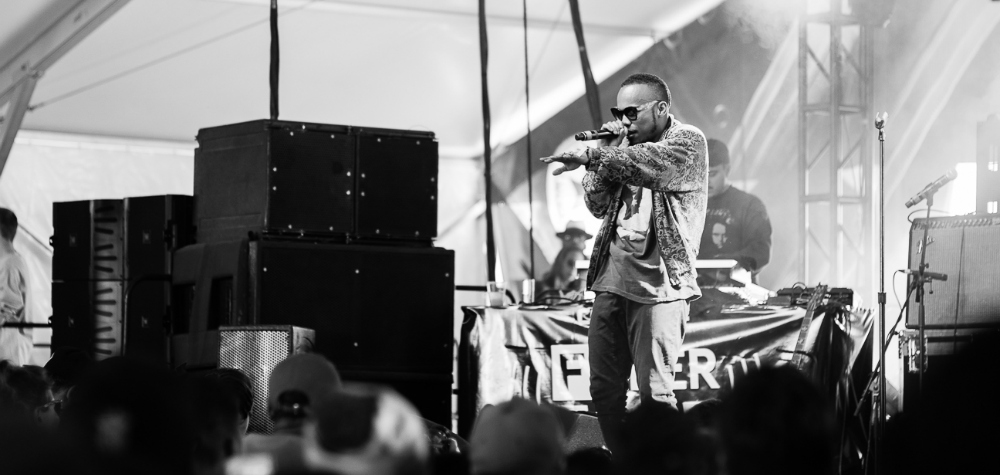 The Fader Fort saw some incredible showcases throughout SXSW and that certainly included the high energy performance from Dr. Dre's protege, Anderson Paak. Given just a small time-frame to perform, Paak and his band, The Free Nationals, managed to wrap their arms around the audience and carry them through a journey of the singers various layers of musical mastery. Everything from hip-hop, R&B and rock were blended seamlessly together as Paak had audiences grooving, dancing and jumping around from start to finish. He started off the set hyping and dancing along with the crowd at the foot of the stage but slowly transitioned back towards his drum set to incorporate live percussions. Towards the end of his set, Paak jumped into the crowd and was swallowed up my the massive attendance that both the band and his mic connection lost him, forcing the set to abrudptly end. But even after that, fans were still left with one of the best performances from SXSW.
2) HÆLOS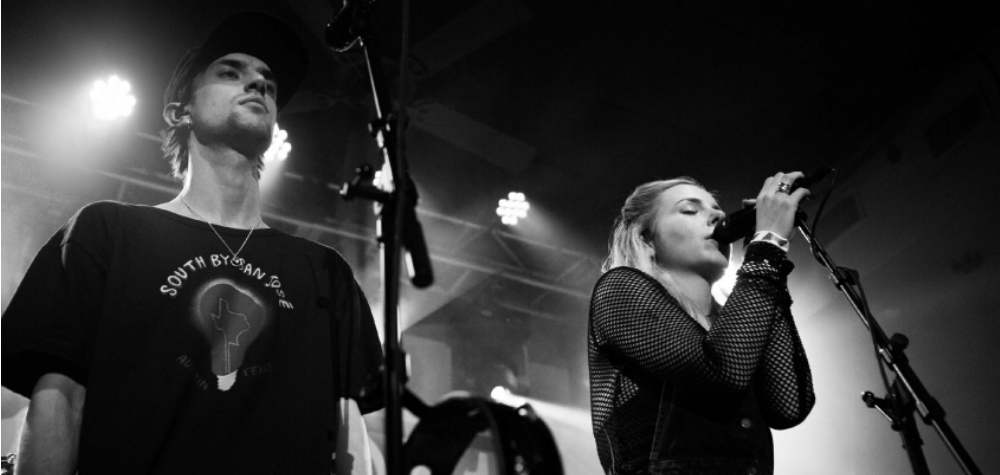 The London based electro-pop trio, HÆLOS, were worth every trek through the 6th street downtown mayhem surrounding Pandora's showcase. While at SXSW, the band released their debut LP, Full Circle, from which they performed tracks of. Although the album itself was cleanly produced, the sound from their rich synth melodies, guitar hooks and pop vocals on each track hit harder when performed live. It's a true rarity, almost a unicorn in music, to find those special bands that truly bring out the best of themselves when heard live and HAELOS is certainly one of them. The best part is, a lot of their music could easily be played with just the duel vocals and a DJ but they instead give audiences authentic harmonies that carry you softer and hit you harder. 
 3) SOFI TUKKER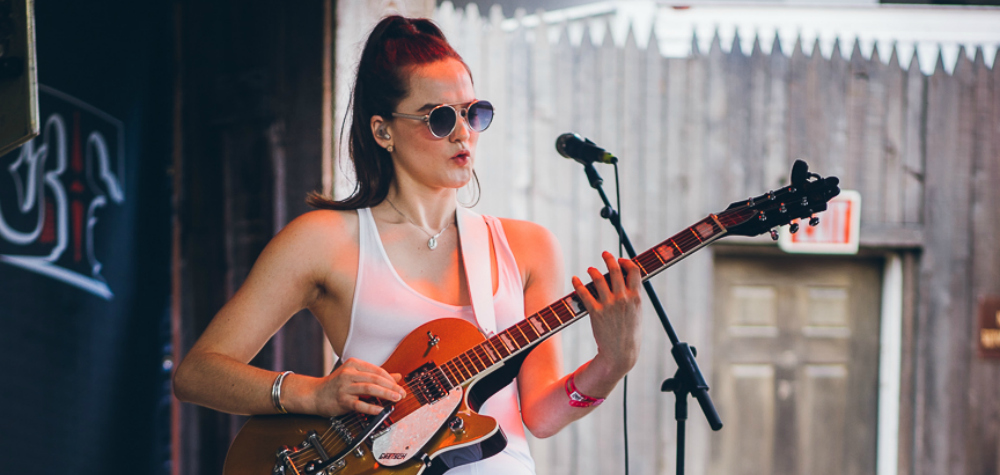 Already an EARMILK "Artist to Watch," this new band came straight to SXSW after finishing their sold out stadium performances in Italy. Their first singles have immediately caught fire with audiences across the globe. SOFI TUKKER made sure to hit the SXSW stage with every bit of flare and passion while performing new singles from their upcoming EP. Fans in the crowd were salsa dancing, raving or moving along to whatever preferable form of dance that their bodies needed as they moved along to the new age Bossa Nova sounds coming from the stage. Lead singer, Sophie Hawley-Weld, emerged in an all-white outfit, hitting each guitar hook with such fluid ease, as if an angelic Santana were standing on the speakers performing a "Black Magic Woman" solo. Tucker Halpern grabbed a sonic hold of the crowds belt loops as he kept everyone's hips moving along to the fast paced house beats.  
[soundcloud url="https://api.soundcloud.com/tracks/250194824" params="color=ff5500&auto_play=false&hide_related=false&show_comments=true&show_user=true&show_reposts=false" width="100%" height="166" iframe="true" /]
4) GoldLink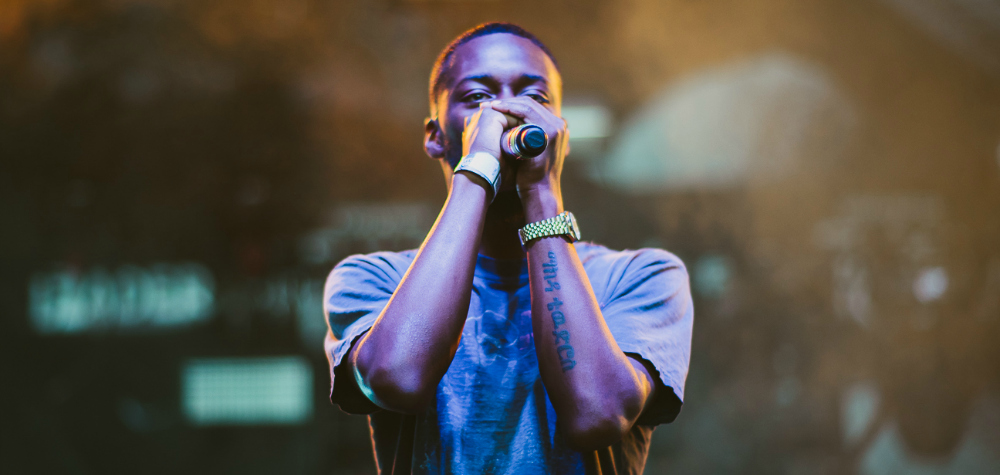 Performances from artists like GoldLink kept the Fader Fort crowd bouncing from start to finish. The artist is a hip hop athlete, as there's no slowing him down when he hits his vocal stride. GoldLink fuses together house and hip hop as he expertly dances smoothly along each rhyme. DJ Kidd Marvel spun electrifying jams which kept the high pace of energy throughout the set. The performance also saw guest appearances from rapper Chaz French, followed by a jazzy saxophone solo from Masego. 
5) PWR BTTM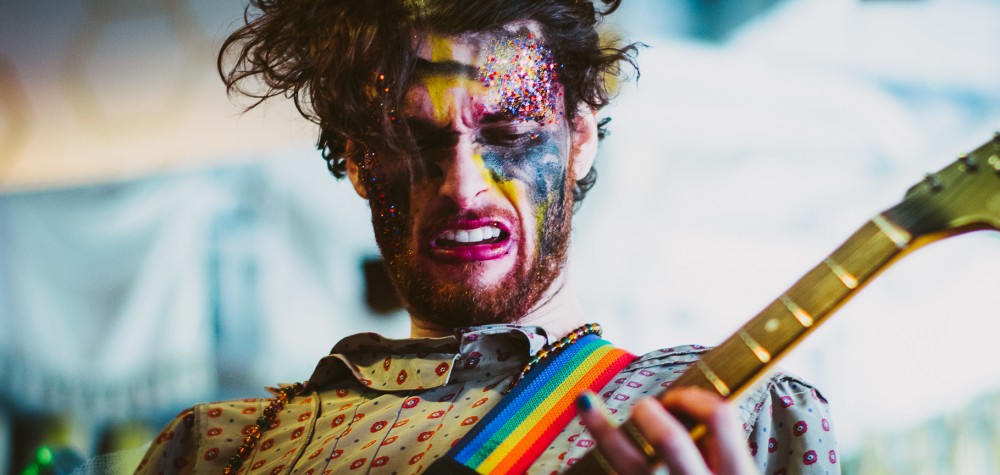 The Wild Honey Pie showcase was set on the first day of the music portion of SXSW, so crowds were still eager and full of energy. But few of them were prepared for the epic drag queen punk rock performance brought on when PWR BTTM took the stage. Dressed in trademark dresses,  smeared lipstick and glitter paint on their faces, this NY-based duo brought their own flavor of rock to Austin.
"I intend on being in drag for every show around SXSW, not for a political reason or anything because this town is gay as fuck" PWR BTTM
Their onstage banter kept the audience laughing while strategically having them focused on the stage to see what they'll say next (which is incredibly difficult for a lot of artists during these overcrowded SXSW events). They shred through powerful guitar hooks and grunge style drum kicks that send echoes of revived punk music out the door of the venue and into the streets of Austin. Their rock sound is coupled with fun pop punk style lyrics that find a very unique way to make you nostalgic for the early 2000's pop punk era but miss the no fucks attitude of 90's grunge. 
6) Throwing Shade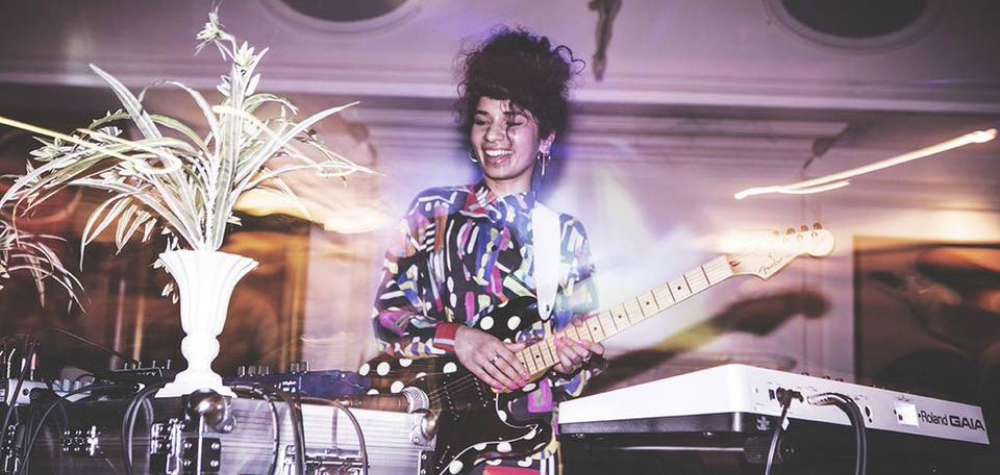 We got to hang a bit with Ninja Tune's latest signing, Thowing Shade before her set at the British Music Assembly on Friday night. While a thunderstorm ensued above and lighting blasted the sky with shades of black and silver, Nabihah Iqbal (aka Throwing Shade) took to the intimate stage around 8 PM before being whisked off to open the night at the Ninja Tune party boasting the likes of Ghostface Killah, Moodyman and Machinedrum. It's no easy feat being a woman producer in a sea of men, but it's also no easy feat having a background in African history and years spent working in human rights law to shift gears into the music world. Those are just a few of the facts we found out about Throwing Shade. Her music was smart and sophisticated, she went in between strumming the guitar, singing, and working her fingers on a full set production board, and while the crowd was relatively small, she held our attention from start to finish. Her debut EP House of Silk is out on Ninja Tune now. (Review contributed by Lindsay Herr) 
7) Blood Orange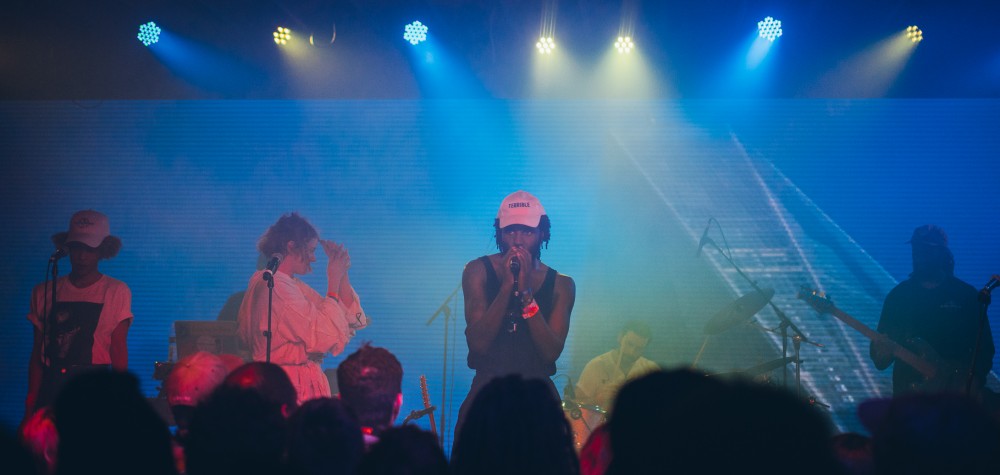 Masterful, Beautiful, Stunning, Magnificent….and any other out of this world dazzling adjectives that one can come up with would still not be enough to describe the YouTube House SXSW showcase with Blood Orange (aka Dev Hynes). The venue space itself was outfitted with screens playing various interactive music videos, while mood lighting shined along exposed brick inside this intimate event space that housed performances from artists like Jamie XX, Future, Lewis Del Mar and more. But it was Blood Orange's set that stole the show with his eight-piece outfit filling out the stage for a night of funk, disco, new wave house, and early 80s synth pop. His music is an authentic reminder that groovy bass lines, smooth dance moves and soulful vocals will always have place in the heart of music fans, old and new. 
8) Bob Moses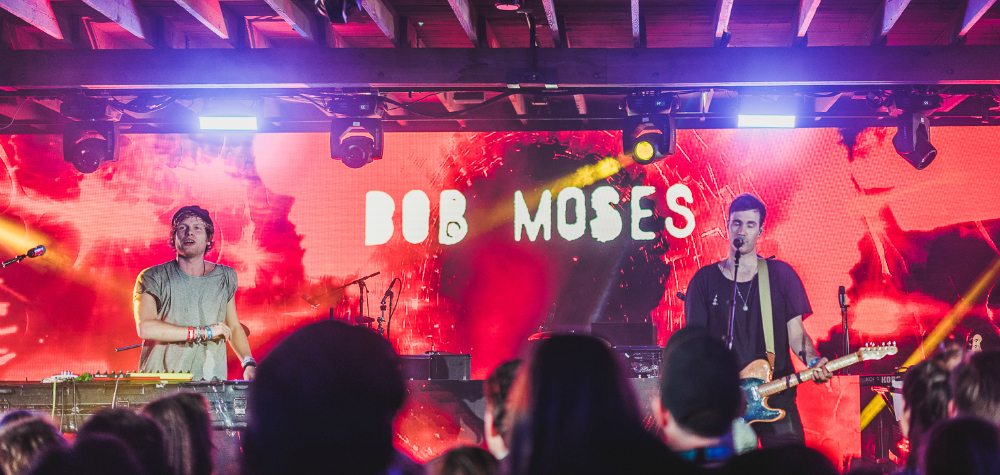 Against popular belief, the Bud Light Factory actually hosted an incredible emerging artist lineup this year and their music selection was on point. Bob Moses are on the forefront of introducing new various forms of electronic music to the general public. As an electronic act that isn't sampling Billboard Top 3 artists, this live performing duo is sending chill underground dance beats layered with creamy guitar riffs and soft vocal harmonies to unfamiliar ears. During their performance, half of the audience that were familiar with the sound were swaying and grooving along, while the other half of the SXSW badge wearing audience couldn't figure out what to do. Hitting everyone with their groovy hit "Tearing Me Up" finally got the full crowd moving together. 
9) Gallant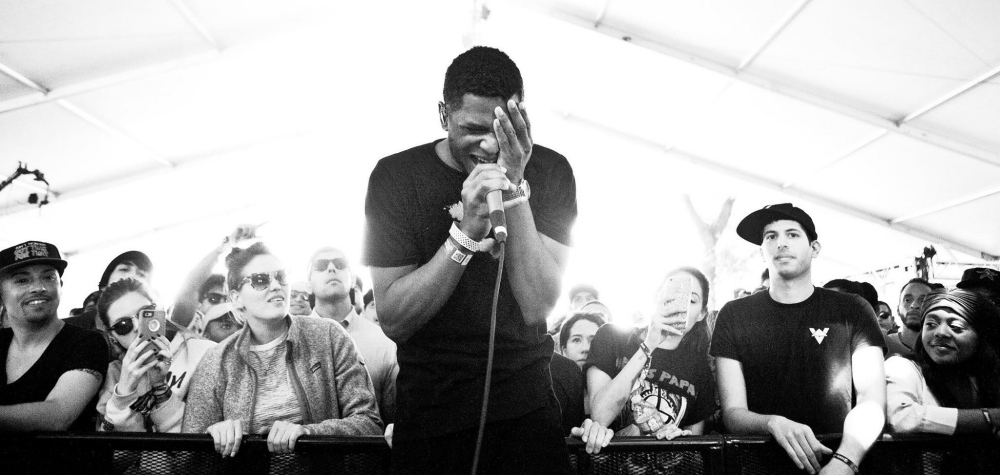 If there's one name you saw all weekend on almost every lineup, it most certainly was rising superstar Gallant. With six showcases spread out over the weekend, we caught a glimpse of Elton John's latest endorsement at the Fader Fort on the final day of SXSW. On Saturday afternoon the LA-based vocalist took the stage and proved why he's at the tip of everybody's tongue. Manically dancing about and ultimately scaling the top of the speaker systems, Gallant went through his repertoire of songs from his forthcoming album Ology. While singing his heart out, he kept the crowd entertained and our ears pleased, while hitting those high falsettos. Pleasing fans and industry folk alike, Gallant ended his set with his hit single "Weight In Gold." If were weren't already standing, we'd have given him a standing ovation.  (Review contributed by Lindsay Herr) 
10) Sunflower Bean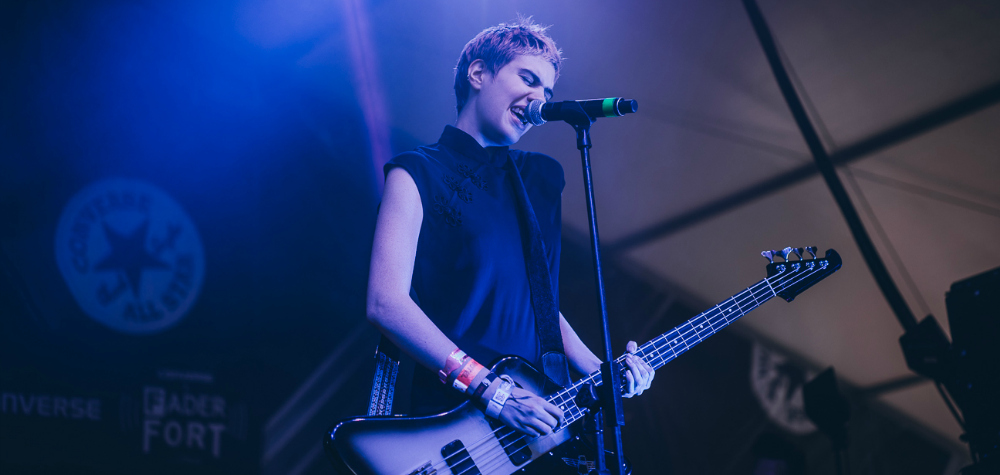 The NYC-based group Sunflower Bean stands proudly on the revival of ferocious, in your face rock n' roll, while still blending in some post Y2K indie rock influence. Their live performance throws in Hendrix style guitar solos that venture far away from anything reminiscent of the original song but somehow seamlessly boomerangs back in again. Their tasty bass guitar licks, steady percussions and shredding guitar hooks pierce through the Fader Fort crowd. Luckily, their more down tempo tracks provide a breather for the rocking audience in between the more fast paced tracks.
11) Lapsley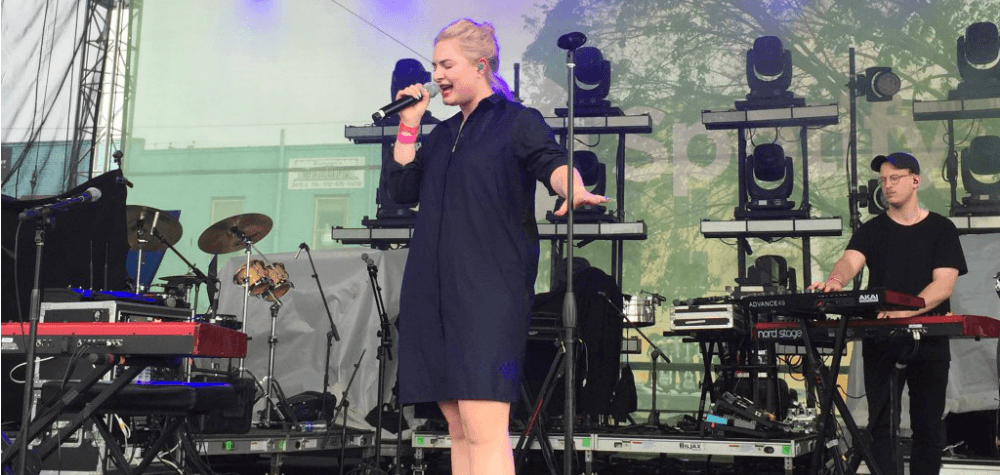 Emerging songstress and producer Lapsley took the stage mid afternoon at the Spotify House on Thursday afternoon. Being dubbed one of the UK's most up-and-coming artists, Holly 'Låpsley' Fletcher truly held it down. While the sun beat down, we couldn't help but be swept away with her eclectic mix of emotive vocals and minimal electronic productions. At one point she even began to duet with herself on her single "Station." As she dropped down her vocals several pitches, it almost sounded like a male counterpart had joined her on stage.
While whispers of "she sounds like Adele" swept the crowd, one thing is for certain; she is most certainly the 'cooler Adele'. The 19-year-old producer, songwriter and singer is hot on the heels of her debut release Long Way Home on XL Recordings and the future is looking brighter than ever.  (Review contributed by Lindsay Herr) 
12) The Roots w/ Tish Hyman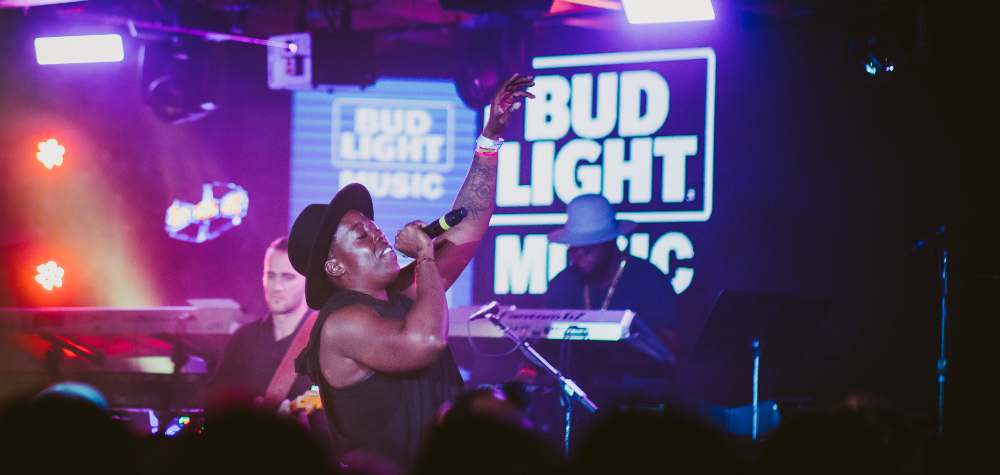 The Roots had an amazing performance but was there really any doubt in your mind that they wouldn't? A two block line, with a 3 hour wait, where 90 percent of that line had no chance of seeing the over capacity show, was a clear indication that something incredible was going to happen at Bud Light's closing night of SXSW. There were already rumors spreading of the guest performers that were planned to appear during the Roots four-hour jam session. Big Grams managed to tag them out for a breather half way through as they performed some music from the recent collaboration project between Outkast's Big Boi and Phantogram. But The Roots managed to stay true to the spirit of new music discovery during SXSW and brought out various emerging artists to join them on stage. One of which was a Bronx R&B and hip hop artist by the name of Tish Hyman. This artist is a fully strapped musician that can lift you up with deep soulful vocals or cut you down with fast striking rap. Much respect goes to The Roots for leveraging their own fame to shine the spot light on an incredible new artist like this and from whom we can all expect big things from.
HONORABLE MENTION:
Iggy Pop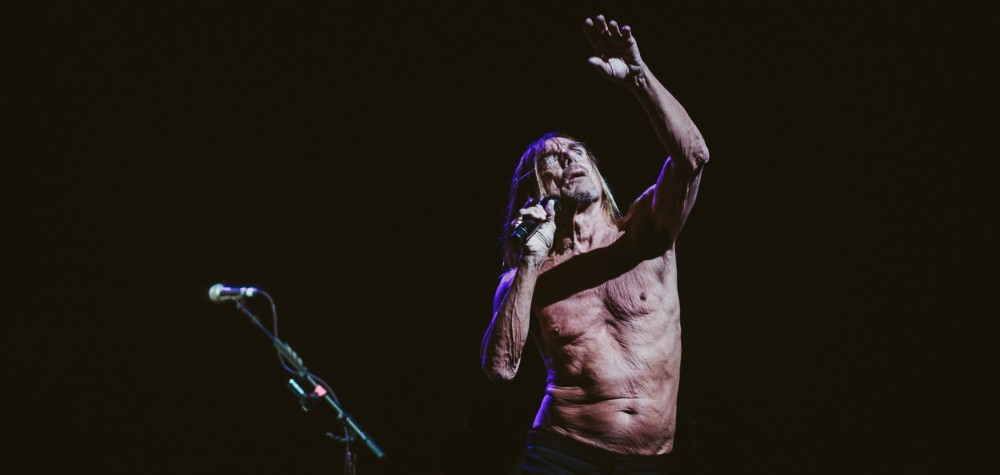 This is no new artist. The legendary rock icon invented the stage dive/crowd surfing while being a part of the revolutionary rock scene in New York's famous CBGB's crowd in the 1970's and 80's. At 68 years old, Pop took to the SXSW stage erupting with pure rock energy and melting faces as if it were 1983 and he was standing alongside David Bowie while he treated fans to classic hits like "China Girl." In collaboration with the amazing guitar works from Queens of the Stone Age's Josh Homme, Pop is set to hit the road in support of his latest album, Post Pop Depression, due out March 18.
Photo cred Inna Shnayder, Gallant, Throwing Shade and Spotify House