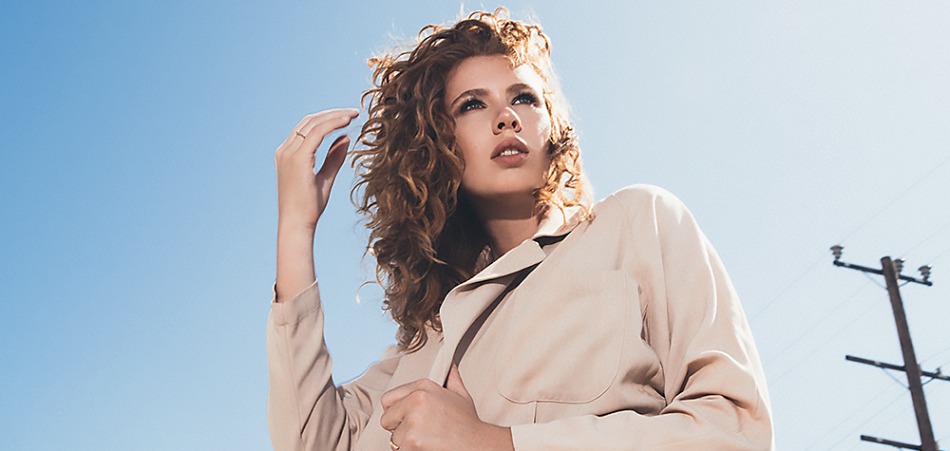 This 18-year-old Portland native embodies the burning spirit of an artist that refuses to be pigeon-holed into just one music category. Singer-songwriter, Grace Mitchell, is that special kind of artist that demonstrates a unique versatility of seamlessly adapting to different styles of music; whether it's a fast-paced indie pop single, a down-tempo hip hop mix, or even a dreamy electronic track.
She's the girl next door, if the girl next door was from Portland, wore a jean jacket, had a no fu*ks attitude. Her pleasantly raspy voice provides warm and richly textured vocals that invoke hints of deep soul. This unique voice helps prevent against any overly "poppy" sounding tracks. It also allows her to continue drawing influences from experimental sounds, without fear of musical typecasts from fans. 
Mitchell signed with Casablanca/Republic Records in 2013, and made her first major debut appearing on the soundtrack to the film The Secret Life of Walter Mitty, with a cover of "Man-eater." Her 2015 EP, Raceday - produced by Foster The People's Mark Foster - really had Mitchell exploring the extent of her versatility; with dreamy tracks like "Raceday," fast paced percussions in "Breaking Hearts," and pop singles like "NoLo." 
EARMILK had the chance to quickly catch up with Mitchell and asked if she would be able to better pinpoint her sound;
"I wouldn't describe it and it's cool that no one has an answer for it. I kind of prefer it that way."
Mitchell recently made the move from her hometown of Portland to Los Angeles, stating,  "I enjoy living in LA with so many like-minded individuals, especially having them in easy contact." If she didn't already have incredible raw talent and marketability, she now has the entirety of Los Angeles' music industry at her disposal. Everyone should be ready to expect some big things from this artist. 
Grace Mitchell will be back on tour starting in February with Brooklyn electro-pop band St Lucia, until her SXSW showcases. 
Top Tracks: "NoLo," "Bae," "Your Design," "Jitter," "Post Malone - White Iverson (Grace Mitchell Cover)" 
Links: 
[soundcloud url="https://api.soundcloud.com/tracks/243787519" params="auto_play=false&hide_related=false&show_comments=true&show_user=true&show_reposts=false&visual=true" width="100%" height="450" iframe="true" /]