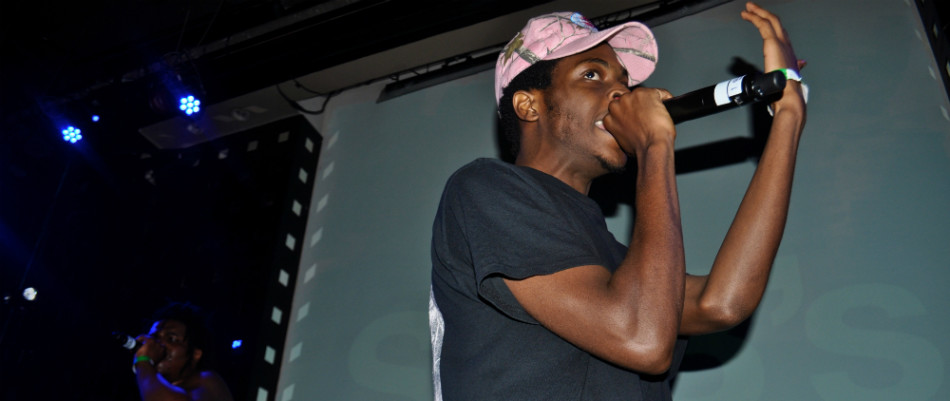 2015 has been an amazing year for the hip-hop group Divine Council, who have seen a rapid increase in popularity due to their inventive DIY music videos, memorable lo-fi bangers, and top-notch instrumentation thanks to their in-house production marvel ICYTWAT. While Cyrax, SilkMoney, and ICYTWAT have all been active with releasing singles and collabs, the group founder Lord Linco has been relatively quiet on the scene since the release of his Yardie EP back in February. I was given the chance to catch up with Linco in order to discuss his upcoming project Love Hard, Die Young and to talk about the origins & goals of Divine Council .
EARMILK: Can you talk about the origins of the Divine Council? How did you guys all meet?
Lord Linco: We came together pretty naturally. We all fucked with each other & made a common goal.
EM: Would you consider yourself to be the "leader" of Divine Council?
LL: Only reason I would say so is because I started Divine Council a few years back. Honestly though, it's like we take turns. It really just depends on the situation & what season it is.
EM: You guys have some amazing videos. How do you guys come up with the ideas/aesthetic for your visuals?
LL: The direction is usually mapped out but kinda random at the same time. The filming is always smooth then she_skin comes in & does his thing. 
EM:Who are your major influences in terms of your music?
LL: I wouldn't say anyone really influenced my music, but growing up I fucked with hella artists & bands like 50 Cent, Lil Wayne, Aaliyah, Buju Banton, & Bad Brains just to name a few.
EM: How instrumental do you think the internet was for the formation of your sound ?
LL: I mean, the internet is important as fuck because it's been around all my life. It's pretty much all I know. Connecting with people, learning new shit & watching cartoons is basically all I do at this point. Gotta thank the internet for that.
EM: How did you first get into creating music?
LL: I've been playing around music since I was like 13, I'm 19 now. I started out making beats on garage band & rapping over em via webcam microphone. It was pretty weak.
EM: What do you hope people take away from this project "Love Hard, Die Young"?
LL: Honestly I just wanna give the people a great project. I want them to decide what they take from it like I did when I would just sit around & listen to albums.
EM: Who are some collaborators and producers that you have reached out to for this project?
LL: ICYTWAT, Oogie Mane & Shoelacebelt.
EM: You guys are getting pretty popular these days. Any crazy fan stories from show you've done? How has the reception been from that WEDIDIT collaboration?
LL: No crazy stories just yet, probably soon though. The WEDIDIT collab was sick, that definitely brought a new fan base to the Council.
EM: Where do you hope to see yourself in 5 years?
LL: In 5 years I see myself rich & successful as fuck laid up with my shorty. Still working hard though. Everything will be easier by then, but I'm basically a workhorse so there will always be a slight feeling of discontent for my current situation.
Make sure to check out Lord Linco's upcoming project Love Hard, Die Young when it is released on November 27th! (Cover art + Tracklist below)
TRACKLIST:
Intro
11 AM
Lateisha
Lateisha Talks (Interlude)
Always Friends
Eskimo
When The Night Falls (Interlude)
Place Like This
Formless
Let em' Talk feat. Asaad
Mandown
WWYS