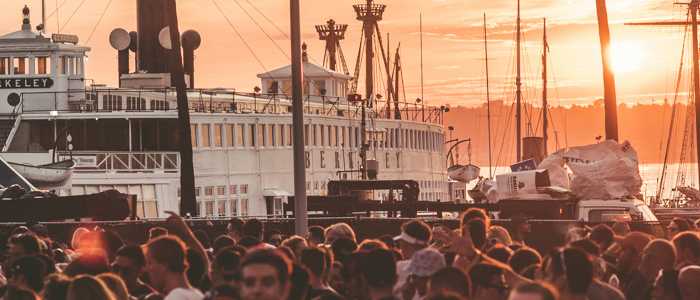 Last week I prepared myself for San Diego's quickest growing festival, CRSSD Fest. I shared my most anticipated acts with all of you here, and buzzed about it locally. I hoped to find a solid weekend with music I don't normally indulge in, and my expectations were surpassed with ease as some of the acts I predicted and those I had not known before the event put on performances of a lifetime.
Below is a recap of my favorite moments from the weekend, with pictures that do justice for the real thing. I'm a bit late on this recap, but that should just emphasize how much fun those two short days were.
---
Golden Features
The first act we visited was a good 5 feet from the entrance, and to our great fortune, it was the masked Australian was there with the best type of music to start our weekend. He's electronically gifted, but we heard hints of hip-hop throughout the set that gave way to a 2 day obsession with Golden Features, on and off the festival grounds. He definitely was one of my better highlights of the weekend, and an even better introduction to a young, new artist to watch.
---
---
Justin Jay
I had the pleasure of seeing and meeting Justin Jay last time I was in San Francisco, and I'm appalled with myself that I didn't include them in my first preview of CRSSD. Jay threw one of the best sets I have seen in a long time, with the type of style that almost says "screw you" to the audience as he shifted tempos and genres like toppings on a pizza. I recommend seeing him anytime he's in your town, you're likely to hear all kinds of music and take part in what can pass for simply a party with little to no objection.
---
Bob Moses
Just like I had guessed, Bob Moses took their performance to the next level, and earned a spot not only in my preview, but in my recap of the weekend's best. One of the best you could have witnessed, if not the best, the duo played the sunset hour into night, giving Saturday the guitar riffs and dark bass it needed to continue on into the evening. 
---
---
Jai Wolf
Sunday was a much later start, and a much more mellow day (at least that was our goal), but Sajeeb Saha aka Jai Wolf slammed into Sunday like a holy revival of Saturday. We left off where we started, as he played his best originals and a whole lot of Flume. I almost missed Panda Bear he was so good, which is really saying something if you've read my shares before. I've always heard a JW show was crazy, but his mid-afternoon Sunday set was one of my favorites due to the high energy, unique sounding mix.
---
---
Totally Enormous Extinct Dinosaurs
My final highlight for you comes from the legendary T.E.E.D., or better identified as Totally Enormous Extinct Dinosaurs. His performance was dark and tentilating, and many of San Diego's locals did not find it amusing. However, I found his set genius as he took sounds up and down throughout the entire 1 hour act, never truly cutting from his orchestrated set of loops. It was very interesting to put it mildly, but I was thoroughly impressed with how different of a path he took amongst a light lineup. Oh, and he played numerous old jazz loops, which is grade A in my book.
---
I'm sure we will be hearing from CRSSD sometime soon, so keep your eyes peeled for flights into San Diego sometime in the spring. Expect nothing but two days of progressive music you do not want to miss out on.