And on the 4th day of Christmas, Santa gave to thee a deep and darkened techno mix from Galindo to carry you through the dance floor as far as you can see. With twists and turns there will be surprises, but at last to your delight you will be smoothly taken home with a techno filled delight. 
This mix is best served with a cold Coquito. Take 2 eggs and 1 can of evaporated milk and mix, stirring lightly over simmering water until the mixture reaches a temperature of 160 degrees. After you are done with that move the mixture over to a blender and add cream of coconut, sweetened condensed milk, rum, water, cloves, cinnamon, and vanilla. Blend for about 30 seconds. Pour into glass bottles, and chill overnight. And Voilà!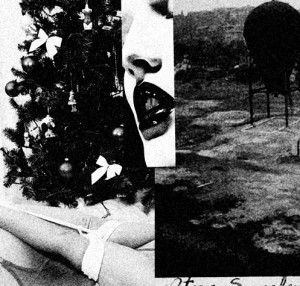 Santa: Have you been naughty or nice this year?
Galindo: Naughty for sure.
S: What rooms would you add to your ginger bread house?
G: A studio of course! or maybe a sauna….
S: Who do you want to be caught under the mistletoe toe with? 
G: Kate Moss, circa 1996.
S: Screw, Marry, Kill: Rudolph, Vixen, Dasher? 
G: Not really into Deer, but Screw: Vixen, Kill: Rudolph, Marry: Dasher lmao (Dasher is a female right?)
S: What's on your Holiday list? 
G: A Pusheen pillow. lol
S: Favorite Holiday jam? 
G: Slayer – "Angel of Death"
S: Favorite Holiday Tradition? 
G: Baking cookies!
S: What are you grateful for in 2013? 
G: 'm grateful for all my friends and family, everyone at In:volve, everyone at Droid Behavior, and everyone who's supported me these last couple years!
S: What do you look forward to in 2014? 
G: Looking forward to getting our label Textural (Txtrl) started, and making some new music. Also looking forward for Movement Detroit 2014!
S: Are you making any New Years resolutions? 
G: Not really haha, just pushing to stay focused on techno, art, and living healthy.
S: Where will you be when the clock strikes midnight?
G: Not quite sure yet to be honest, there's just so much going on in LA this nye!