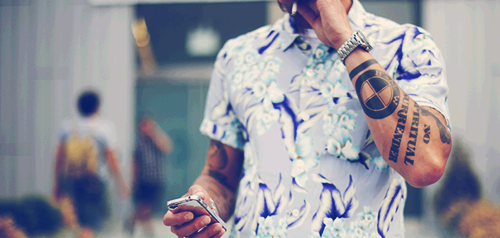 Fashion and hip hop have always gone hand in hand, stretching as far back as the late 1970's when brands such as Adidas and Kangol started associating themselves with the growing hip hop community. Since then, it has blossomed into an almost synonymous partnership, with current artists such as Drake and Kanye West both creating their own clothing lines, whilst A$AP Rocky has been credited of starting the current 'fashion rap' trend hitting the hip hop world in recent times.
Today we have the premiere of the new video from hot, UK based prospect Uzzee, whose track "Vintage" is accompanied by a visually stylish piece that fits the track perfectly. "Vintage" is a bass-washed banger that shows Uzzee's rhyming skills, as he raps his way through the track talking all about clothes, something that he has a huge passion for, as you will see if you visit his website. The Imhotep directed visuals show the young emcee and fellow rapper Phlowz bowling around London's trendy Portobello Road in a classic car, whilst they're covered head to toe in some classic designer items.
"Vintage" is the second release to be taken from his upcoming Evolution EP, following on from his previous song "Uzzee's Lament", which has been heavily praised by DJ's including Lily Mercer on Rinse FM.