One of Dim Mak Records' staple artists, Autoerotique continues to be a powerhouse for production, performance, and panache. Though his most recent release, "LZR BASS", may qualify as an eighth step back in intensity from this year's favorite, "Asphyxiation", it can still only be described as an unrelenting electro house track. Full alarms blaring, no bass retreating, that's Autoerotique's style.
Safe to say that "Nasty" furthers his signature style and jocular attitude. The track plays host to a dominating vocal chorus, "I Like It Nasty", which sounds rather like Siri (if we are picking from well-kown female robotic voices). From there you have a percussive break that leads to an all-out, stomping "Boy Oh Boy" inspired drop. Make sure to grab the free download before the track goes on sale December 31st.
[soundcloud url="https://api.soundcloud.com/tracks/124586770%3Fsecret_token%3Ds-C3skE" params="" width=" 100%" height="166" iframe="true" /]
Right now Autoerotique is finishing up some dates in Korea and Japan, but soon returns to North America for shows in the US, Mexico, and Canada.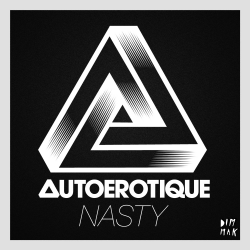 Autoerotique
"Nasty" [Premiere + Download]
Dim Mak Records
2013-12-13