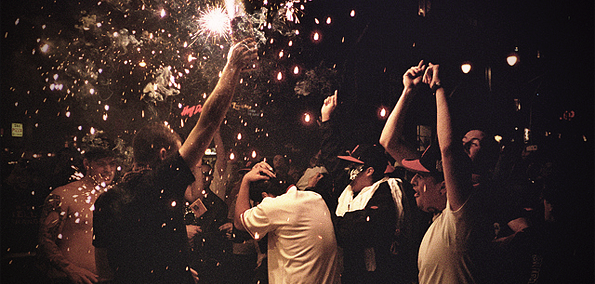 Two weeks from now and the smell of Christmas dinner will sit heavy in the air (or you may be sitting heavy in a chair). Either way for many of us it is going to be a big day, and for those of you in Vancouver the party will only have begun. Following on the 26th and 27th will be the biggest dance lineup to hit the Canadian city's shore, all housed in the stunningly beautiful BC Place Stadium. Sitting alongside the waters of False Creek, the almost 60,000 max capacity venue will be sure to pull out all the stops for this unprecedented event.
Last week we had a bit of a preview for the festival, where you were all invited to enter and win 2 VIP tickets to this incredible event. Well, today is the day and you all should be checking your emails in a few hours to see who the winner was. For all of you who didn't end up snagging the prize, you're in luck, as there are still tickets on sale. Just a little reminder: 2-day VIP tickets are only $60 dollars more than GA and give you access to private washrooms, viewing areas, coat check, and direct access to the floor.
If you asked me to pick my ideal festival lineup, Contact Music Festival would be pretty close to it. From top to bottom, the roster boasts Of course nobody can debate Kaskade whose 8th studio album, Atmosphere, dropped to critical acclaim this year and a well deserved grammy nomination, or Skrillex, one of OWSLA's label heads, who has amassed an astounding pool of talent under the imprint. These headliners find themselves just above Diplo, Dada Life, Bingo Players, and Dirty South, artists that normally would claim the lead position at most any other event. Baauer, Flosstradamus, and R.L. Grime follow them, adding a unique flavor to the mostly electro/progressive lineup so far. Finally three of this years most celebrated new artists, MAKJ, Cashmere Cat, and Sleepy Tom, round off the truly massive show.
As a matter of fact, we have some exclusive content here courtesy of Sleepy Tom and Contact Music Festival, a mix that teases what is to come in just two weeks. If you are lucky, you may hear Sleepy Tom drop his newest track, "Breathe" (out Dec 13th), during his set, a choppy electro track that finds its swing in a minimal progression and Anna Lunoe's vocals. The rising star also shared a few words with us on the artists he will play alongside and his plans for 2014. Take a listen to his mix, read on for more Sleepy Tom, and make sure to get your tickets before they sell out!
EM: Contact Festival has a mind-blowing lineup. How does it feel to be a part of this event?
ST: I'm really honoured to be on this show. I was blown away when they announced it. I'm psyched to be playing with so many artists that I look up to.
EM: Who would you most like to collaborate with from the show roster? Why?
ST: Kind of hard to choose with all this talent! Probably Cashmere Cat because he's got such a fresh sound. He's making real SONGS with unique chord progressions and melodies. That's something I'm working towards with my own tracks.
EARMILK: How was working with Rebecca & Fiona on the "Union" remix? They visited Vancouver after their set at Beyond Wonderland and you got to meet, right?
Sleepy Tom: Yeah that was a fun remix to do. They have a very unique style with the way they sing over dance tracks. Yes I got to meet them briefly when they played in Vancouver a couple months ago. They're really awesome!  I won't say too much, but there should be more R&F x Sleepy Tom collaborations in 2014.
EM: How did the Diplo and Friends mix happen? I imagine picking up the phone one day and he was just chillin on the other line.
ST: Haha that would've been cool. I remixed his song Set it Off and it was released on Mad Decent in March. That got my foot in the door with them. Then my agent just asked for me and they were down. That was definitely big for me. I remember listening to Baauer's Diplo and Friends mix 2 summers ago and thinking "imma be on that someday"  *_*
EM: You talk (joke?) on Facebook about pop techno taking over your music in 2014? Any explanation for this?
ST: well it might be a joke if I can't come up with anything good… haa but a lot of my new demos have catchy chords and melodies (which I'll hopefully accompany with good vocalists) but then have kind of raw hard-hitting drums and techno synth stuff. still very danceable!
EM: What were some of your goals for 2013 and now what about 2014?
ST: I think I had the Diplo and Friends mix on my goals list! Pretty sure I wanted to put out more original releases, but these things take time when you factor in a busy label. But I'm happy with my output this year. Probably should have exercised more…  For 2014 I've got a lot planned already in terms of releases. There's a video for my song "The Currency" being shot which should be out mid-January. There's another release ready to come out on Fool's Gold for early in the year. Definitely going to be touring a lot more and hopefully playing some cool festivals in the summer. Thanks!
Sleepy Tom's Contact Music Festival Mix
Oliver – Control (Nom De Strip Remix)
Mat Zo – Lucid Dreams
Alesia – Jezabel
Wuki – Same Damn Sound
XXXChange x Ghostdad – Penguin Party (XXXChange vs. Ghostdad)
Destructo x What So Not – Higher You Are (Sleepy Tom Bootleg)
Chris Lake & Marco Lys – La Tromba (Chris Lake & Nom De Strip Remix)
Sleepy Tom & Juan Ton – Karaoke
Sleepy Tom & Krusha – Jobless
Zeds Dead – Rumble in the Jungle (Sleepy Tom Edit)
Symphony Hall – Metal Arrives
Cashmere Cat – Mirror Maru
His Majesty Andre – Hymn