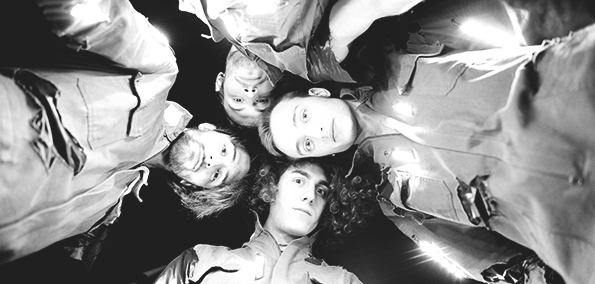 Austin-based band of brothers Piqued Jacks came overseas a year ago from Italy, and we couldn't be more pleased that they've made a home (and now a name) for themselves on our home turf. The guys are releasing their EP Just A Machine in the US on January 21, but in the meantime they're graciously allowing us to premiere one of their standout tracks, "My Kite."
The song is a beautiful beast of a ballad, starting out slowly with round, resounding piano notes grounded by echoing electronic. Emotions spill over the edge of restrained vocals, further intensifying the denotation of the lyrics, "Then a headache / struggle of broken sobs / against a painful shame."  The chorus builds the drama but the song doesn't take flight until 2:15 when percussion and a vocal harmony soar onto the scene. A minute later the vocals' strength reaches the intensity that we've felt the entire time. A screaming guitar storms onto the front lines, and there's a melodic battle in full force.  
Though "My Kite" might be one of the softer songs from their forthcoming EP, the muscular polychromatic style of the band still pumps through the track and makes us feel like we're flying high. Interest piqued? Take it for a spin and then get social via the links below.