The Wombats released "Your Body Is A Weapon" in October, as a sneak peek to an upcoming release expected early next year. Davidian took that track and turned it on its ear. The 21-year old producer from Nottingham, England only recently made his debut with production duo Eli & Fur on the track "Let It Go." In short, "Your Body Is A Weapon" is a sampler from both artists.
Opening with glitchy hi-hats, filtered claps, and a shallow kick, the hook comes from the treatment of The Wombats vocal sample. Filters open and close on all channels through the first verse, shaving the high end off the dance synths before sharpening them again. The kick drum deepens as we get into the prechorus. The art-house bass lick here is intoxicating, and the reverb tail vocal repeats are almost trance inducing.
If this is a showing of what's to come, there's a lot to look forward to.
[soundcloud url="https://api.soundcloud.com/tracks/121027770?secret_token=s-dRTck" params= width="100%" height="166" iframe="true" /]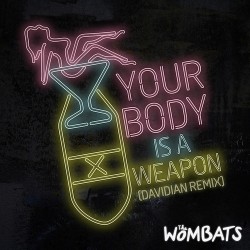 The Wombats
"Your Body Is A Weapon" (Davidian Remix)