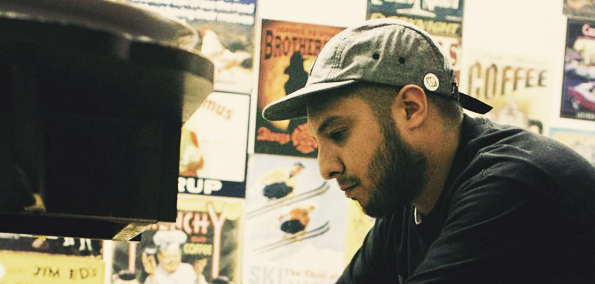 Jo Def is undoubtedly one of Soulection's fastest rising producers–he's mastered a Boiler Room set, has skillfully tinkered with what we thought were untouchable classics (check this out) and continues to innovate his sound with not only ease but humility. The Oxnard, California native first grabbed hold of our ears with his inimitably pressed re-work of Sade's "Lover's Rock" and we're okay if he never lets us go. We're sure you've heard many remixes of the vocal soulstress but you haven't heard it quite like this.
Today Jo Def drops his first EP, Steps, a masterpiece clearly raised by the West Coast but borne of many sources of inspiration, including juke notes from Chi-Town and wavy 80s vibes, all imbued by the best of those bedroom-ready jams from the 90s. We have a lot to say about this multi-faceted beatmaker but prefer to let him speak for himself. Here he shares a look at what he has on wax, how he got his start and where he's headed next. Support Jo Def's utter defness by purchasing Steps here.
EARMILK: Congrats on the first official album! Is there anything you would like us as listeners to know about Steps?

Jo Def: Thank you. Steps is a dance album. Steps is my offering to get y'all moving. A lot of love and a lot of energy was put into Steps. Hopefully those vibes are felt and projected from this project.    
EM: What/who are some of your favorite records/artists? What would we find if we browsed your vinyl selection?
JD: My favorite artists at the moment are the SmashTales & Soulection homies. Abjo, Esgar, FuzzOne (RIP), Lakim, Sango – to list a few. Of all time? That can range from Brenton Wood to De La, Jaylib to Toro y Moi, Erykah Badu to Rashad, the list goes. If you browsed my vinyl collection you'd dig up 70's & 80's soul & jazz records. Some Kashif, Blackbyrds, Skyy, George Duke, some Intruders, you'd find a gang of Lootpack & Madlib joints, as well.
EM: Being from Cali, can you tell us a bit about being influenced by juke and footwork from Chicago? Can you share the inspiration behind "Swim"?
JD: For me, It was like listening to your favorite song or genre for the first time, all over again. The drums, the soul, the energy, the rawness, the movements, it all caught my ear. Those dance/party vibes are inspiring. "Swim" came about because of the Soulection x Sade remix compilation. It was one of the tunes I created for that concept. My boy DJ Bojo suggested flipping "Lovers Rock" after showing him a few other ideas I had worked on. I wanted to create something with a bounce, yet smooth, and meaningful in the way I would lay out and chop her lyrics. Pay homage. I didn't realize 'til after, the filters that I added gave it an "under water" feel. Sade's voice tho. Beautiful. I hope it translated well.
EM: What are you looking forward to working on musically this year? Any themes or ideas?
JD: Musically, to keep creating and growing as an artist. Collaborating. Performing. All that. This is my first step. I have an idea of what I want my next project to be and sound like, but don't want to give it away until it's more developed. Soon.
EM: As a rising producer who is getting a lot of love from music lovers and beatmakers alike, do you have any advice for anyone who wants to be a producer?
JD: Do it. Do you. Do what you feel. Love your sound. 
EM: Are you aware children will be born because of "Swim"?
JD: (Laughs) Thats love. 
Um, Soulection made me do it. 
 -Photo By: Omar Oseguera