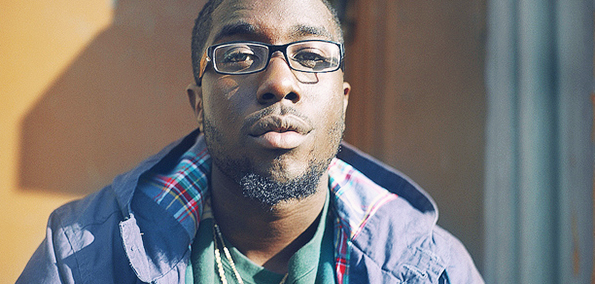 Meet MoRuf, a New Jersey MC that is sure to be creeping up onto your radar soon. He isn't a newcomer per say — his solid collaboration with Iman Omari, the appropriately entitled "Euphoria," is just over a year old now — but he raps with the hunger and tenacity of someone who has not yet been given his due. His weighted, gruff voice carries a certain stability that allows for a very measured delivery, and he's subtly clever — not the type of clever that commands abuse of the rewind button but the kind of clever that makes you smirk mid-sentence. It's that understated wit that makes the Jersey spitter worthy of attention and it would appear he's now geared up to step out into the spotlight.
Following the release of his brilliant single, "Fallen," which samples James Blake's "Wilhelms Scream," MoRuf has released a stellar mixtape that should get the ball rolling on his ascent through the rap caste system. The mixtape is called Shades.Of.Moo and it paints a rather vivid portrait of what the up-and-coming rapper is made of: soul. Over more than a handful of beats that really epitomize classic soul, MoRuf tackles a plethora of subjects like respect, grieving, and togetherness giving us shades of his character. There is a real sincerity to the music, and the project feels rooted in something real and tangible. MoRuf does the lion's share of the work keeping features to a minimum. Be on the look out for standout tracks like the ethereal "Compromise," the THC -produced, Jesse Boykin III-featured "Homie.Lover.Friend," the sing-songy "BuckleUp," and "RealEyes." 
This is a welcome change of pace to the trendy trap wave sweeping the nation. Let's hope the soulhop movement continues to grow. Stream Shades.Of.Moo below, download it over at DJ Booth, and be on the lookout for more from MoRuf in the very near future.