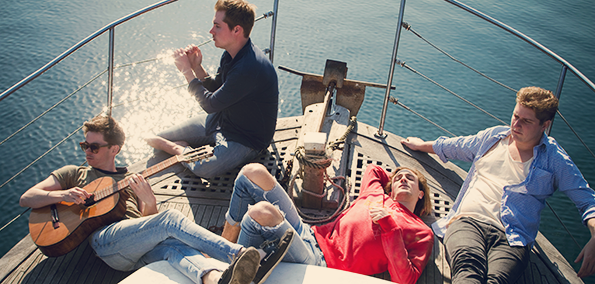 The Holidays is that band that grabbed our attention with "Voices Drifting" about 3 months back, remember? This time around, the Sydney threesome consisting of Simon Jones, Alex Kortt, and Andrew Kerridge direct our ears to "All Time High", the second single after "Voices Drifting" that teases the 2014 release of their forthcoming LP.
"All Time High" gives us a glimpse into the poppier yet side of The Holidays dreamy style, depicting shimmering vocals courtesy of Jones, among a pulsing, hummed out swirl of synth. The mood proves to be euphoric with a sense of nostalgia, alluding to a time in life that constituted as the "all time high".  
 The Holidays have set the bar high for this second album release, as their debut 2010 album Post Paradise copped them the Red Bell Award for Best Debut as part of the 2011 Australian Music Prize. So far, with these two singles to work off of, I have high hopes for the young Aussies. In their mind, they're just "talking shit about a pretty sunrise", but I think its shaping up to be much more than that.
[soundcloud url="https://api.soundcloud.com/tracks/118495382" width="100%" height="166" iframe="true" /]