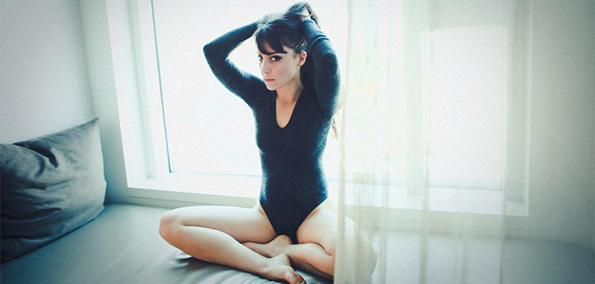 Gina Turner is the veteran DJ/producer who's been making headlines with her associations with powerhouse labels such as Fool's Gold Records, and for her work with acts like Laidback Luke and Style of Eye. She's created some of the biggest tech house tracks, conducted some of the most diverse DJ sets out there, and what's more, she's managed to do it by impressing the world with her hard work, rather than in selling sex. While I truly hesitate ever bringing into the conversation that a DJ is male or female (because who cares?), in a world where sexualization and objectification of a woman run rampant, Turner has managed to remain classy, beautiful, and most importantly maintained respect from her peers, critics, and fans.
We at EARMILK got a chance to catch up with her, where we talked about her new EP from her own label Turn It Records, her previous collaborations, and balancing her life as a yoga master! 
Earmilk: Your newest EP just came out Oct. 1st, and it includes the remix by Mitch de Klein. Did you have any specific artists or experiences that influenced your songs this time around?
 Gina Turner: [I] was [totally] inspired by Technasia's "Sunkiss," Tom Flynn's "Bianca," and just really percussive tech house stuff.
EM: What was your main objective with this EP?
GT: Well funny thing is, I originally did this production collab with Mitch De Klein to finish up some tracks and some features for my album… but these two tracks stood out so much I decided to release them myself, and as a standalone EP.
EM: There's a lot of detail online about how you naturally transitioned into the world of DJ-ing, but when did you start producing? Was it something you always planned on doing along with being on the radio?
GT: I actually studied at Emerson College in both Radio Broadcasting and Audio Production, but my heart was always with radio first and production second. So when I was in school I was fully trained in Protools, reason, MaxMSP, etc etc.. When my career as a club DJ began to take off, I knew that i had to work harder on production so I could share my vision musically more with the world!
EM: You've had a lot of collaborations, among a few are Louisahhh!!!, John Roman, and of course, Laidback Luke. Do you prefer to work with people as opposed to doing things solo in DJing and/or production?
Gina: I love bouncing creative ideas off of other people! It brings a different energy!
EM: What are the advantages (or disadvantages) of working with people?
Gina: You learn new tricks, and the outcome is different, of course!
EM: Have you made any upgrades to your production set up or have something you want to get next?
GT: I have a very very simple set up, so I can produce on the road and not only in the studio. If I was to get something new it would be some more analog gear to play with!!
EM: The first time I heard you, I was in high school and it was through the "Daaamn Gina!" Foolcast and the Pomp and Clout mix. You played diverse tracks, "Sippin on Sizzurp" was in there, and in a previous interview you've talked about your love for rock and other various genres. How important do you find diversifying your musical world for your own life?
GT: It is unreal how important not being limited by genres is for me! Variety is the spice of life! It can sometimes confuse things to understand what i do musically, as sometimes i just wanna play hip hop or harder stuff, but i just play whats in my heart!
EM: Both you and your husband have made it a point to keep strongly in touch with your fanbase, you've even tweeted me a couple times (always made my day by the way)! How important do you find it to connect to your audience? 
Gina: Honestly, Its just who I am, I want to be straight up with everyone as well as stay connected with my audience! I LOVE TWITTER! 
EM: You started out in the NY club scene a teen, moved to Boston, and then LA before going back to NY. Were/Are the three different geographic locations different in terms of style and sound? How did all of these places cultivate you into the DJ you are now (what did you learn in these three areas)?
GT: Absolutely! to some it up in a few words, NY gave me tribal/techno and my hip hop, of course. Boston gave me more access to all different genres (I played the full spectrum of electronic music on my radio show), [and in] LA I flirted with electro, but [overall] I always had my roots in house…
EM: Besides DJ-ing, you've been known to be quite the yoga master! How do you balance a healthy lifestyle and being on the road?
GT: It keeps me grounded while on the road and of course in shape! I love when my two worlds collide  as well, like my Yoga classes at HOLY SHIP! I got to DJ and teach yoga!
(Note- Check around the 3:50 mark to see her HOLY SHIP class in action!)
EM: Finally, do you have any words of advice to anyone trying to get into the DJ/production game?
GT: NEVER GIVE UP UNTIL YOU FIND YOUR VISION!
Thanks Gina! Her amazing EP for Bliss/Speaker is out now on Beatport, and her next show is on the 19th in France. 
Gina Turner
Bliss/Speaker
Turn It Records
October 1, 2013