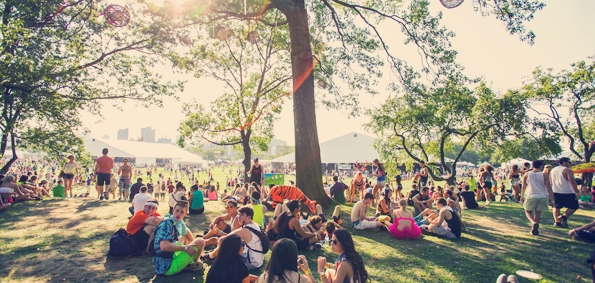 To conclude our Earmilk x Electric Zoo series, we bring you our picks of 2013's must-see acts. With some tough decision making, we've narrowed it down to our top 5 per day. We know you're as excited as we are for the fifth annual installment of the famous Randall's Island festival and those two highly anticipated main stages are about to be set up as we speak. Get ready New York for some unprecedented production and for an Electric Zoo like you dearly love, done like you've never seen.  
FRIDAY
Cyril Hahn
An unexpected prodigy of the underground, Cyril Hahn first made a name for himself with his remix of Destiny Child's '90s R&B hit, "Say My Name." The success that would follow was unfathomable even to himself early on, but soon became very clear to electronic music lovers worldwide with the widespread success of the track. With a hypem #1 ranking and a serious nod from Diplo on BBC Radio 1, the remix easily catapulted the young Swiss native to the forefront of an expanding genre of melodic, sensual R&B mixed with the rolling undertones of experimental and minimalist house. Drawing influence from various genres, Cyril Hahn is on our radar, and he should be on yours as well. Cyril Hahn will be playing Sunday School Grove on Friday at 1:50pm-2:50pm.
Jack Beats
DJ duo consisting of Niall Dailly and Ben Geffin teamed up in 2007 to form Jack Beats. In tandem, these guys have grown to become one of the best known drum & bass acts and are at the forefront of the electro scene right now. The duo draws upon various genres that contribute to their unique wobbly, eccentric sound. Jack Beats will be playing Hilltop Arena from 4:05pm-5:20pm on Friday.
Martin Solveig
Martin Solveig is not only one of the world's most respected DJs and producers, he is also one of the best entertainers in the business- which is why he is a must see at Electric Zoo. Solveig has unique energy and a charismatic way of connecting with his fans through his music and his fun-loving personality. In 2010 Martin became a household name as he leaped to the top of the dance music charts with his breakthrough hit, "Hello." After "Hello," Solveig gave us SMASH  in 2011, which was accompanied by a series of humorous music videos that perfectly depict the charisma that Solveig brings to all of his live performances. To many people's surprise, Solveig's dance music roots stem much earlier than 2010 as Solveig played a very active role in French house music during the late 1990s and early 2000s and helps to bridge the old with the new. With the release of his bubbly dance hit, "Hey Now" in May, Super Solveig is not slowing down anytime soon with his next release, "Blow" with Laidback Luke already slated down the road. Martin Solveig will play Mainstage East from 5:15pm-6:40pm on Friday.
Dixon
Dixon got his start in the early 90s on the Berlin club circuit, where he persevered through countless restless nights of club performances at his many club residencies. It was a different era then than the one we are currently living in- one where Dixon established his sound and following with his deep sounds and fervent determination to spread his music to the world. His versatility and technical skill set are at the core of what makes him one of the best in the business. Dixon plays Sunday School Grove on Friday from 7:50pm-9:10pm.
Avicii
2012 was a huge year for Avicii with the over-popularity of "Levels," a partnership with Ralph Lauren's Denim & Supply, becoming the first DJ to ever headline Radio City Music Hall, the list goes on and on. After taking some well-deserved time off during the winter, Tim Bergling has done it again in 2013 with a smash single that crosses country with a catchy dance rhythm that is Avicii's signature- "Wake Me Up," features vocals from Aloe Blacc and has strong input from Incubus guitarist Mike Einziger. This is the first released single from Avicii's upcoming debut studio album, True, which will be released on September 17, 2013. We attended the exclusive listening party held at the Standard Hotel in New York City last month, and we can attest that Tim still has a few more tricks up his sleeve- and this album is proof that there is life after "Levels." Avicii will close out Main Stage West from 9:30pm-11:00pm Friday night.
SATURDAY
Oliver
LA-based duo Oliver are the next big thing in the world of nu disco. After their track "MYB" made huge waves last year, they've been continuing the success that it started. The way we've seen crowds go wild when Oliver's tracks come on at a show that isn't even their own is something that will get amplified by twenty at Electric Zoo, and we can't wait for it. Look out for a set filled with 80's, R&B and house inspiration, that in the end will just get you groovin'. Check the guys out at 3:10 at the Riverside Stage's Fool's Gold Clubhouse.
Madeon
If you haven't heard, French producer Madeon made his name as a serious whiz kid, a musical genius. But now that he's come of age a bit more, he's been able to maintain his fame and credibility with enthralling mixing skills and song writing skills. That skill in making 60-second mixes and interest in live mixing is what makes us suggest you see the now 19-year old live at Electric Zoo, as well as his unbelievably catchy hits like "The City" – you never know what he might do with it or where those favorite tracks of his might appear. Check him out at Main Stage East at 4:30 on Saturday.
Mat Zo
Mat Zo might have a boyish face, but don't let that fool you: when he's in front of a crowd, he absolutely owns the stage.  And he's a patient hard-worker too: his latest single "Pyramid Scheme" is steadily gaining in the top 50 tracks on Beatport, but not after two full years of hard work wrangling the iconic vocals of Chuck D. Catch him ahead of his debut artist album due out later this fall entitled Damage Control at 4:35 at the Hilltop Arena on Saturday.
Brodinski vs. Gesaffelstein
Bromance Records duo Brodinski & Gesaffelstein are no newbies to techno music, in fact fans will flock from near and far just to get to listen to their back-to-back beat filled sets. On one hand Brodinski's is known for his brash, yet engrossing bass heavy music, while Gesaffelstein plays more in the range of dark and brooding, yet together they make music made in techno heaven. Check them out at 7:50 at the Riverside Fool's Gold Clubhouse.
A-Trak
He's the man with the vinyl. Traveling with his crew from Fool's Gold, Canadian DJ A-Trak is just always a must see. Each time he takes the stage, his hip hop-fueled (among almost every type of music out there) live set is positively unique and something you just can't take your eyes away from. This year the Fool's Gold stage will be taking over on Saturday, from 9:10-10:25 at the Riverside stage.
SUNDAY
Alex Metric
Alex Metric is another funky electro house must-see. His sound is reflected in many of the artists he remixes: Depeche Mode, La Roux and Phoenix to name a few. Recently collaborating on fellow Writer's Pick Jacques lu Cont on an addicting vocal track "Safe With You," he's got a little bit more of a melodic and vocal-centric approach to producing than his counterpart. Seeing the British producer live is a must this Sunday, and he'll be on at 12:35 at the Hilltop Arena.
W&W
The duo making up W&W has done what many artists dream of doing. Over their career, the Dutch duo behind Mainstage Records has unofficially trademarked their massive big room approach to progressive and electro trance. Their last appearance in New York was for the landmark A State of Trance 600 tour, where they performed at the event and headlined their own show. Simply put, W&W's signature horn-like synth is just meant to be witnessed at a festival. Their latest collaboration with fellow E Zoo performer Hardwell is a power player on the Beatport charts, and we'll sure to see an appearance of "Jumper" on Sunday at 3:35 at Main Stage West. The guys are also headlining one of Electric Zoo's 14 after parties on Sunday at the iconic Roseland Ballroom.
Krewella
The Chicago-based trio making up Krewella each brings his or her own energy to the stage during their edgy, rock-inspired live performances. As accomplished songwriters and producers, the group made up of sisters Jahan and Yasmine and friend Rain Man are festival pros who draw from their various experiences to make their show unique. While you might have only heard of them from their chart-topping track "Alive," some of their real talent shines through in their festival performances, where their interaction with the crowd is something to be seen. If you've been to a dance festival and think you've seen energetic, check out Krewella at 5 PM at Main Stage West.
Zedd
If you were at Electric Zoo last year, you'll remember that Zedd performed in a tent where the crowd was rather thin starting his set, but as time went on, people saw (and heard) the insanity going on and migrated toward it to fill it to the brim by the end. Shortly thereafter Zedd's album Clarity was released and quickly staked its claim as one of the best, if not the indicative album of the year (with the most remixed songs you can find this side of sideways). His mixing style is one that pulls from mainstream pop, house hits, and funky electro that you might find yourself wondering "who is this?" to when you hear it. This year you'll appropriately be able to find Zedd at 6:25 at Main Stage West.
Jacques lu Cont
British producer Jacques lu Cont sometimes hangs under the radar, but we're not letting him slip by this weekend. His electro tech instrumentally-focused style is reminiscent of an urban underground electro scene, one that both translates even better when played on a festival-scale sound system. After recently producing a touching take on ambient music, he'll return to his signature (and our favorite) funky electro style for his performance at 6:30 at the Riverside + Dim Mak Stage. Be sure to check out the "special guest" right after his set too!