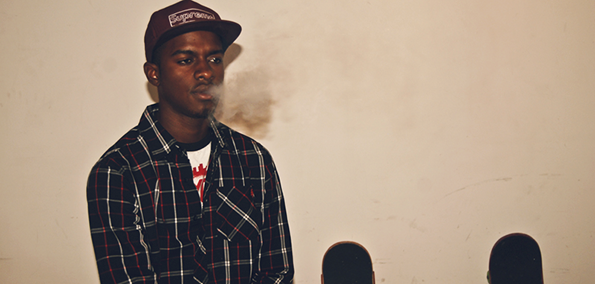 "Finna take this sh*t back, like MTV 'Raps'" declares Black Dave at the beginning of his latest video for "Take It Back." This young South Bronx native's remark is more than just an idle announcement though, it's a mission statement. 
Shy Beats crafts a laid back beat that calls to mind the golden era of A Tribe Called Quest or Souls of Mischief. There are soothing, jazzy keys playing in the background, which instantly brought me back to the early nineties.  Dave's lyrical prowess helps him properly execute his self appointed duty. Unlike some of his contemporaries, Dave is unafraid to spit intelligent, sometimes humorous, but always lyrically tough bars. Skepticism naturally rushed to the surface when I heard his introduction, but once I listened to his rhyming, I quickly became a fan.
Somehow, the reminiscent vibe of the track gets translated into the video almost perfectly. The Jason Ano directed video follows Black Dave throughout a day, which begins like an other and ends in tragedy. It is based off of the 1995 Lenny Clark classic film  K.I.D.S.  Dave travels to Washington Square Park, the location of one of the famous scenes from the movie, where he skates with friends, who are played by Leo Fitzgerald, Peter Bici, and Nick Catchdubs--actors from the movie. Ano and Dave should be applauded for how beautiful the video is, and how well they tell the story of a good day turned sour. I couldn't look away the entire time, and had to press the replay button once or twice after it was originally finished. 
This is the first single off of Black Dave's upcoming mixtape: Black Bart, which is due out in September. While you are waiting for his new music, you can check out some of his older work, by heading to his Soundcloud or his Bandcamp, listed below.