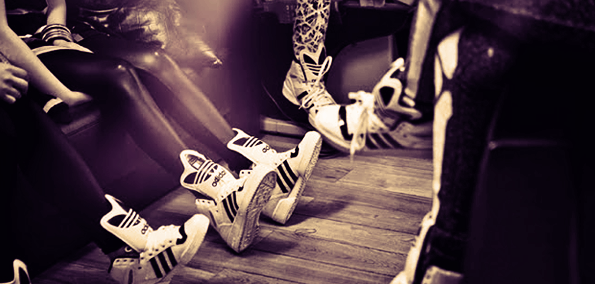 August 24 and 25, a.k.a. this weekend, marks the return of AFROPUNK Fest, a music and art festival praised for its ability to bring to celebration the existence of urban culture to the people and to the stage, free of charge with an RSVP. For two days, from 12 pm to 9 pm, Brooklyn's Commodore Barry Park will be the hosting grounds for a handful of artists and fans coming together to immerse themselves in the sounds and sights of the Afropunk movement. Once declared by the New York Times "the most multicultural festival in the US," this festival is one that you really shouldn't miss, especially because its lineup includes live performances from ?uestlove, Chuck D &DJ Lord, Trash Talk, Saul Williams, Danny Brown, Theophilus London, Mykki Blanco, The Heavy, and many more great artists and bands. You can also show your support for the festival by donating, which will get you a fast pass to avoid the lines.
A trip to AFROPUNK Fest will have you witnessing a festival that finds inspiration through the growing movement behind alternative music and art, and if you make down to Commodore Barry Park this weekend, you'll find way more than you bargained (none of your money) for. Yoga, 25 food trucks, a thrift shop hosted by SPIN magazine, and a super cool custom bike show hosted by The Brooklyn Rhapsody will be there to enhance what already promises to be an incredible musical and visual experience.
Commodore Barry Park officially closes at 9 pm, but the good times will continue to roll throughout the neighborhood of Fort Greene with AFROPUNK AFTER DARK: in other words, the perfect way to cap off your night. Restaurants, bars, and streets around the Brooklyn neighborhood will carry forward the Afropunk vibes, becoming venues for celebrity DJ sets, film screenings, comedy shows, art installations, and pop-up performances. And since the after dark festivities are hosted in part by ABSOLUT and Grolsch, there will be drink specials…
An incredible set of musical performances. An amazing collection of art and fashion. A celebratory dive into urban culture. All of your money still in your pocket. Now, can you still think of an excuse not to go?
[soundcloud url="http://api.soundcloud.com/tracks/87034783" params="" width=" 100%" height="166" iframe="true" /]
[soundcloud url="http://api.soundcloud.com/tracks/81902444" params="" width=" 100%" height="166" iframe="true" /]
[soundcloud url="http://api.soundcloud.com/tracks/48943635" params="" width=" 100%" height="166" iframe="true" /]