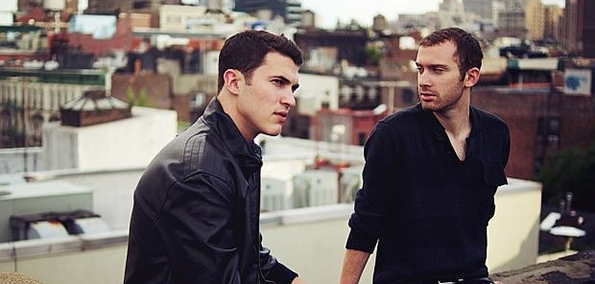 Timeflies, the duo of Cal Shapiro and Rob Resnick, are really pushing the boundaries of "pop" music. Incorporating elements of electro, hip-hop, and dubstep in their production, the group is just as comfortable on a dance floor as they are on the radio, a rare feat for many musicians. One listen to any song from their already-extensive catalog and you'll completely understand how different their approach is from many of their contemporaries. 
Timeflies---I-Choose-U--EM0813
Stream:Timeflies
- I Choose You
While both Cal and Rob originate from the tri-state area (New Jersey and New York, respectively), the duo actually met while attending Tufts. Both were already performing in various music outfits already, and getting together just seemed like common sense. Once Cal began laying down his incredibly evocative vocals on Rob's production, Timeflies was born, and the duo haven't looked back since. Since their inception, they have already released a well-received debut album, multiple singles, conducted multiple tours and shows (including playing a set on Lollapalooza's EDM stage), and now even have an app to provide even greater instant access to their fans. Now gearing up to launch their second album, Earmilk had the opportunity to talk with the boys about their career, influences and future. 
EARMILK: Hey guys, it's a pleasure to speak with you. Let's start with your beginnings. I understand you met during college?
Cal: Yeah, we met at Tufts. I was already free-styling and singing in some groups. One in particular was a funk band called The Ride, which was essentially an all-instrumental group. That's how we also met our friend Jared, who's now our manager. 
EM: Really? Keeping it in the family, huh?
Cal: Haha, of course! So we were already playing together, and Rob was already laying down beats, making a lot of his own productions. It made sense for us to start working together. Rob would play me some of his beats and I would lay down a freestyle. That's pretty much how we started working together.
EM: Speaking of your freestyles, I've noticed that many of your songs really try to blend raps with vocals. How did that come about? Who would you say influenced you to go in that direction?
Cal: I've always been a singer. Ever since I was a teen I would sing, and that's always been really important to me. As far as influences, I really enjoy a lot of different rappers and styles. I really like Pharoahe Monch's style right now. But yeah, I have a ton of influences.
EM: Yeah, sometimes you even start going into that fast-style of rapping, I've noticed. Sounding a little like Twista, Big L even…?
Cal: Funny you say that, because Big L is one of my favorite artists!  Yeah, I definitely like his style, definitely influenced by those guys.
EM: Let's talk about your debut album, The Scotch Tape. How did that come about? Sonically, it's all over the place, seems to borrow elements from a lot of different genres.
Cal: Yup. Rob and I listen to pretty much everything, all different types of music, not just EDM. So when we sat down to make the album, we wanted to experiment with a lot of different genres: rock, pop, hip-hop, even country. And, of course, house and trance.  We think a lot of that came through on the album.
EM: It certainly did. If you don't mind me saying, a number of those tracks are really good. I particularly like "Switchblade", a sexy little dubstep-ish number.
Timeflies---Switchblade--EM0813
Stream:Timeflies
- Switchblade
Cal: Thanks man, really appreciate that. Yeah, that track is cool because it's kind of different from some of the stuff we've done, you know? We really want to make whatever we feel best expresses our style. That was a fun track to make.
EM: Have you ever thought about going back and maybe re-working or remixing some of those songs, maybe for the wider audience you have now?
Rob: Man, you've really done your homework! Yeah, actually we talk about that all the time, maybe going back and re-doing some of that stuff. Actually, in some of our live performances, we debuted a remix of "Until the Sunrise" and the crowd loved it. So yeah, we definitely are looking at some of that stuff, maybe re-releasing it.
Timeflies---Until-The-Sunrise--EM0813
Stream:Timeflies
- Until The Sunrise
EM: Let's talk about your fans now. What's it like having all these fans, and all this love? Obviously you love it.
Cal: Hahaha, yeah, it's great, man, our fans are great. Like, it's really cool to see because it's not just EDM fans, you know? Sometimes we have these performances, and you can tell the crowd isn't sure what to expect. And then once we start going, they start getting into it. By the end they're like, "yeah you guys were great." It's a really awesome thing to experience.
EM: Speaking of the EDM scene, you guys are really getting a lot of attention from the EDM world. Your recent single, "I Choose You", even got an official remix from house legend Fedde La Grand. What was that like?
Timeflies---I-Choose-You-(Fedde-Le-Grand-Club-Mix)--EM0813
Stream:Timeflies
- I Choose You (Fedde Le Grand Club Mix)
Cal: Freaking awesome, man. It's really cool that he did that remix, because it's really an incredible remix. We were actually at Pacha NYC just this past weekend, and we were with Fedde on the stage when he dropped it.  It was cool to see, because it's kind of different from the stuff we usually make, you know?
EM: Yeah, it's your vocals, you singing that awesome chorus, "Everybody needs somebody to love…!" And then when the drop hits, it has that electro, almost tribal sound to it.
Cal: Yeah, exactly! It was funny to see, because you see our fans singing along, and then when the drop comes in a lot of them don't know what hit them.
EM: So what about this new album? What can you tell us about it?
Rob: Yup.  The first single was "I Choose You," and we think the album will probably come out early October, maybe even late September. I think we're going to premiere our second single, "The Ride", on Timeflies Tuesdays, so watch out for that.  But yeah, we've had the chance to work with a lot of awesome people on this upcoming album. [Kool] Kojak, J-Mike, Mike Posner...
EM: Mike Posner?
Cal: Yeah, he's on a track on the new album. We want to experiment even more than on The Scotch Tape, try new stuff, and keep pushing ourselves. We're pretty excited about it.
EM: Okay, last questions guys. Let's talk about your new label, Forty8Fifty.
Rob: [with excitement] Forty8Fifty!!!
EM: Haha, yup. You guys are label heads now! So congratulations on that. What's it like?
Cal: We love it, man. It's fun because we like a lot of different genres of music, and now we get to explore that, hear all kinds of new stuff, and decide the direction we want the label to go. We have some really awesome guys signed right now, so look out for some of their stuff to hit. So far, we really love it.
EM: Again, thanks for taking the time to talk to me. Anything you want to say to your fans out there? Anything you want to add?
Rob: Yeah, thank you guys at Earmilk for all your coverage! And thanks to all the fans out there that have supported us, and that continue to support us. We love all you guys out there! 
Subscribe to Timeflies on Youtube for "Timeflies Tuesdays" for premieres and new footage of the group, and make sure to grab the Timeflies app to be up to date on the duo's latest happenings. 
Timeflies
I Choose You [Single]
The Island Def Jam Music Group
6-25-2013