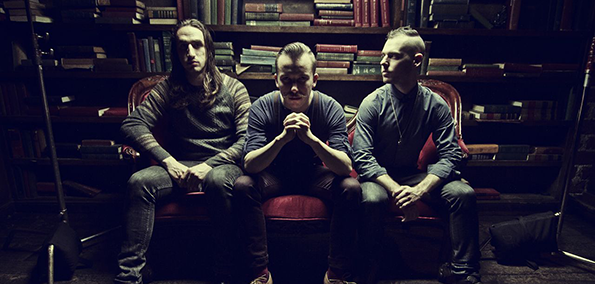 Originally forming in 2011, San Francisco-based group The M Machine's wide range of musical styles has not only garnered the attention of fans worldwide, it's helped attract some of electronic music's top tastemakers as sponsors. The group has already been on tour with the likes of Porter Robinson and Infected Mushroom, and is currently signed to Skrillex's label OWSLA. With a three-person band made up of Ben Swardlick, Andy Coenen, and Eric Luttrell, they combine the eager curiosity of musicians half their age with professionalism that's beyond their years. The group's attention to detail shines through in their live show, a ride that jumps between full-sounding downtempo melodies to thumping four-to-the-floor basslines, blending the energy of a DJ set with the passion of performing self-written songs.
Their forward-thinking attitude is far from limited to music. Conversations around musical styles, stage set-up and live performance all focus around one major theme: innovation.The status quo is far from acceptable, and there is a mutual understanding that constantly pushing the boundaries of what defines The M Machine will yield the best results. So far, it seems to be working. 
Earmilk: About a year ago, you guys were on The Language Tour with Porter Robinson and Mat Zo. What have been the big moments from the past year?
BS: Let's just try and remember, we released Metropolis Pt. II, we went on tour with Infected Mushroom and Markus Schulz. We played Red Rocks with Skrillex, that was big. We did a swing through Europe, that was amazing. Your first trip to Europe, you're lucky to get one show and you try and build a little tour around it, but we had gigs at Tommorowland, Ministry of Sound, then the other ones were like icing on the cake. We played a really cool place called Nouveau Casino in France, and probably still one of our favorite DJ sets to date at Emmaboda Festival in Sweden. The only thing we haven't checked off the list yet is Australia, and that happens this October, with Porter, back on tour again with him, which is really exciting.
[soundcloud url="http://api.soundcloud.com/tracks/104452257" params="" width=" 100%" height="166" iframe="true" /]
EM: Sounds like a big year. We got to see the after movie from last year's tour and it seemed like you guys, Mat, and Porter were a bit of a family on the road. How have you been able to keep in touch with those guys since?
AC: We bump into those guys fairly frequently, whether it be on tour or if they're in San Francisco, we'll make a point of hanging out together. We had a chance to hang out with Mat for a little while when we were in London. He took us to Chinatown and we got the best duck in the history of the world.
BS: I think the coolest part of keeping in touch with Mat is every once in awhile you just get some more music from his album, and it's superb.  It's amazing. It's different music. He's always had a lot of musical influences, but I think he's now ready to show them off.
EL: It's cliché to say "next level", but it actually is. It's like a new thing that we haven't heard before.
AC: Mat's one of those guys, he's just so ridiculously musical, in a way that very few of our peers can even approach in terms of his knowledge of the history and the technical theoretical side of music, including us!
BS: Porter's different, literally we have grown up together. We were at his first show, we were on his first tour, so we're in sort of constant communication. I think we've had some life lessons to give him, and he's had some career lessons to give us, which is important. It's cool to pick up some knowledge from him because he's a really smart guy.
Stream:
The M Machine
- Luma
EM: The Metropolis EP was released in two parts, 10 months apart. Is that something that you'll do again? Do you think there's room for one-off track releases?
AC: When we first started the project, we wrote an album worth of material, and elected split it up into two pieces, and add newer stuff to the second part as we were writing, for a variety of reasons. A lot of which is just the way the industry works and the way our release was positioned.
BS: I think if you're being honest, a 6-track release is a lot these days, which isn't to say that we're not interested in writing an album.
EL: On a 12-track release, you know, a few of those tracks are going to be pretty much non-existent to most people, with the exception of the mega-fans. You don't want to have any of those tracks overlooked.
BS: Even with singles, there's value in that too. One thing that was important to us was to establish something more than just "here's a bunch of music". We wrote stories that correspond, and we were really keen on making sure the visual stuff was very cohesive behind it. I think the Metropolis EP was to say "this is what we do" and now, there's value in singles, in an album, in EPs, we'll do all of that. I think we've positioned ourselves to be able to write whatever kind of music we feel like writing, which is important to us.
AC: It's very important to us. That's what we do. We don't stick to one thing. It's almost to our detriment that we can't. It's really difficult for us to write something that we wrote a little while ago because we've been there. We want to continue to grow and push our boundaries. That may sound cliché as well.
EL: We're three minds. Having three people that are into a lot of different types of music forces you to always try to do the next thing. You don't want to do four tracks in a row that are acid house, for example. [Laughs] It's not that we wouldn't want to, it's just that we physically wouldn't. It just doesn't happen that way.
Stream:
The M Machine
- Tiny Anthem
EM: On that point of three minds in the studio, how do you approach production? Does everyone have his respective strengths or do you all produce together?
EL: Usually we're all individually working on things, then once we get a solid idea, then we'll bring it to the other guys, be like "are you guys into this?" and if everyone's down, then we're all work on it together. Then, hopefully, it becomes a song in the next 100 hours or so. 
AC: I think we all have our strengths, but when it comes to crunch time we all do what needs to get done. It's not like we have a drummer and a bassist and a guitar player. It's a very collaborative, toss back-and-forth process for most of the songwriting phase. Then there's the finishing phase, polishing it up to a finished track involves everyone in the studio together making the decisions to get it working as a piece of music. One thing this ensures is that our music we put out is effortful. I think our fans are frustrated at times at the speed at which we release music, but it's not for a lack of writing. We probably discard 10 tracks for every one we release.
BS: Sometimes we'll go for a couple weeks where we each start a new song every day, there's literally hundreds of new sessions of these beginner tracks.  Having three of us is really good for some things, and it's a challenge for others. It's truly the only way we know how to do it, none of us had serious music goals or were trying to be songwriters until we started together. It's the only way we know how to do it.
EM: And do you finish a lot of these beginner ideas? Or is it multiple works in progress that you go revisit later?
BS: Our process of finishing is such a long, incredibly drawn out process. Nothing gets done that doesn't get released, except for once in a crazy blue moon. A lot of songs get to 50-75%. Then again, we'll drudge stuff up too. We'll realize that something we did from a year ago has value, and we'll bring it back. That's always a fun process because then you're not just finishing a song creatively, but you're trying to elevate the sound.
_Immigrants_Original_Mix--EM0813
Stream:The M Machine
- Immigrants (Original Mix)
EM: Last year, your piece in The Huffington Post on technology and music innovation was a beautifully-crafted point-of-view on the power of electronic music. What was the feedback from that article, both within the music community or even outside of it?
BS:  It was the first time that we got to see if there's a difference between The M Machine fan and the average electronic music fan. One of the discussions we had at the forefront of The M Machine project was whether we should we decide to write smart music and challenge people, we decided yes, let's have some faith in the fans. The sentiment of that article was that music technology corresponds with music brilliance. That's a bit of a touchy subject with some people that have an old-school mentality. And if you roll through some of the comments on HuffPost, we see a lot of the fans we normally see on our Facebook page engaging these people that have these serious opinions.  It was really cool to see how our fans that can stick up for your point of view. They have something to say and they're smart.
EM: Do you think it's important to educate the average electronic music fan on what goes on behind the scenes of production?
AC: My take is that the word educate is a bit loaded, it implies that you can impart some knowledge. The most that you can do is give a little window into what it actually is, what the creative process and thought process is. When it comes down to it, production is something that you can't learn unless you experience it. Still, it's really valuable and cool to give some insight into what it is.
EM: 2013 has been described as some as the year of "death to genres". Do you think your sound defies genre barriers?
BS: When we're just rapping about music, we're always talking about artists. We say "it sounds like so-and-so artist".  
AC: There are a lot of distinct genres, people produce in a given tempo with a given sound set, and they hang out with other producers that do a similar thing. In terms of what fans want to consume, all those walls are totally breaking. I think it's because of the maturing audience. People are engaging with different styles and different time periods they haven't heard before because there's a lot more exposure. You start to dig into dance music culture and realize there is a history that goes back many decades.
Stream:The M Machine
- Moon Song
EM: Do you think the new generation digging deeper in electronic music been responsible for some of the growth of The M Machine?
BS: Yeah, absolutely, but it's so random. There's a million different ways for you to get discovered, for us, Skrillex has been one of the biggest promoters of our sound for a long time. You have this idea when you start writing music that you'll write songs that are a certain quality, the sound will be good, the music will be impressive, and the rest will take care of itself. But, it's way more organic than you think it's going to be. It's just as important for us to play a big festival where some percentage of people aren't paying attention as it is to blow the roof off a tiny club show. You never know.
EM: Bruno Mars' "Locked Out Of Heaven" was an obvious chart topper. What are some of the challenges in taking on a remix that is such a huge pop success?
EL: That remix in particular was one of the easiest we've ever done. From the moment we started writing the chord progression to final mastering was three or four days. The shortest window is usually two weeks, but it just came together so quickly. We had a little blowback at the beginning with some of the hardcore fans, but the feedback overall was great.
AC: There's something to be said about the quality of the music. A day before we got the remix offer, we heard it for the first time on the radio driving back from Santa Cruz. We thought it was really cool. It sounded like Michael Jackson or The Police. Then when we got the pieces to the track, and you could hear the solo vocals of Bruno doing what he does, it's immaculate. This guy is phenomenally talented, and the writing that went into that song was great. We sat down and the music came together very naturally, and to me, that's a good thing. You're not forcing it, you're crystallizing an existing feeling.
BS: It does feel like that might be a unique experience though. That's a number one song, that's a ridiculous platinum biggest-song-in-the-world kind of song. When that remix opportunity comes, I'm sure it can be a double edged sword. But for us it was a lot of fun.
Locked-Out-of-Heaven-(The-M-Machine-Remix)--EM0813
Stream:
Bruno Mars
- Locked Out of Heaven (The M Machine Remix)
EM: And any reaction back from Bruno?
BS: You get the team. The label. Every once in awhile, you'll get cool feedback from the people you do a remix for. Like with Passion Pit, they really loved our remix, which is the biggest ego boost you can get. In the case of Bruno, I hope someday we do. I just want to know he's heard it.
Take-a-Walk-(The-M-Machine-Remix)--EM0813
<strong>Stream:</strong> <a ><strong>Passion Pit</strong> - Take a Walk (The M Machine Remix)</a></p>
EM: Bruno Mars was spotted on Holy Ship!! this past year, so you never know.
BS: What? Dude. He has to have heard it. I think we should push harder to make sure that he is aware that we think he's awesome.
EM: You guys perform both as a live show as well as DJ sets. When you take on a DJ set, what are you looking for in the tracks you're looking to play out?
BS: The live show is something that we've spent an insane amount of hours on, but with DJ sets it's a bit more casual. We're there to have fun, to read the crowd, to freestyle. The happiest and most excited we are is the feeling when you're playing a song that two-thirds of the crowd have never heard, but 100% are going crazy because it's undeniably good.
[soundcloud url="http://api.soundcloud.com/tracks/105097535" params="" width=" 100%" height="166" iframe="true" /]
AC: That kind of track, it's a balance. It's something familiar, it's not totally weird and inaccessible, but it's totally unique and fresh. And as an artist, that's what you're striving for the most.
EM: Part of the attraction to your live sets is the giant glowing M that you custom built to your show. Now you've got an adaptive M video show. Tell us about that transition.
AC: The reason that we decided to switch over from the physical M stage piece to the virtual M video show was that we were having a hard time getting it onto certain stages. At some festivals, we couldn't build it or fit it in time. On the other side of the coin, the M is cool, but it's only 36 pixels, you could do patterns and trails, but that's it. Pretty much ran out of tricks, it wasn't that much fun anymore. To do something totally different, we had our 3D artist make a 3D virtual version of the M in real time. Now we can put video on the M, we can go in and out of the M in the middle of the show. Every song has a unique set of videos, it's more expressive, there's more variety.
EM: So is this the future of The M Machine? Is this the next step?
AC: I think the next big step is to add more tricks to the whole show. In terms of stage design attitude, we look up to guys like Skrillex and Deadmau5, these are guys that are very passionate of pushing the boundaries in terms of not only art but also technology. In doing things because they're cool. All we want to do is continue that theme. That's the whole point.
Well said. Thanks guys.