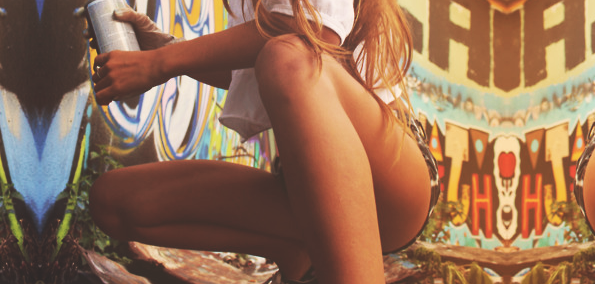 Fei-Fei, of the 'Get Feided' tagline, is back with more big room electro trap in her latest production: an official music video to accompany her massive tune, "Flying Daggers". The song is filled with lasers, pitched snares, and punchy synths. The video, on the other hand, takes a different approach.
The camera slow-motion pans to Fei-Fei concocting some sort of witches brew in a cluttered warehouse. We then see a modded 1991 Toyota Previa roll up on a bench full of young-at-heart ladies. Water guns at the ready, the driver gives the girls a face full of the mystery solution. We won't spoil the video for you, but you could say it's filled with "life-changing" events.
They casted extensively for all the roles in the video. "We had auditions for a 2-3 week span 'till we found the perfect peeps for all the roles." Filled with hot asians, old ladies, and a guest appearance from her best friend and production newcomer, Jessie Andrews, the official video for "Flying Daggers" is a must watch.