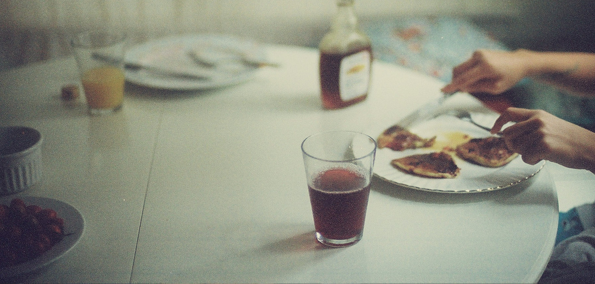 Canadian producer Zacharie-Jos Montpetit, known as Forrest., is the latest signee to Defected's fresh and innovative sub-label DFTD. Making his debut with his three track EP, Creep. Forrest. finds a cohesive fabric in his knack for deep vibes and skillfully produced outings, all of which work to solidify the EP a truly masterful work of art. We met up with him to discuss his newest work and see where he thinks the future of dance music is headed.
[soundcloud url="http://api.soundcloud.com/tracks/90984671" params="" width=" 100%" height="166" iframe="true" /]
Earmilk: Let's start by diving into your debut EP, Creep, which just dropped last month via DFTD. Where did the concept of the album come about?
Forrest: Yes, let's get into it. Creep was actually the first song completed when I arrived in London last October. "YSL" was one of the first Forrest tracks ever written and "Face Down" was done this winter and was my 3rd official Re.You collaboration. Really pleased all these songs got to see the light of day simultaneously, they all represent a very distinct part of the Forrest. path.
EM: Is the production process for you always the same?
FT: I would say it depends on the track yes and of course if it's a full on original or a collaboration. For the past year or so I've worked with Jonathan Doyon, so he sends me a loop, I'll work on vocals, and we go from there. Same goes with collaborators; I'll do the vocals and give my general input. That's how it's done really.
EM: How did you link up with Defected and DFTD?
FT: Defected were looking for some new young acts to develop and really connected with the unsigned tracks my manager sent them. I then met Simon Dunmore and everyone at the Defected office where we connected almost instantly and started from there. I'm proud to be affiliated with such a notorious House music institution.
EM: How did the EP name come about?
 FT: It comes directly from the lyrics of the A-Side "Creep". It goes "Yeah it's me, creepin' on, perhaps I'm right, it's been so long". Also we all can relate a little with this word, we all have some kind of Creep side. Some more than others… Haha. But yeah it's pretty straight forward even though a creep by definition is everything but up-front and direct.
EM: How was it working with Jonathon Doyon? Do you find making music is easier when producing alongside someone else instead of alone? 
Are there any issues that arise when not working alone?
FT: Yeah Jonathan was a game changer. I started Forrest in Berlin and soon as I got back to Montreal I went to him for some much needed help. He was actually my sound-engineering teacher a couple years ago. The first track we completed together was Masquerade and from that point everything took off. We have a key connection when it comes to making music. He's one of the best producers I know, extremely grateful for all his work; a Key component.
[soundcloud url="http://api.soundcloud.com/tracks/96403456" params="" width=" 100%" height="166" iframe="true" /]
EM: What about the other collaborators on the EP?
FT: The man, Re.You. As I was saying this completes what I like to call our first "Trilogy" of collaborations. First one "Are You For Real" came out last winter both Vinyl and Digital on Berlin based Souvenir Music. Second came out last spring on the notorious Mobilee, which was a pretty big deal for me since I've been a fervent fan of the label for quite some time now. "Face Down" closes the dance on DFTD, couldn't be more satisfied with the turnout.
EM: Tell us about the music you grew up on and how it has played an impact on your sound today?
FT: Montreal, Canada, one of the most diverse cities I've ever played; a mix of Europe and America. I grew up listening to Punk, Rap, Pop, everything; the various sounds have influenced my vocals/what I write. The vocals are an extremely important to keep the dancefloor going. I learned how to play in so many different circumstances, to so many different musically inclined corwds, I appreciate this more than ever now that I'm fortunate enough to be touring quite a bit.
EM: Do you think deep house has made a comeback?
FT:  think it's mostly the term "Deep" that has made a comeback more than anything. I don't think it's relevant to talk about the Deep House aspect for me as like EDM, it's been rinsed out in recent public conversations. But I am grateful for Deep Selection, where more and more we take chances and have a unique musical taste. For me it's a great way to mix the more accessible stuff everyone wants to hear with the more emotional or harsh type of stuff I would equally want to hear when I go out.
EM: Do you produce with a theoretical mind, or strictly creative? Aka do you use music theory when going to the drawing board. 
FT: No not at all. I have quite a significant musical background: I played 6 years of Violin as a kid, 4 years of piano and played guitar, bass and sang in bands before starting this whole Dj'ing thing. It sticks in you, that's why the vocals are pretty up-front as well. Alongside the production it gives the project its true identity.
[soundcloud url="http://api.soundcloud.com/tracks/97401448" params="" width=" 100%" height="166" iframe="true" /]
EM: Let's talk about Amadeus Records. When and why did you decide to embark on starting your own label?
FT: Amadeus was conceptualized when I was in Los Angeles 2 years ago. Taylor (Urulu) and I decided to create our own label. Everything with this label came up in the most natural way until this very day. We have an amazing new breed of producers: Chaos In The CBD, Cassio Kohl, Steve Huerta, Prince Club, Breslin & Sizlak and of course Urulu and I. We are aiming for longevity more then anything. Everyone on the roster is committed and I finally feel like I'm part of a family, something unique. Much love and respect to everyone.
EM: What do you have coming up for the label?
FT: We have our first ever VINYL release coming out as a "Best Of Remixes" compilation including Youandewan, Jack Dixon, Broke One and a James Barnsley remix of my first ever released track "Trinity". Then some more stuff from all our artist which I stated earlier. Expect more Showcases coming soon as Urulu and I have already started playing across Europe. We are looking at our 4th or 5th I believe.
EM: What would you recommend as a good starting point for budding producers?
FT: Don't hesitate to ask for help haha. Be self-aware in a good way, don't be too naïve and still be instinctive. Don't be too hard on yourself but be realistic. Produce, produce, produce. Know your forces and like I said reach out to others. These would be my key guidelines.
EM: Any artists right now you suggest we put on our radar?
FT: Yes all my dear collaborators Avatism, Tom Budden, Re.You, Sunju Hargun, Hector Couto, Stefano Ritteri, Mat.Joe, look out for these guys. Oh and Yamen & EDA, really feeling what these two frenchies are doing, they just submitted a remix they kindly accepted to do for a special track of mine, to be continued…
EM: Lastly, what do you have in store for us in the upcoming months?
FT: Remix for Well Done Music a label I just had the pleasure to play for in Berlin a couple of weeks ago. I contrasted the original by re-doing the vocals and calling it my "One Night Stand" remake since the original is called We Found Love. Second I have a really special giveaway of a track that I've had quite a few requests for but features such big sample it wouldn't be fair to fully release via a lucrative label. Last but certainly not the least, my 2020Vision EP, which has been itching to go public for a few months now will be out this fall. Overwhelmed by the anticipation that has been building inside of me ever since it was finished.