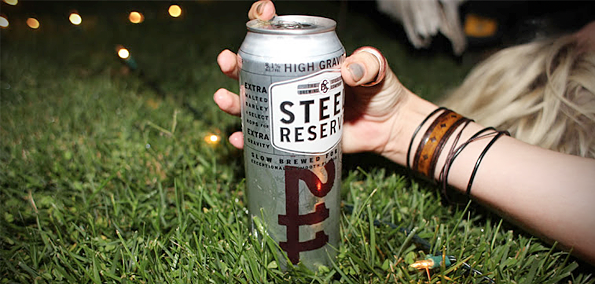 The duo Cash for Gold – made up of singer Jack Weaving and producer Matik – are bursting on the scene like a splash of cold water on an otherwise hot, muggy summer day. Because while their sound brings with it a bit of shock – it's also entirely welcomed. 
The full album comes out in September, but lucky for us the first single "Cheerleaders" is available now. It's obvious within hearing the first few notes that they've got a different agenda. (Ever heard of death pop as a genre? Exactly.)
[soundcloud url="http://api.soundcloud.com/tracks/87883210" params="" width=" 100%" height="166" iframe="true" /]
The lyrics to "Cheerleaders" tell the tale of a band holding a Superbowl audience hostage and force-feeding them tunes. The huge brass horn section supplements the theme perfectly. It's like a marching band decided to go buck wild – break out of formation, rip off their military jackets and have an impromptu jam sesh on the 50 yard line.
With the catchy hook  "Cheerleaders / Wave your pompoms around" it's hard to not sing. Or victimize the nearest freestanding object as your personal pompom prop.  
In their playbook they have one strategy: "Let it roll." An attitude that was probably inspired by the fact Matik and Weaving lived across the globe and utilized 2013's digital perks, namely Skype and Dropbox, to assemble song parts into record resemblance.
We can't speak for everyone, but the Earmilk cheering section is giving a standing ovation for this one.