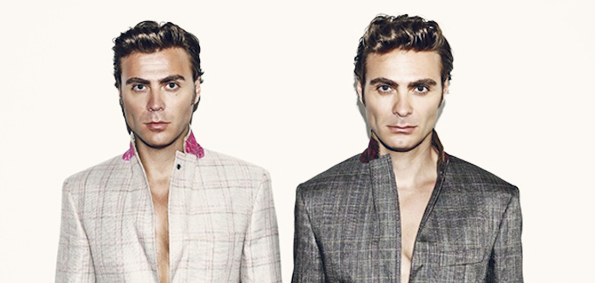 This weekend we had a chance to catch up with Marc and Allister Blackham, or better known collectively as the EC Twins. Hailing from Manchester, England the guys got their start in electronic music at the early age of 16, where they quickly rose to fame and established themselves as a force to be reckoned with with the opening of their club- Eye Candy. With the intense energy that the twins bring to the table, we are thrilled that they took some time away from their busy touring schedule to give us some further insight into their lives and what we can expect from them in the future!
Earmilk: Being from one of music's greatest cities, what was it like getting your start in the business and how did the scene in Manchester influence your musical preferences?
EC Twins: Manchester is a tough City! The closest US comparison would be Detroit. When a City struggles, it creates a soulfulness throughout it's residents that can't be manufactured. Music was a huge part of the culture in Manchester and when House music crossed the Atlantic from it's birth place in Chicago, it was Manchester that catalyzed the international growth, thanks in large part to a club called THE HACIENDA. By the time we were old enough to attempt to get in with fake ID's, THE HACIENDA had become a dangerous club full of guns and drugs, but the ripple effect the music had, influenced a lot of what we are today. Our start in the business actually came after High School, once we moved to Edinburgh (the capital City of Scotland). We left Manchester as soon as we could. Turns out trading punches with a bunch of bell ends and dodging bullets in the projects wasn't much fun for us. We were much happier in nightclubs listening to House music where everyone gets along!
[soundcloud url="http://api.soundcloud.com/tracks/101123604" params="" width=" 100%" height="166" iframe="true" /]
EM: What has been a defining moment in your career?
ET: We've taken so many baby steps that there has never been a real "aha! moment". Our careers have been a steady and organic rise to the top and we owe it all to the fans. We still have a long way to go, that's the best part! Unlike a lot of people in the music biz there never have been any silver spoons involved for us, no nepotistic connections manipulating the growth or powerful agents or managers throwing their weight around to get us anywhere. It's all been built from the bottom on good old fashioned hard work, raw passion for the music and hopefully a decent degree of talent. Of course we've built a small, close knit team now and it helps a lot, but we can't really think of a defining moment yet. It's been a collection of small achievements that when you look back add up to impressive  results. The closets thing to a defining moment would be when we started our club in Edinburgh, named EYE CANDY and we were able to put the many minimum wage jobs we'd had to have up until that point behind us. Of course we had to "re visit" similar minimum wage, manual labor jobs after making the move to America. We risked everything to come here and lost everything before the growth in the USA began for us. That being said, our management won't let us touch a set of decks for less that 30 grand nowadays, so we must be doing something right we guess.
EM: How have you both contributed to the unique and energetic sound that you guys have developed? What are some unique qualities that you both bring to the table as an electronic music duo?
ET: I (Marc) do all the work and Allister checks his social media. Every once in a while he spits out an idea and I have to spend the next twelve hours making it a reality. Allister also does more than his fair share of moaning and saying "I told you so" if I make even a remote mistake. I swear that man has a constant case of PMS. We always want to push the boundaries and do something different to what everyone else is doing. If you become an EC Twins fan, you become a real part of something. We feel like all our fans are a part of an extended family for us and they give us the freedom to experiment with diverse sounds and styles, so we can enjoy the evolution of this journey together.
[soundcloud url="http://api.soundcloud.com/tracks/93493595" params="" width=" 100%" height="166" iframe="true" /]
EM: You guys have recently released a huge progressive summer tune,"Hot Summer Nights," alongside Lea Luna and Nejat Barton- tell us a little bit more about the release? How did the collaboration come about?
ET: Nejat Barton used to be the resident DJ of our club, EYE CANDY in Edinburgh. After we terminated the lease of the venue to try our luck in the US, he drifted off the scene. We stayed in touch and once we'd built ourselves up in the USA, Nejat visited and we were able to hook it up so that he could perform with us in  front of 5000 people at Halloween in the Hollywood cemetery. I guess he caught the bug again and he wanted to get back in the game. We told him to try to produce something and send it over. He managed to produce that pretty Melody you hear in the track. We took that, added the trade mark EC TWINS layers, big builds and a banging drop and then got a few of our friends to write lyrics. Lea Luna's came out best in our opinion and Summer nights was born. In fact, we finished that track in June 2012! The record labels had a scheduled release for October 2012. We could hardly release a track called "Hot Summer Nights" in the winter, so we've been sitting on it for over a year.
EM: You guys have been touring a lot lately- do you prefer playing festivals or club gigs?
ET: Every DJ will give you the same answer. They're both great in different ways. Clubs are better for that intimate connection with the crowd, yet you can't beat the feeling of seeing tens of thousands of house music fans losing their shit in a field! We've had to work so hard and had so many gigs, that we can smash festivals with our eyes closed. It's the ten thousand hour rule. Those festival crowds are insanely easy to rock for us! It's way more nerve racking to walk out in front of 100 people than it is to walk out in front of 100'00, that's for sure.
EM: What are your plans for the rest of 2013? Any new tracks in the works?
ET: We've just finished a real banger called SNAKE CHARMER, we're currently writing a lyric to a track we've pretty much finished with our mate and super talented producer BASS KLEPH, a collaboration with LMFAO producer AUDIOBOT called "One More Night" that we've been sitting on for about 10 months for some reason, a new track with CECE PENISTON and REECE LOW..., loads actually. If we start listing them, we'll get stressed at how much finished stuff we still need to release.
EM: You guys have been pretty involved with The Groove Cruise in the past, we've heard that you have a big anthem coming up for the festival, can you tell us more?
ET: Yeah, it's a great festival and we feel like part of the family. We actually presented Ryan (the talent booker for the cruise) with Summer Nights last year, but he was eager for us to produce a track with his friend Calendr. Calendr is a wicked guy, super easy to work with and a talented producer/DJ. He'd do his part from his studio in Chicago, send it over and we'd do our parts from wherever. That fucking track turned our hair grey! We had to produce it throughout December, the busiest period for most DJ's. We were trying to do Mix downs from headphones on planes and write lyrics via skype from hotel rooms in Europe with Koko Laroo, who was in LA. We wrote about 4 different lyrics for the anthem with 2 different vocalists. There were so many changes every time we submitted a finished version. We think the final version is saved on our computer as "version 17"! The melody is so emotional and touching, but the GROOVE CRUISE needed an up beat lyric to reflect the happy vibes on the Cruise. We had to find a way to comfortably merge two very disparate styles. The track was originally intended to be the Anthem for the Miami Cruise in January, but we couldn't meet the deadline, so we parlayed it over to the LA cruise. It almost fucking killed us that one. We were doing seven day weeks, often two gigs in two different continents within 24 hours and instead of sleeping we'd have to be on conference calls or working on the track from the flight or hotel after the gigs. Calendr put his heart in to it too! We're thrilled with the result. Hopefully the fans can hear the work and love the track as much as we do! We're not complaining about the work though, it's our passion, our hobby, our lives and we couldn't stop it if we wanted to. It sure beats working them minimum wage jobs, that's for sure!