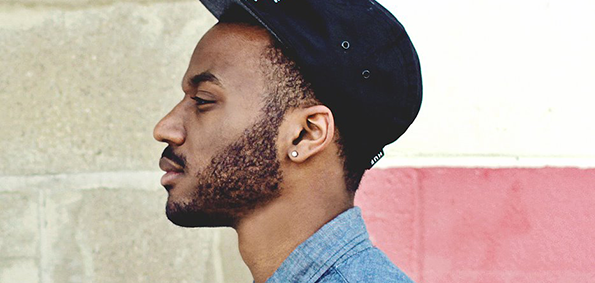 So here we are again, face to face with another genre-bending producer. Sango, if you will, is a versatile producer and is one of many who is pushing the boundaries of electronic beat-making. Currently making powerful waves in Grand Rapids, Michigan, Sango is known to create textures with the finest detail to the nuances that make each of his track have a distinct touch. Each individual track he blends has an inexplicable smoothness to them, like draping a silk blanket over baby soft skin.
His beats tend to revolve around hip-hop, R&B, and soul. But given that he's under the blossoming label Soulection, that shouldn't be much of a surprise. Standing side by side with the likes of Atu, Ta-ku, Evil Needle, and Insightful, you can already expect a certain quality product from this producer. Luckily for us, his latest album, North, was just today via Soulection. The latest release for Soulection was Atu's critically acclaimed Pictures on Silence. So needless to say, Sango has a tough act to follow. However, I soon realized that North is just as suave and mature as his label mate's album.  
As you listen through North, you'll find this album is juicily stacked with smooth beats glazed with R&B and hip-hop aspects. It's a wonderful maze of dynamic songs that undeniably staples the album together. From the soulful track "Middle of Things, Beautiful Wife" featuring SPZRKT to the ambient closing of "Wake Up, Soul" featuring Isles & Dpat, North has a near perfect mixture of quick paced beats to slow head-bobbers. This 13-song album will transport your soul and mind into a whole new level of audio euphoria. This album definitely defines Sango's true producing style and his talent as a progressive beatsmith. Below are some songs off of North, handpicked just for you.
Middle-of-Things-Beautiful-Wife-(Feat.-SPZRKT)--EM0713
Play:
Sango
- Middle of Things, Beautiful Wife (Feat. SPZRKT)
Play:
Sango
- Here With Me
Affection-(Feat.-JMSN)--EM0713
Play:
Sango
- Affection (Feat. JMSN)
Wake-Up-Soul-(Feat.-Isles-Dpat)--EM0713
Play:
Sango
- Wake Up, Soul (Feat. Isles & Dpat)
Sango
North