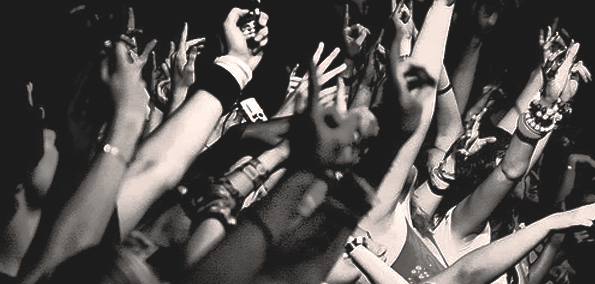 Here at Earmilk, we like to think you come for a diversity of new music; whether that be dance, rock, pop, hip hop, a singer, etc. Whatever makes you tick, and keeps your headphones filled with something you can enjoy—that's what we're all about. Music In The Middle (Oct 4th-6th) is a festival where you will be exposed to the best new bands of now, and the future. We're announcing the initial lineup today, with many more artists to come. We're not pulling back to the sixties for this, because we don't want Paul McCartney; we want the acts that you, as our readers, yearn for when you visit our site.
That's what this festival is about, really: the best young talent around, all in one place, playing music live. You won't get lost in a crowd of 40,000 people here, and you're not going to burn up out there either (it's in October)—Music In The Middle provides an intimate (but in no way low-key) festival setting that will rival that of any other festival, while still providing the excitement you'll get from a festival 6x the price.
Here are the perks:
Want to get snowed on while watching a band play in 80 degree heat? We've got you covered, with 40 All Weather Snow Machines.
Ever played laser tag while tripping balls to live EDM music? Got you again, with late-night EDM Laser Tag.
Want to drink 100+ different quality beers in 48 hours? Got you again, courtesy of the Great American Craft Beer Tour, who will be there all weekend serving the golden goodness.
Want to go harder than beer? How about Moonshine? Got it. The festival is set on the Short Mountain Distillery in Murfreesboro, TN—and we'll have their AUTHENTIC Tennessee Moonshine (Apple Pie Moonshine, to be exact).
---
The festival will have three stages (so plenty of viewing options), gourmet food vendors, and of course: Camping, which is $50 per car (bring five friends and pay a Hamilton a piece). It really is your best shot at seeing all of the best acts before they get big, for less than any other festival, while experiencing some perks that you won't find at anywhere else. It's our job to to keep an eye on the bands people should know about, and we've put some of our favorites all in one place for you—all on some beautiful rolling hills in middle Tennessee, where you'll be snowed on not by nature. Don't miss this.
There are a good bit more artists yet to be announced, but browse the initial lineup and buy yourself a ticket. I'll be there, as well as our Resident DJ in NY Tanner Caldwell (who will be performing) and a bunch of our staff.
---
---